October 22, 2021 by
leannem
Waste Management and Pollution Control
Marine litter negatively affects the environment, people and coastal economies around the world. In the Pacific region where 98% is covered by ocean, the problem is even more severe given the reliance of countries on healthy ocean ecosystems and services. 

During the celebration the International Coastal Clean-up Day (ICCD), the fact was not lost on SPREP, the premiere organisation for the conservation of the environment in the region. 

With that in mind, SPREP actively participated in the commemoration of ICCD 2021 through the SWAP Project. The end result was that the coastal areas in some Pacific countries who are part of the AFD-funding SWAP Project (Committing to Sustainable Waste Actions in the Pacific), are a lot cleaner today. A Waste Audit conducted as part of ICCD found nearly 4,800 pounds of waste, including plastics of all types, car tires, used oil cans, pieces of sheet metal etc were collected and removed from the coast.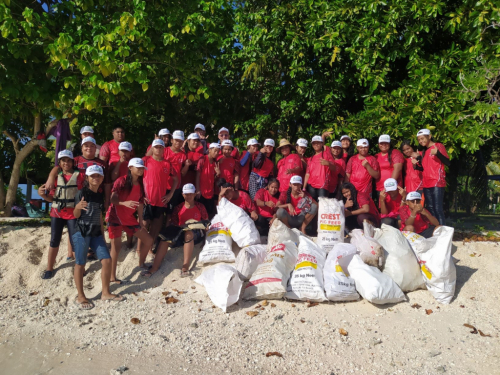 "We are pleased to be able to support government ministries, associations, communities in the removal of marine litter and plastic pollution from coastlines," said Mr Anthony Talouli, Acting Director of Waste Management and Pollution Control at SPREP.

"We know that these activities will help in raising awareness and changing behaviour for better waste management particularly in the 4Rs – Refuse, Reduce, Reuse and Recycle. We are very pleased to collaborate with AFD on this and we would like to thank all the volunteers who through your actions today you have potentially saved a turtle, dolphin, shark, fish, coral from being smothered by marine litter and plastic pollution. Together we can all make a difference." 

ICCD is celebrated on the third Saturday in September every year, to remove trash from the world's beaches and waterways, identify the sources of debris and encourage the changing of behaviors towards attitudes that allow trash into the water ways in the first place.

Some 330 volunteers from five Pacific Islands and ten organisations participated to the event. 

In Samoa, support was provided to the Ministry of Natural Resources and Environment (MNRE), Laumei Outrigger Canoe Club and the Samoa Recycling Waste Management Association. 

In Tonga, the clean-up was spearheaded by the No Pelesitiki Campaign while the Vanuatu Environmental Science Society led the effort in Vanuatu. 

Five clean up-up actions were facilitated and coordinated in Wallis and Futuna with the support of the Territorial Department of Environment that offered logistical assistance by holding preparation meetings and ensuring the collection and transportation of the collected waste to the landfill. Association A Vaka Heke, Foyer Socio-Educatif Collège de Mua lavegahau, Association "Mouvement du Focolare", Association du village de Vaitupu, and Association Falefa o Makini have actively contributed to the success of this action.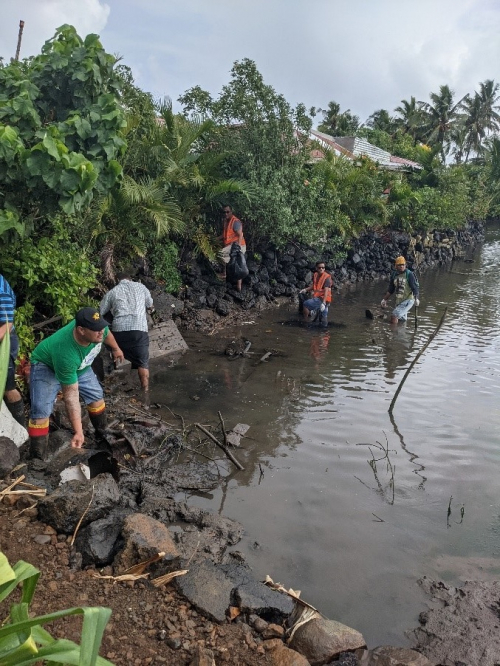 "I am delighted to witness this collaborative action, but what emerges from the results of the waste audit is that we continue to throw our waste into the wild while waste collection services or recycling facilities are increasingly being set up," Ms Julie Pillet, Technical Coordinator of the SWAP project at SPREP.

"To improve this situation, the next step will be to raise awareness to engage every citizen to be an actor in the management and production of their own waste. To do this, we have asked each association involved to produce audio-visual documents based on their action that will be shared on social media to encourage people to reduce the pressure on the environment due to waste generation."

All films and photo reports as part of this action will be shared on social media networks.

The initiative was supported by the New Zealand based charity Sustainable Coastlines, which provided training on how to conduct a statistically sound waste survey and audit during a beach clean-up. 

The data collected on International Coastal Clean-up Day 2021 will be recorded and shared on the Litter Intelligence platform developed by the charity using the United Nations methodology. The aim of the programme is to collect and share information about litter, but also to use it as a tool for public awareness and decision making by authorities.

As explained by Sustainable Coastlines "Litter Intelligence collects data, provides insights, informs better decisions and inspires action for a litter-free world through training and engagement with local communities and access to open-source tier 1 data".

This event and its outcomes were so successful that SWAP is looking forward to meeting up with its member countries and territories next year to participate in the 2022 edition!

If you wish to discover the actions carried out by the participating associations during the International Coastal Clean-up Day 2021, then visit: 

SWAP aims to improve sanitation, environmental, social and economic conditions in Pacific Island Countries and Territories through proper waste management".  The seven SWAP Pacific islands are Fiji, French Polynesia, Samoa, Solomon Islands, Tonga, Vanuatu, and Wallis and Futuna. New Caledonia will also receive technical support through SWAP.

The Committing to Sustainable Waste Actions in the Pacific (SWAP) Project is funded by the Agence Française de Développement (AFD) https://www.afd.fr/ and executed by the Secretariat of the Pacific Regional Environment Programme (SPREP) https://www.sprep.org/ .

Agence Française de Développement (AFD) implements France's policy on international development and solidarity. Through its financing of NGOs and the public sector, as well as its research and publications, AFD supports and accelerates transitions towards a fairer, more resilient world. It also provides training in sustainable development (at AFD Campus) and other awareness-raising activities in France.

« With our partners, we are building shared solutions with and for the people of the Global South. Our teams are at work on more than 4,000 projects in the field, in the French Overseas Departments and Territories, in 115 countries and in regions in crisis. We strive to protect global public goods – promoting a stable climate, biodiversity and peace, as well as gender equality, education and healthcare. In this way, we contribute to the commitment of France and the French people to achieve the Sustainable Development Goals (SDGs). Towards a world in common. »

For further information please contact Ms Julie Pillet, SWAP Coordinator at [email protected]