Island and Ocean Ecosystems
From April to August 2022, marine turtle researchers and stakeholders from across Asia and the Pacific gathered online for a series of workshops with the goal of enhancing in-country capacity for marine turtle genetic studies.
The Asia-Pacific region hosts many globally significant nesting and foraging marine turtle populations, yet a comprehensive understanding of their population status, genetic structure, and habitat connectivity remains lacking. While genetic studies can provide critical information for the development of effective conservation and management policies, the methodology should be collaborative, standardised and multinational to ensure work can be compared and combined.
In response to this, the Asia-Pacific Marine Turtle Genetic (APMTG) Working Group organised and hosted a series of virtual workshops, each tackling a different aspect of marine turtle genetic studies. It invited researchers from the Pacific region who have access to marine turtle ecological data, tissue samples, and/or genetic laboratories and who may be interested to support or lead collaborative genetic studies and region-wide research.
Dr. Ian Fontanilla from the Institute of Biology, University of the Philippines - Diliman, hosted the five 4-hour workshops. Forty-seven people participated in the workshops, from American Samoa, Australia, Guam, Fiji, French Polynesia, New Caledonia, New Zealand, Papua New Guinea, Solomon Islands, Timor-Leste, Tonga, and Vanuatu.
The first workshop on April 7 introduced participants to the APMTG Working Group, its goals and objectives, and its supporting partners, and provided an overview of the role of genetics in marine turtle conservation and management. The second and third workshops, held in May and June, focused on the more technical aspects of genetic research, including sample collection and preservation techniques, sampling permits and logistics, rookery stock structure analysis, mixed stock analysis, and genomics. The forth workshop, delivered in July, highlighted the use of genetics to combat the illegal wildlife trade of marine turtles, such as in the ShellBank project.. The final workshop held in August wrapped up the series and provided an opportunity for participants to discuss opportunities for collaboration, both in a live poll and in an open forum.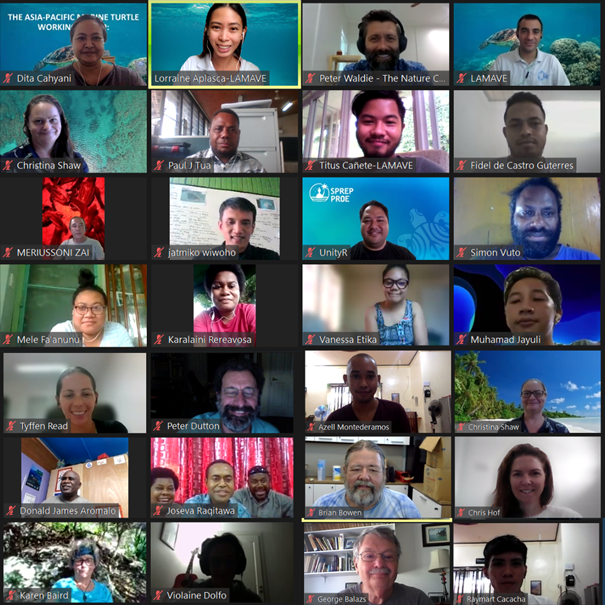 The workshop series featured presenters from the National Oceanic and Atmospheric Administration (NOAA) and World Wide Fund for Nature (WWF), who provided key knowledge topics, as well as researchers from the region who presented genetic case studies on unveiling habitat connectivity, defining conservation units, and revealing illegal wildlife trade routes. Working Group members also shared their research work in the region – particularly the species they are studying and the locations they are sampling from – which were compiled into a Project Database to identify research priorities and gaps.
As well as the workshop series, the Working Group also developed a website from which all presentations and materials used throughout the workshop series are accessible. This provides unlimited and free access for Working Group members, as well as for those who missed the workshops due to technical, connectivity and scheduling limitations.
To learn more about the Working Group and the workshop series, visit https://www.marineturtlegenetics.org/. To view the workshop recordings, visit https://bit.ly/3RmlqVW. The APMTGWG was established in 2020 to bring together marine turtle researchers from across the Asia-Pacific region to enhance in-country capacity for marine turtle genetic studies in the region. From January to August 2021, the Working Group held its first series of online workshops, comprising of researchers working in the East and Southeast Asian regions.
This series is supported by the By-Catch and Integrated Ecosystem Management (BIEM) Initiative implemented by the Secretariat of the Pacific Regional Environment Programme (SPREP) under the Pacific-European Union Marine Partnership (PEUMP) programme. 
Funded by the European Union (EU) and the Government of Sweden, the PEUMP programme promotes sustainable management and sound ocean governance for food security and economic growth while addressing climate change resilience and the conservation of marine biodiversity.