January 13, 2023 by
Christine Tuioti
Island and Ocean Ecosystems
Port Vila, Vanuatu – Water quality assessments have recently been completed in Malekula and Pentecost to improve understanding of the availability of safe and clean water systems for communities.
"It is important to carry out regular water assessments to make sure water systems are up-to-date and people have access to safe and clean water," says Annie Samuels, Project Manager for Vanuatu company, Hexagon Water Specialists.
Hexagon Water Specialists has conducted water assessments in western Malekula at Wintua, Limbenwen, Lorlow and Tenmaru; and in northwest Pentecost at Laone village as part of the By-catch and Integrated Ecosystem Management (BIEM) Initiative.
The BIEM Initiative is implemented by the Secretariat of the Pacific Regional Environment Programme (SPREP) through the Pacific-European Union Marine Partnership (PEUMP) Programme funded by the European Union and the Government of Sweden. In Vanuatu, this work is led by the Government of Vanuatu and non-government organisations, coordinated by a national steering committee, which is chaired by the Department of Environment and Conservation.
The community water assessments are a key component of the BIEM Initiative and will support an integrated catchment management approach to ensure community health and sustainable community livelihoods.
"A lot of communities around Vanuatu still face difficulty accessing clean water. The role of these assessments is to understand existing community practices to support traditional use and co-management of natural resources," says Mrs Samuels.
"We work with women, men and youth in the communities, and with government agencies as partners to integrate management plans that identify realistic activities to support our communities' ability to adapt to climate change and contribute to Vanuatu's water priorities."
The four sites on Malekula use gravity-fed water systems. The water source is located high in the hills and uses gravity to transport water from the main tank down through the network of pipes to the communities. Wintua, Lorlow and Tenmaru have old water systems that are in poor condition and need to be upgraded. Limbenwen and Wiawi village have good functioning systems that need upgrades and maintenance. General issues that were identified through the assessments were the high number of leaky pipes, and storage tanks that are not built to standard.
"The gravity-water fed systems were built right after Vanuatu's independence, so the systems are over thirty-years old. These pipes are no longer sold in shops and have not been maintained. Our tests show that there are high levels of contamination in the ground water sources compared to water tanks due to the lack of proper maintenance," she continued.
Laone village in northwest Pentecost relies solely on rainwater harvest systems to collect rainwater, which is stored in water tanks. Due to inadequate storage capacity, Laone currently has insufficient water supply to meet daily needs of the communities. In addition, the houses that are collecting water do not meet the requirements for maintaining safe and clean water and preventing contamination.
"An old bore hole has been located but is only seven metres deep and is brackish (salty) making it unsuitable for use and community consumption. Increasing water storage and accessibility is the number one priority for this growing community," said Ms Samuels.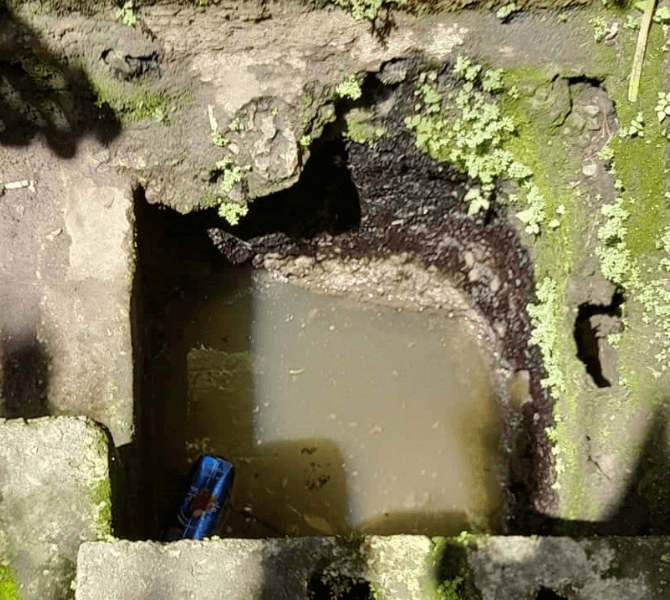 "All five sites assessed need major improvements on sanitation and need to move away from using open pit latrines (bush toilets) to ventilated latrines (flush toilets)."
"The three main components of these water assessments are water quality, associated risks, and community accessibility. The communities need more educational support, and a management plan to ensure they can maintain their systems and always have access to clean water," she concluded.   
These assessments are in line with the Vanuatu National Water Policy Guidelines (2017-2030) to achieve Vanuatu's sustainable development goal to ensure safe drinking water for all and protect community water sources, reduce communicable diseases, build community natural resource management capacity, and strengthen physical planning to meet the need of a growing population.
Kalo Pako, SPREP's BIEM Initiative In-Country Coordinator in Vanuatu said, "I am happy that SPREP can support the people in these communities through these water assessments. Access to clean and safe water is a human need and right."
"Identifying these issues is an opportunity for the BIEM Initiative to work with stakeholders to improve people's access to clean water whilst protecting the environment."
About Us
The Secretariat of the Pacific Regional Environment Programme (SPREP) is the premiere intergovernmental regional environmental organisation of the Pacific, with 21 Pacific island Members and five metropolitan Members.  SPREP's mandate is to promote cooperation in the Pacific region and provide assistance in order to protect and improve its environment and to ensure sustainable development for present and future generations.  SPREP's core priorities are Climate Change Resilience, Ecosystem and Biodiversity Protection, Environmental Governance, and Waste Management and Pollution Control.  It is guided by its vision for the future: "A resilient Pacific environment, sustaining our livelihoods and natural heritage in harmony with our cultures."  For more please visit www.sprep.org
The Pacific-European Union Marine Partnership (PEUMP) Programme addresses some of the most serious challenges faced by Pacific countries. Among these are the increasing depletion of coastal fisheries resources; the threats to marine biodiversity, including negative impacts of climate change and disasters; the uneven contribution of oceanic fisheries to national economic development; the need for improved education and training; and the need to mainstream a rights-based approach and to promote greater recognition of gender issues to ensure inclusiveness and positive changes for Pacific island people.  This seven-year PEUMP programme is funded by the European Union (EUR 35 million) and the government of Sweden (EUR 10 million). It is implemented by the Pacific Community (SPC), the Forum Fisheries Agency (FFA), the Secretariat of the Pacific Regional Environment Programme (SPREP) and the University of the South Pacific (USP) in close collaboration with Non-Government Organisations and the national authorities.