July 2, 2022
Island and Ocean Ecosystems
Climate Change Resilience
Environmental Monitoring and Governance
Waste Management and Pollution Control
General News
1 July 2022, Lisbon Portugal, UNOC 2022 - Pacific solutions developed by Pacific people for Pacific resilience were shared during the second UN Ocean Conference in Lisbon, Portugal today.
The Weather Ready Pacific Decadal Programme of Investment, endorsed by Pacific Leaders in 2021 is an ambitious, innovative and transformative plan to strengthen the technical capacity of the region.  This will bring about accurate and timely information during extreme weather events to safeguard communities.
Economic losses from cyclones and flooding in the South Pacific region in 2020 were estimated to cost approximately 1 USD billion with at least 71 lives lost.  The risks posed by extreme events are increasing and will become more intense in the coming decades.
Whilst there has been investment in climate and climate change-related capacity and infrastructure, critical gaps remain in the area of weather services, and weather and ocean monitoring network.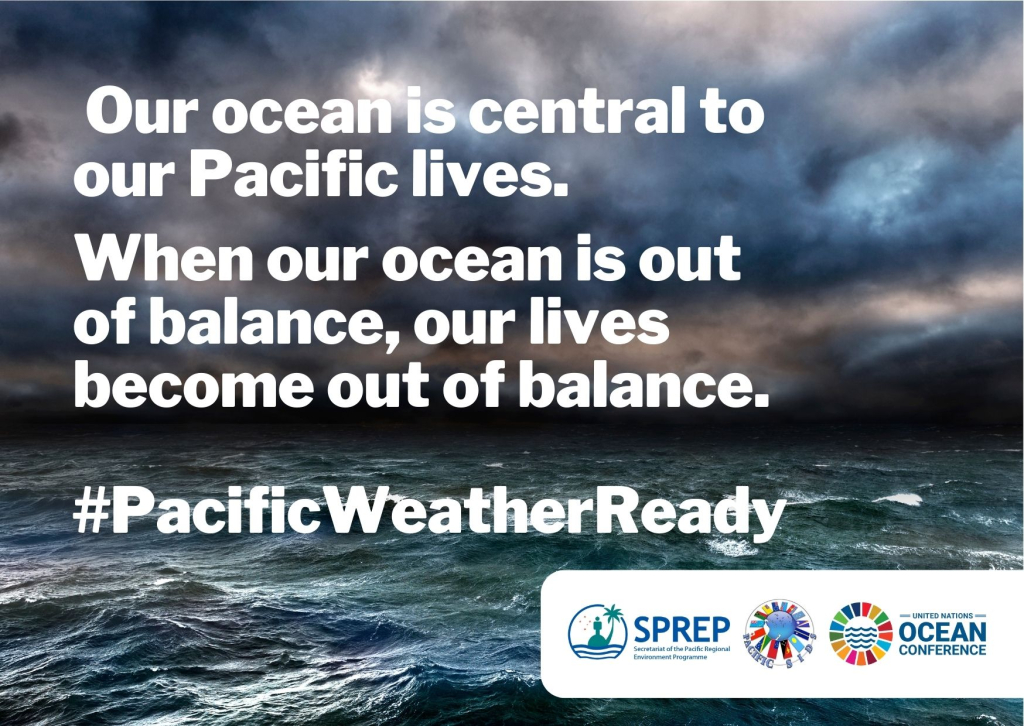 Climate and climate change services capability are aimed at dealing with seasonal to decadal time scales and not in more extreme weather events that occur at a shorter timescale requiring a totally different set of capacities.
"To address these critical gaps, we believe a decadal response is urgently needed to enable to the Pacific region to better anticipate and respond to high impact and extreme weather, hydrological, climate, oceanic and other related environmental events," said H.E Dr. Fatumanava-o-Upolu III Pa'olelei Luteru, Ambassador Extraordinary and Plenipotentiary, Permanent Mission of the Independent State of Samoa to the United Nations
"These past few days have reaffirmed the critical status of our oceans to our future survival, and the need for scaling up science-based action and innovation.  The Weather Ready Pacific Decadal Programme of Investment supports and is aligned with key regional instruments and initiatives aiming to enhance resilience to climate change and disasters."
The programme will protect communities by empowering our region to provide more sector-specific forecasts, warnings and tailor-made services.  Warnings will be more accurate, clearer and more enabling for informed decision-making.
Such investments will support Pacific economics and strengthen security against the threats brought about by climate change.  The programme will build the resilience of the region by strengthening the Pacific capacity to deal with extreme weather events.
"If the improved services and delivery of forecasts and warnings from our national forecasting centers could prevent just 5% of these losses, the represents around USD 250 million, a positive return on investment," said Ambassador Luteru.
"Clearly the human and financial cost of not acting is higher than the cost of acting through the proposed 10-year Program of Investment."
"We have failed to strengthen our ability to protect ourselves against the effects of climate change that are here and happening right now.  This initiative will strengthen our Pacific ability to deal with extreme weather events that affect us on a daily basis, in a consistent and uninterrupted program, allowing our national capacities to reach the desired level of competence."
The Weather Ready Pacific Decadal Programme of Investment was presented at the "A Sustainable Blue Pacific Continent: Scaling up action through Ocean Science and Traditional Knowledge for Informed Governance" event held at the UN Ocean Conference on 1 July 2022.
The UN Ocean side event was held on 1 July from 2.30 to 3.45 pm facilitated by the Pacific Community and Secretariat of the Pacific Regional Environment Programme (SPREP) with the co-organising partnership support of Australia, Cook Islands, Fiji, France, French Polynesia, New Zealand, Niue, Palau, Papua New Guinea, Republic of Marshall Islands, Samoa, Solomon Islands, Vanuatu, The Intergovernmental Oceanographic Commission of UNESCO, FFA, and The Pacific Islands Forum.
The Second UN Ocean Conference is hosted in Lisbon, Portugal from 27 June to 1 July 2022.  The Pacific Islands are represented by a strong contingent which includes the Leaders from Fiji, Palau and Tonga.  Also present are the Cook Islands, Federated States of Micronesia, Fiji, French Polynesia, Kiribati, Palau, Papua New Guinea, Republic of the Marshall Islands, Samoa, Solomon Islands, and Tonga, Tuvalu and Vanuatu.
For further information on the UN Ocean Conference 2022, please visit: https://www.un.org/en/conferences/ocean2022