---
Pacific threatened species and ecosystems often exist within high value areas on larger islands where invasive animals and invasive plants will continue to be a threat. A site-led approach to manage multiple invasive species and re-introduce lost native species and ecosystem structure over a longer period of time is the last remaining option to restore and maintain these ecosystems. Communities directly benefit from resilient ecosystems and are an essential part of ecological restoration. Many priority area ecosystems have been restored over the past 3 decades, mostly in New Zealand. The Pacific has had several pilot sites which have had very successful outcomes with increases in threatened endemic birds.
---
Leading Technical Partner
Secretariat of the Pacific Regional Environment Programme
SPREP is the lead PRISMSS technical partner for this programme. The SPREP Invasive Species Team has over 50 years' experience in executing ecosystem restoration projects in the Pacific, New Zealand and internationally. This includes priority sites within urban areas to nationally significant larger natural areas. Experience ranges from managing individual sites to wider landscape multi-site projects.
Current Projects:
---
Resources
Battler series

Click to view

Invasive species are leading driver of biodiversity loss in the Pacific. They impact ecosystem resilience, ecosystem services and the future ability to adapt to climate change.

For more information please visit the Battler Resource Base (BRB)

Tools
Vatalanoa is a combination of two pan pacific methodologies' of "Va" and "Talanoa" which can be used specially for dealing with Invasive species management in the Pacific. The presentation was given at the IAG conference 5th July, 2022.
Webinar
Introduction to PRISMSS Resilient Ecosystems Resilient Communities Approach

The webinar provides an overview on the PRISMSS five regional programmes, and introduced the Resilient Ecosystems Resilient Communities approach - priority area and ecological restoration,. In this session, David Moverley, technical lead for PRISMSS RERC programme talks about the processes involved in restoring ecosystems and their services at high valued ecological sites, as well as managing multiple types of invasive species. The webinar was an introductory session for the Pacific Island Forest Restoration Initiative (PIFRI)

 

For more resources on Restoration in the Pacific, please visit the Battler Resource Base (BRB)
| | | |
| --- | --- | --- |
| | |   |
Photos ©Huggard Tongatule © David Moverley © Josef Pisi
---
Do YOU need assistance?
To request technical assistance for the "Resilient Ecosystems Resilient Communities" regional programme, please complete the PRISMSS Request Form  or email [email protected] for any queries.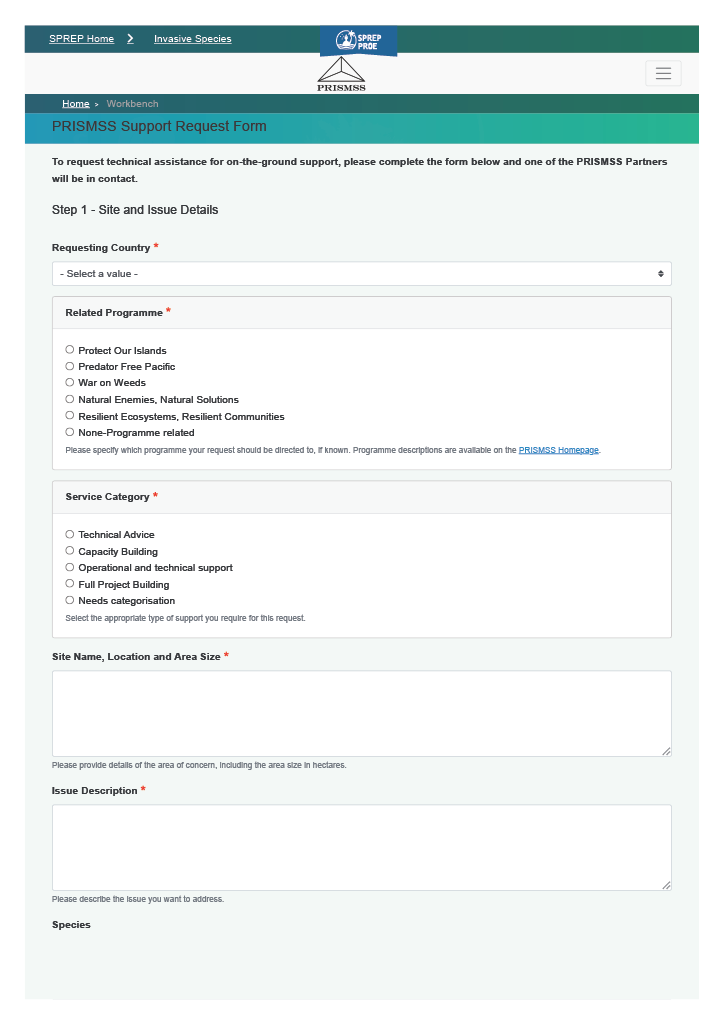 Click to view Request Form