PEIN Country Profile and Virtual Environment Library
Solomon Islands

Capital City: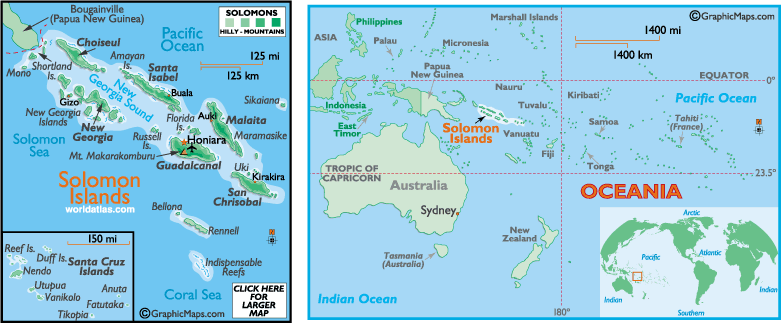 Honiara
Region:
Melanesia - Pacific (Oceania)
Languages:
Pidgin, English
National Focal Points for Environment:
Ministry of Environment Climate Change Disaster Management & Meteorology
---
Overview

*Excerpts from 'National Capacity Self Assessment: combined cross cutting assessment'
EXECUTIVE SUMMARY
A healthy environment is paramount to the well being and security of Solomon Islanders and with approximately 85 percent of the population relying on a subsistence lifestyle, sustainable use and conservation of biodiversity is critical. Loss of biodiversity and environmental services can lead to hunger, poverty, disease and conflict and is a threat to the internal security of Solomon Islands. It also leaves coastal communities vulnerable to the impacts of climate change due to loss of protection for coastal habitats.
The environment and natural resources of Solomon Islands are under threat. The threats include invasive species; loss of major land and marine habitats; over exploitation of natural resources; destructive harvesting techniques; and climate change from sea level rise and more frequent destructive climatic events. The root causes stem from human activity - increasing population, increasing consumption, changing economic circumstances and the need for cash, the drive for a more technological world, even globalisation.
The population of Solomon Islands is increasing at approximately 4.4% annually. This is putting pressure on natural resources and land for food and food production, building materials, and other life support systems. Land is cleared for timber, forestry, oil palm plantations, farming, urban and rural developments and infrastructure. Marine habitats are damaged from destructive fishing practices such as dynamite and poisons, pollution and harvesting of rock and coral. Solomon Islanders are moving to a cash economy for school fees, petrol and kerosene and for processed foods. This is resulting in a loss of traditional methods of natural resource management and use.
Compounding the impacts of human pressure is the threat of climate change and sea level rise. Unfortunately for Small Islands States like Solomon Islands, the developed countries are the main producers of greenhouse gases and other climate changing factors. However, the effects will severely impact coastal communities, islands and atolls unless there is a serious attempt at national level mitigation and adaptive measures to ensure Solomon Islands is prepared to deal with the changes and impacts.
The increasing pressures on the environment require action. Multilateral environmental agreements such as the Rio Conventions on Biological Diversity, Climate Change and Combating Desertification have been designed specifically for the international community to meet international goals through national actions. However, there are a number of cross-cutting constraints which impact on the ability of Solomon Islands to meet the commitments of these three international conventions. They include:
- Poor governance;
- Ineffective legislation and policy framework;
- Institutional, technical and capacity weaknesses;
- Lack of public awareness & information sharing for sound environmental management & decision making;
- Lack of scientific knowledge of and research into Solomon Islands environmental issues including sustainable development, impacts of climate change and biodiversity;
- Lack of mainstreaming environmental considerations, biodiversity conservation and sustainable development across government programmes;
- Poor technology transfer and development;
- Gaps in human capacity and development; and
- Limited access to financial mechanisms and lack of financial and economic incentives.
These capacity constraints also impact on Solomon Islands' ability to address national environmental issues. The capacity constraints are compounded by the previous ethnic tension and civil strife experienced from 1998 to 2003. Solomon Islands is still experiencing periods of political instability. Building capacity to meet international commitments of the three Rio Conventions will have significant synergies with the capacity needed for national actions to address environmental, economic and social issues facing Solomon Islands.
*Excerpts from 'Solomon Islands State of the Environment Report 2008'
Causes of Environmental Change
Population pressures – subsistence use intensification
There has been considerable intensification of land use in the country over the past three decades. This is caused by the rapidly increasing population. The population estimate for Solomon Islands is around half a million with average annual population growth rate of 2.8%.
Commercial Plantations
Conversion of large tracts of land, mostly fertile coastal lands into commercial plantations is a significant threat to biodiversity; adds pressure on land resources by displacing domestic food gardening and if not managed properly will pollute river systems and coastal marine ecosystems due to excessive runoff and siltation during heavy rains. If not managed, these all have considerable potential to impact the country's rapidly growing population.
Urbanization
Urbanization is recognized as one of the principal causes of environmental change. With regard to the distribution of the urban population, Honiara, with a 1999 population of 49,107, accounts for more than three quarters of the total urban population of 63,732. If the adjoining urban areas of
Guadalcanal are included, 'greater Honiara' represents 82% of the urban population of the Solomon Islands.
The total population increase and the urban increase (particularly in Honiara where fuelwood is becoming increasingly scarce) and utilities companieis like SIWA and SIEA are struggling to maintain regular supply has great impact on the urban environment.
Mining
Open pit mining has been limited to date to the Gold Ridge Mine on Guadalcanal. The environmental impacts of this mode of minerals exploitation are to the immediate environs of the mine site due to deforestation and earth removal for the pit and ancillary earthworks; and to the riverine drainage systems in the area which are the potential end points for any chemicals escaping the mine itself. To date the Gold there has been no evidence of the latter, although there are persistent concerns about the stability and integrity of the mine water dam downslope
from the mine pit itself. As mining impacts accelerate in the country, these concerns will become increasingly widespread and important.
Logging
There are several resources within the environment that are being exploited at unsustainable rates, but the most pressing is the country's forest resource. A critical situation exists with the forests.
Fishing and marine exports
Most marine ecosystems such as mangroves, lagoons and reefs are also being overexploited
in many areas. While population growth is responsible for additional pressure on these ecosystems almost everywhere, commercial extraction is worsening these effects in many cases. Beche-de-mer, trochus, crab and reef fish gathering activities are all contributing to ecosystem decline to different degrees throughout the country.
Pollution
Pollution is discussed here in relation to fresh water resources. Many households in the country do not have access to water supply systems and still rely on stream and rivers to obtain water for drinking and household use. Pollution to the coastal and marine environment emanates from two main sources: (a) Land-based sources and through rivers and streams and (b) Sea-based sources. Pollution from agricultural and logging activities such as soil erosion, siltation, land
use and run-offs, at the moment still does not pose major threats to the marine environment except in particular locales such as urban areas of sites of intense land clearing and plantation agriculture. In Honiara alone, at least 75% of sewage flow through a piped collection system directly into the sea without treatment. Discharges from ships in the form of garbage, bilge water and other pollutants are a major source of sea-based pollution. An increase in these forms of pollution is already a concern as more ships are coming into and using the country's harbours and waters. Local ships are also contributing to these forms of pollution.
Energy Production and Use
The majority of energy use is biomass, for cooking and for drying copra and cocoa for export. However, the accessible fuelwood are increasingly scarce in some areas. For some parts of the country, the major fuel woods for copra drying is mangrove forest, and its overuse is now a major contributing factor to coastal erosion.
Climate Change
Already extreme weather events in the country in recent years serve as a forewarning of the impacts on the environment that are likely to occur due to climate change. Climate change also poses risks to natural ecosystems such as the coastal and marine environments, fisheries, agriculture, water resources, health, biodiversity, infrastructure and industry.
Environmental Consequences
Fresh Water Stress
The fresh water resource is currently under stress as indicated through the following:
· Erosion and sedimentation of stream and river systems from logging operations, subsistence cultivation on sloping lands and land clearing for plantations affect water quality and thus degrades reefs, mangrove areas and coastal fisheries. There is poor understanding amongst loggers and communities of effects of land clearing, logging, erosion and downstream effects on
reefs and fisheries. · Indiscriminate land clearing through subsistence food production, for
plantation and commercial logging is resulting in catchment drying. Recently, the Honiara water supply source has seen a 50% drop in water availability in the catchment (50%).
Pollution problems in river catchments are also increasing with rapid population growth, reflecting
inadequate planning to control development in catchments and conflicting regulatory decisions such as the granting of development rights and logging licenses in catchment or conservation areas.
·
Increasing salinisation of ground water in most coastal villages and those on atoll islands due to
ingression of seawater during extreme weather events or as an ongoing trend.
Soil Stress and Degradation
Serious soil stress is experienced through low crop yield and high incidence of pest and
diseases. This stress resulted from diverse pressures such as: high population growth
and/or density, uncontrolled large scale forestry, large intensive agriculture developments, displacement of traditional land and resource management systems, land tenure issues, introduced agricultural systems, mining and changes to customary farming practices. A lack of quality spatial information means that the full extent of soil stress and land degradation cannot yet be ascertained. While the extent of the problem is not known, soil stress and land degradation
are recognized as major problems confronting the Solomon Islands (GoSI National Assessment Report to the WSSD, May 2002). There is considerable scope for vicious circles driving worsening degradation. As land is degraded it becomes a haven for invasive species, because of a diminished ability of the ecosystem to control them. Invasive species in turn affect the soil-nutrient moisture regimes of catchments, leading to poor soil structures and further fertility decline. Most
of the accessible soils have fertility and/or micronutrient deficiencies and increased exposure results in soil leaching and erosion with great impact on soil quality and subsequently low crop yield.
Forest Depletion
With depletion of forest resource, communities are finding it increasingly difficult to access forest products and materials for housing, food, and good quality water which are important for village
livelihood. Much of the deforestation over large tracts of land occurs on very steep land.
Serious erosion, siltation, soil structure decline and loss of soil fertility threatens terrestrial and marine biodiversity, and the ecological service and functions of local water and coastal systems as well as the production potential of the land.
Loss of Biodiversity
Land based activities including Agriculture, forestry and mining exerted pressure on the terrestrial environment which led to loss of biodiversity, invasive alien species, land degradation, impact inland aquatic. Inappropriate land use, deforestation activities and over harvesting of marine
resources is resulting in loss of biodiversity but no data is available on rate of biodiversity
loss. Although Solomon Islands comprises some of the most diverse ecosystems in the world (The World Bank, 2007), little attention is given to biodiversity and environmental conservation except for a few initiatives. Solomon Islands animal and plant life possess international importance. It is reported that there is a great diversity of land animals than in any other pacific island nation – 223 birds, 52 native mammals, 61 land reptiles, and 17 different frogs. Many of these animals are
endemic (Office of the United Nations Resident Coordinator 2002). Henderson and
Hancock (1988) also identified a total of 3, 210 vascular plants.
Fish Stock Depletion and Coral Reef Degradation
While population growth is responsible for additional pressure on these ecosystems almost everywhere, commercial extraction is worsening these effects in many cases. Overexploitation
for both subsistence and commercial use has resulted in severe depletion of several important food and commercial species. These include greensnails, blacklip and goldlip shells, coconut crabs, giant clam and sandfish (sea cucumber). Other species such as trochus, crayfish/lobster and turtles though are under some form of protection (regulation) are also threatened. Two commercial companies are currently engaged in coral export but there is no monitoring system in place to check on their activities. These activities are all contributing to ecosystem decline to different degrees throughout the country. This pattern of overuse and non-existent or inadequate
regulation limits the productivity of inshore fisheries to provide much needed protein in the population's diet, as well as preventing ongoing, reliable income generation from marine product exports. Natural disaster such as cyclones, earthquakes, volcanic eruptions and tidal waves, impact greatly on coastal environments and can have destruction effect not only physically but by the alteration of the ecosystem. Such phenomena have not been seriously considered before but have the capacity of destroying endangered species and the coral reefs.
Institutions
The national institution charged with environmental management and monitoring is the ECD in the Ministry of Environment, Conservation and Meteorology. This is a new ministry created by the Sikua led Government (CNURA) in 2008.
Country Profiles

Country Reports

Technical Reports

Country Websites