December 15, 2016 by
admin
Island and Ocean Ecosystems
15 December, 2016, Solomon Islands -
Environmental groups and authorities of Choiseul province in the Solomon Islands are taking steps to educate and inspire their population to take action for their island town of Taro to be environmentally healthy and resilient.
At a provincial workshop on Taro Island jointly funded by the Secretariat of the Pacific Regional Environment Programme (SPREP) and German Corporation for International Cooperation (GIZ) in late November, the groups made recommendations to enforce a waste management system, regulate the planting of shade and coastal trees, promote a clean and green town through public awareness and encourage a fortnightly cleanup campaign by the residents of the island.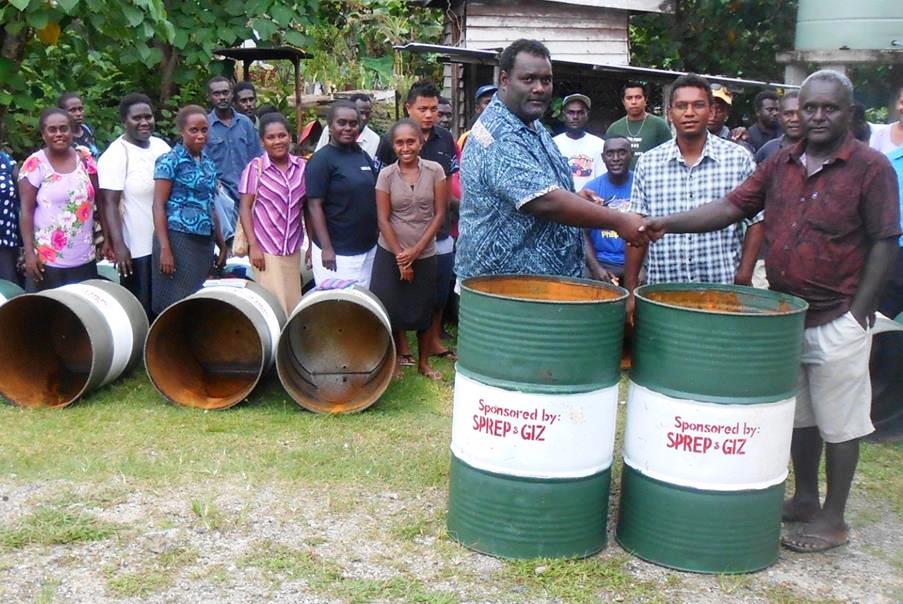 In support of this initiative, SPREP's Pacific Ecosystem-based Adaptation to Climate Change Project (PEBACC) donated 100 waste bins to the Choiseul Provincial Government to support waste management on the island.
"Proper waste management is critical for the protection of the natural ecosystems. When the natural ecosystems are protected, they will strengthen the resilience of the community from the impacts of climate change and other environmental threats. PEBACC is pleased to support this very important initiative" highlighted Mr. Fred Siho Patison, SPREP PEBACC's Country Manager for Solomon Islands at the handover ceremony.
Permanent Secretary for Choiseul Provincial Government, Mr. Geoffrey Pakipota in response thanked SPREP and PEBACC for the ongoing support to the province to make Taro, a clean and resilient town.
Taro Island is the capital of Choiseul province and is at the forefront of climate change impacts in the Solomon Islands. It hosts the major infrastructure of the province including the airport, hospital, main port and the provincial headquarter.
The provincial workshop was organised by the Choiseul Integrated Climate Change Programme (CHICCHAP) to educate on the need to manage and protect natural ecosystems and take a holistic approach to addressing climate change through a ridge to reef approach.
Twenty five participants representing the province, communities including government departments such as forestry and agriculture were part of the workshop and discussions.
The PEBACC project is funded through the International Climate Initiative (IKI). The German Federal Ministry for the Environment, Nature Conservation, Building and Nuclear Safety (BMUB) supports this initiative on the basis of a decision adopted by the German Bundestag.
For more information about the PEBACC project in Solomon Islands, contact Mr. Fred Patison, PEBACC Solomon Islands Country Manager at
[email protected]