September 19, 2013 by
admin
19 September 2013, Apia Samoa, 24SM - A successful Clean Pacific Campaign led by the Secretariat of the Pacific Regional Environment Programme was commended by members today.


The waste issue was described by the Cook Islands as the second most important priority issue for the Pacific islands after climate change, a sentiment that was supported by others at the table.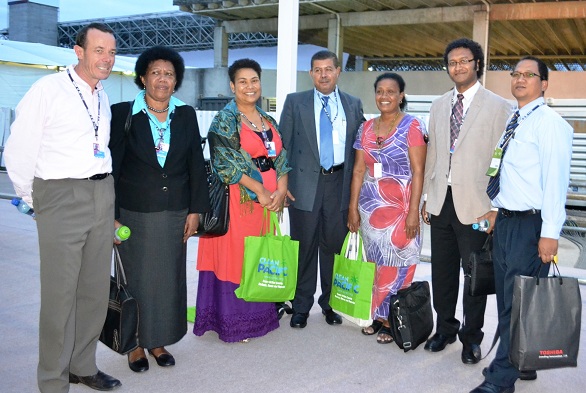 Clean Pacific campaign visible at the Rio+20 in 2013 with
Reusable Clean Pacific bags distributed to Pacific delegates
Over the duration of the Pacific wide campaign a number of activities took place; three different regional training activities were held covering a range of waste and pollution issues from best waste management practices to  responding to tier 3 oil spills; a partnership with Westpac Banking Corporation was established helping to raise visibility of the campaign; resources were published for distribution and; several waste strategies and policies were developed.


A key highlight of the Clean Pacific campaign was the work conducted at the community level in Fiji, Kiribati, New Caledonia, Palau, Tokelau and Vanuatu.


"We provided six Clean Pacific grants of USD 2,000 each for grassroots projects and are pleased with the results from these, we aimed to reach as many  audiences as possible in our Campaign and are grateful for the support from donors and our Pacific members in making the campaign a successful one," said Ms. Esther Richards the Solid Waste Adviser for SPREP.


• In Kiribati the Tarawa Adventist Youth Group conducted a one day awareness workshop with 25 young people focusing on promoting lead-acid battery management, composting and the 3Rs;
•  New Caledonia held the 'Clean New Caledonia' activity involving over 2,000 participants in 26 locations resulting in 185 bags of waste, 120 kilos of aluminum cans in just one location;
•  The Republic of Palau Public Education and Enhancement Committee undertook a mission to the Southwest Islands and removed 172 kilos of recyclable materials, 28 large lead batteries and 300 metres of abandoned fishing nets;
•  The work of the Fakaoko Waste Management Champions was realigned to the Tokelau National Strategic Plan 2011 - 2015 through a one-day training and planning workshop with 20 Waste champions;
•  Vanuatu held a logo and poster competition with 17 primary and secondary schools in Port Vila and;
•   In Fiji the Catholic Women's League conducted a waste management survey and taught 35 women the skills to convert trash into usable items.


Today Fiji announced that for them the work commenced under the Clean Pacific campaign has provided further  impetus for ongoing work on waste management in Lami Town by the Catholic Women's League in Fiji.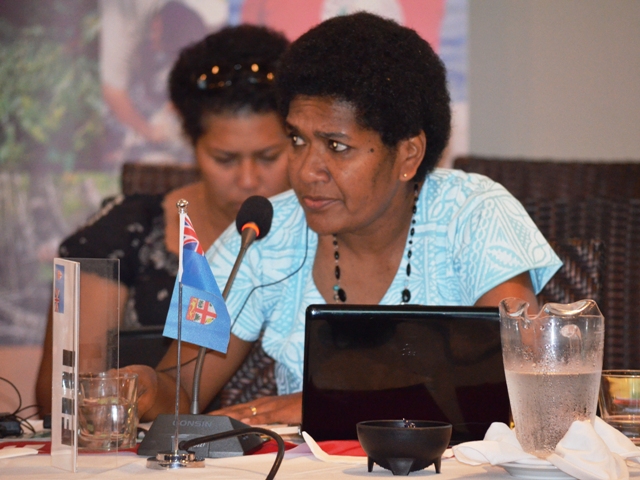 Ms. Eleni Tokaduadua, Acting Director, Department of Environment, Fiji
"Our Memorandum of Understanding with the Catholic Women's League is strengthening the sustainability of this project that emanated from the Clean Pacific campaign," said Ms. Eleni Tokaduadua, Acting Director of the Department of Environment in Fiji.


"We're now working with  SPREP to help us sustain this project and ensuring there is continuity in the practices."


Former host and chair of the 2012 Annual SPREP Meeting was New Caledonia.