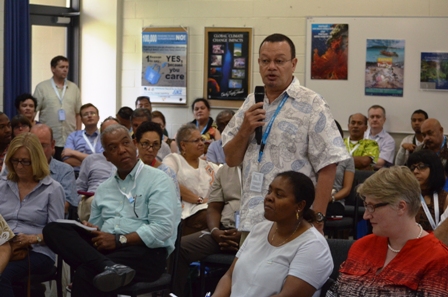 Ambassador Ronny Jumeau, Permanent Representative of Secychelles to the United Nations,
addresses the panel during the event
30 August 2014, Apia, Samoa -
The Climate-Resilient Islands Partnership Parallel event
brought together different island regions before the Third International Conference on Small Islands Developing States in Samoa.
Held at the Secretariat of the Pacific Regional Environment Programme (SPREP), the event discussed the strength in partnerships, highlighting the work of the Caribbean, Indian Ocean and Pacific regions, namely the Caribbean Community Climate Change Centre, Indian Ocean Commission and SPREP.
Coordinated by the Commonwealth Secretariat, the event also heard from the European Union who provided a perspective as a development partner.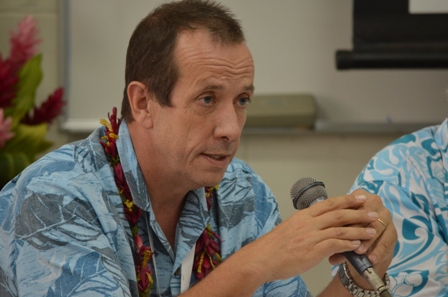 Ambassador H.E Andrew Jacobs, Head of the EU Delegation for the Pacific
"For the Pacific Islands and Small Islands Developing States, climate change is not a future danger, it is happening daily, it is a threat that Pacific island country SIDS live with every day," said Ambassador H.E Andrew Jacobs, Head of the EU Delegation for the Pacific.
"The SIDS are strategic partners in our fight against climate change."
The Climate-Resilient Islands Partnership is uniting the three organisations working in the different small states region to help the SIDS prepare for climate change. Supported by a Memorandum of Understanding, these organisations are working with the Commonwealth to promote this partnership and its potential.
There are five key priorities for the partnerships, these are: On-line Portals for which the Climate Change Portal is working in the Pacific; Climate modeling; Integration of Adaptation and Disaster Risk Reduction; Regional Implementing Entity and National Implementing Entity Accreditation as well as developing an Implementation plan for the Indian Ocean region taking lessons from processes that the Pacific and the Caribbean have already implemented.
"Our organisations have different strengths and this is an opportunity, we can learn from each other," said Mr. David Sheppard, Director-General of SPREP.
"This partnership has considerable added value and we hope that this is an opportunity of the SIDS conference to really look at how we can strengthen this in more detail. Contact through technical staff is critical and should be a key part of this future collaboration."
The event took place to a full house with standing room only available. Deodat Maharaj the Commonwealth Deputy Secretary-general of Economic and Social Development made welcoming remarks followed by Jean Claude de l'Estrac, Secretary General of the IOC, Dr. Kenrick Leslie the Executive Director of CCCCC, Mr. David Sheppard, Ambassador Jacobs and Tuiloma Neroni Slade, Secretary General of the Pacific Islands Forum Secretariat.
The event was held at the SPREP Headquarters from 3 to 5pm on 30 August, more photos as per the below.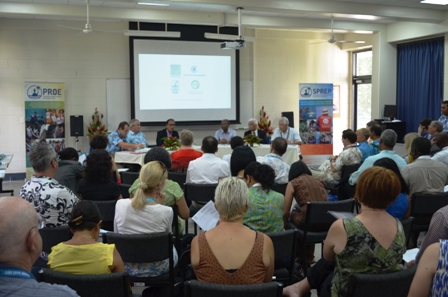 Standing room only at the event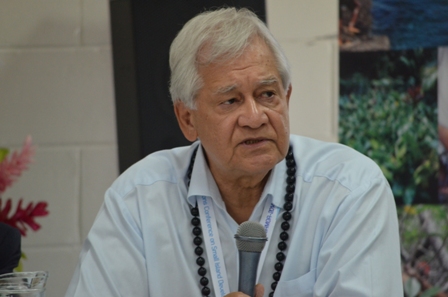 Tuiloma Neroni Slade, Secretary-General of the Pacific Islands Forum Secretariat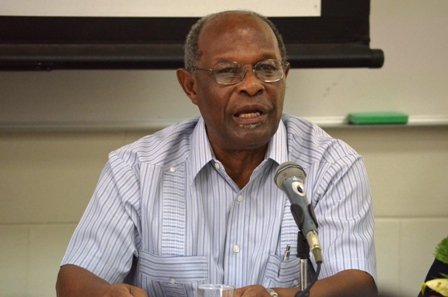 Dr Kenrick Leslie, Executive Director of the CCCCC