November 3, 2016 by
admin
Island and Ocean Ecosystems
The Pacific Ocean influences every aspect of life and has done so for millennia—it unites and divides, connects and separates, and sustains and threatens our very survival.
"It is easy to talk about sectors coming together, but getting fisheries, geology, foreign affairs, climate change, and other departments committed to collaboration has been the most difficult part of integrating our approach in developing Vanuatu's Ocean Policy," said Mr Toney Tevi from Vanuatu.
Mr Tevi joins environmental managers, industry representatives, development agency representatives, and marine resource specialists from across the Pacific region who gathered in Apia this week at the Pacific Ocean Alliance (POA) and Sustainable Ocean Initiative workshop for the Pacific Islands.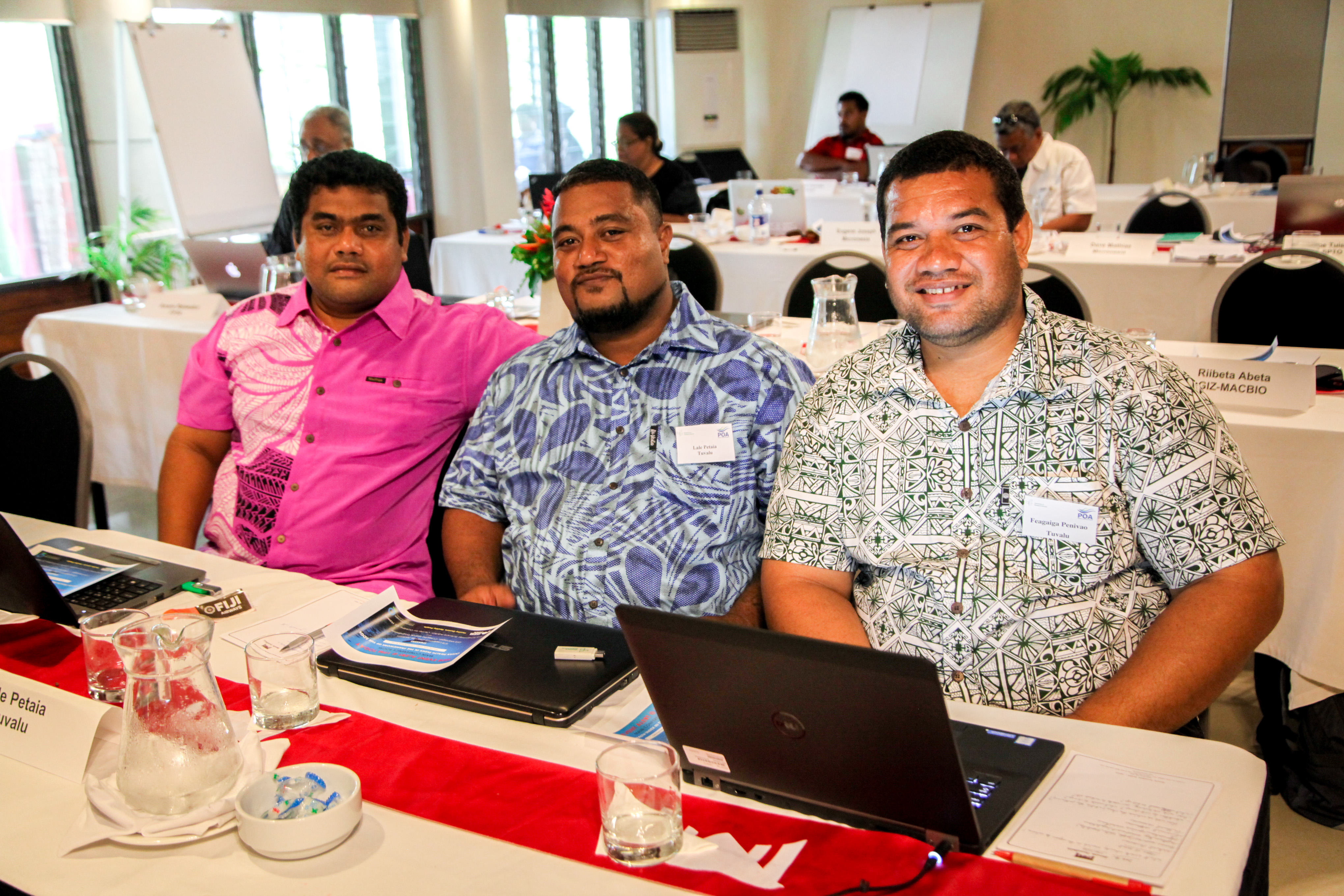 Participants contributed their expertise to the workshop. Photo: Tim Rasmussen
"The workshop begins a journey, learning from each other about how the Pacific can deal with the complicated challenge of the sustainable development and conservation of the marine environment," said Piers Dunstan from Commonwealth Scientific and Industrial Research Organisation (CSIRO).
The Pacific Ocean Commissioner, Dame Meg Taylor, facilitates the Pacific Ocean Alliance— the regional cross-sectoral and inclusive partnership established to stimulate effective ocean policy coordination and implementation; facilitate regional cooperation for the high seas; and support national ocean governance and processes.
Dame Taylor said, "The ocean remains a high priority for Leaders, and while Pacific leadership in proposing and ensuring a standalone SDG on the ocean and seas (SDG14) has been globally recognised, we must as a region continue to demonstrate continued leadership and cohesion on oceans at the regional level."
"One of the ways that SPREP serves our members is through connecting them to experts and to each other to use methods that are effective in the unique Pacific context," said Mr Roger Cornforth, Deputy Director General of SPREP.
"Integration is a concept at the heart of ecology and at the heart of effective sustainable development for environmental, social and economic resilience."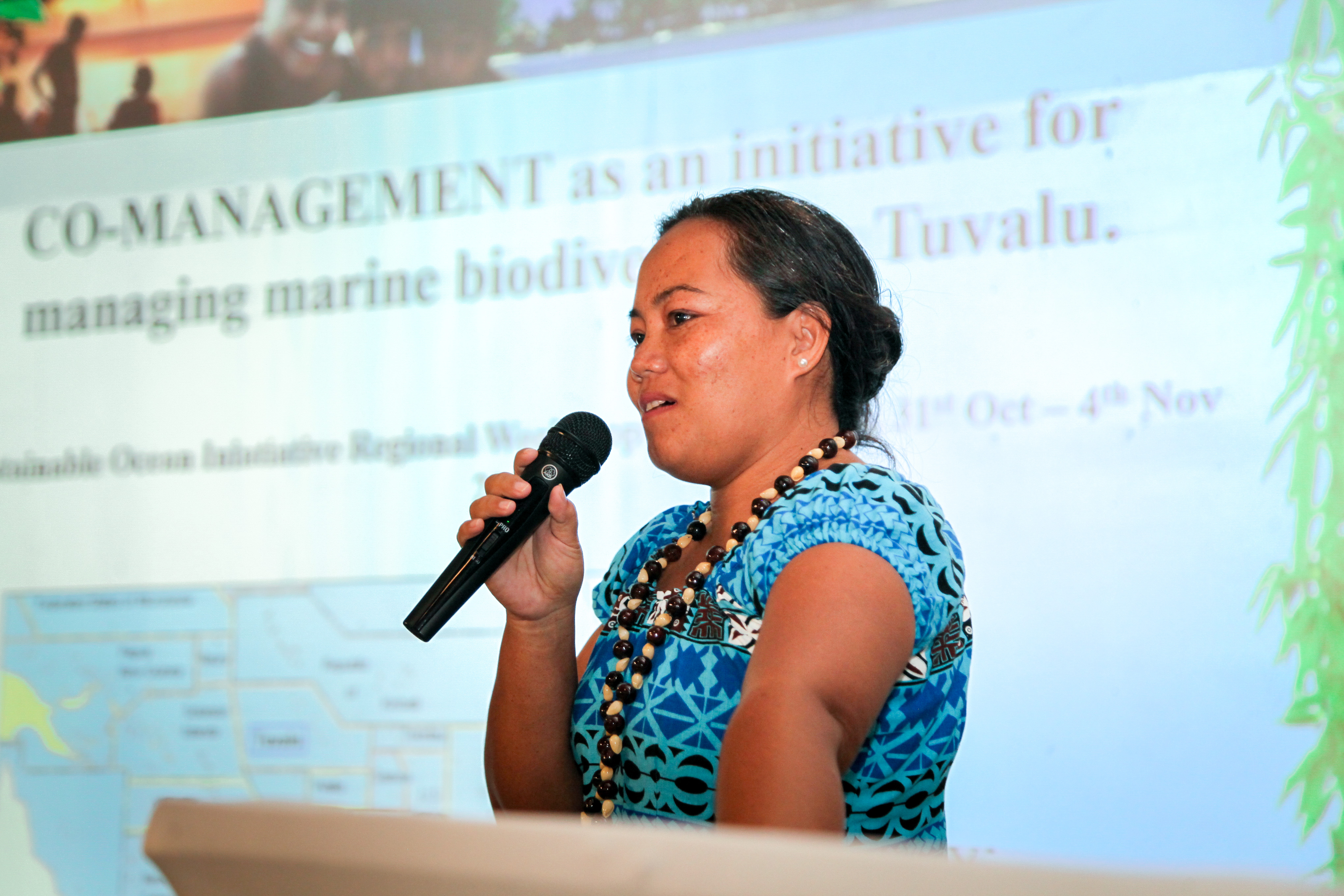 Participant Moeo Fanauga from Tuvalu. Photo: Tim Rasmussen
The participants of the combined POA and CBD-Sustainable Ocean Initiative workshop are from Pacific island countries and territories as well as regional agencies. The workshop is co-organised and funded by POA, the Secretariat of the Convention on Biological Diversity (CBD), Office of the Pacific Ocean Commissioner (OPOC), Australia's Commonwealth Scientific and Industrial Research Organisation (CSIRO), Agence des aires marine protégées (French Agency for Marine Protected Areas), the Pacific Community (SPC), and the Secretariat of the Pacific Regional Environment Programme (SPREP), with additional funding from the Japan Biodiversity Fund and Australian Aid.
The workshop participants shared experiences across different sectors, identifying success factors and common challenges while outlining ways to enhance cross-sectoral coordination, planning and management. Connections built at this week-long workshop will support a regional perspective on oceans.
"We already have some mechanisms to develop and implement integrated ocean management," says Moeo Finauga from Tuvalu.
"We are trying to understand how to meet diverse global and regional commitments on oceans in a sustainable way."
Mr Joseph Appiott of the Secretariat of the CBD (which coordinates the Sustainable Ocean Initiative) emphasised the importance of dialogue and coordination across sectors: "Because of the extensive and valuable services provided by marine ecosystems, their essential role in achieving sustainable development must be maintained and restored."
For more information, please contact Dr Tiffany Straza,
[email protected]
| Mob: +685 720 9604
Alternate contact: Mr Warren Lee Long,
[email protected]