Island and Ocean Ecosystems
Climate Change Resilience
Environmental Monitoring and Governance
Waste Management and Pollution Control
General News
30 June 2022, Lisbon Portugal, UNOC2022 - The impacts of the climate crisis on Pacific Island countries have been further compounded by the COVID-19 pandemic, Nauru has reminded the international community.
 A COVID wave in Nauru has prevented a high-level delegation from the Pacific nation from attending the United Nations Ocean Conference (UNOC 2022) held in Lisbon Portugal, this week. Speaking during the plenary session at the Altice Arena on Thursday, Permanent Representative of the Republic of Nauru to the United Nations, Her Excellency Margo Deiye, said this has been a disappointment given the priority her country places on Ocean health.
Still, she said these challenges must not stop the work being done to propel much needed science-based innovative solutions aimed at starting a new chapter of global ocean action.
"We are highly dependent on marine resources for our sustenance and economic development," Her Excellency Deiye said. "We call on the international community to do more - reduce their greenhouse gas emissions with more ambition and to take urgent action."
Nauru's Permanent Representative of the Republic of Nauru to the United Nations told the conference that climate change constitutes an existential threat and poses a serious security risk to the livelihoods and the viability of countries, where partnerships and cooperation are critical in the fight to overcome them.
"For Nauru, fisheries are currently a major source, indeed one of the few sources, of funds for our national treasury. And, we support effective conservation and management measures to ensure the long-term viability of the stocks," she told the gathering. "Our fisheries efforts though are hampered by the disproportionate burden for conservation of our stocks. All the countries that benefit from tuna must shoulder a fair share of the burden of conserving and managing the stocks.
"Otherwise, this disproportionate burden taxes our thinly stretched financial and technical capacities, hampering our ability to benefit from the sustainable use of the Ocean."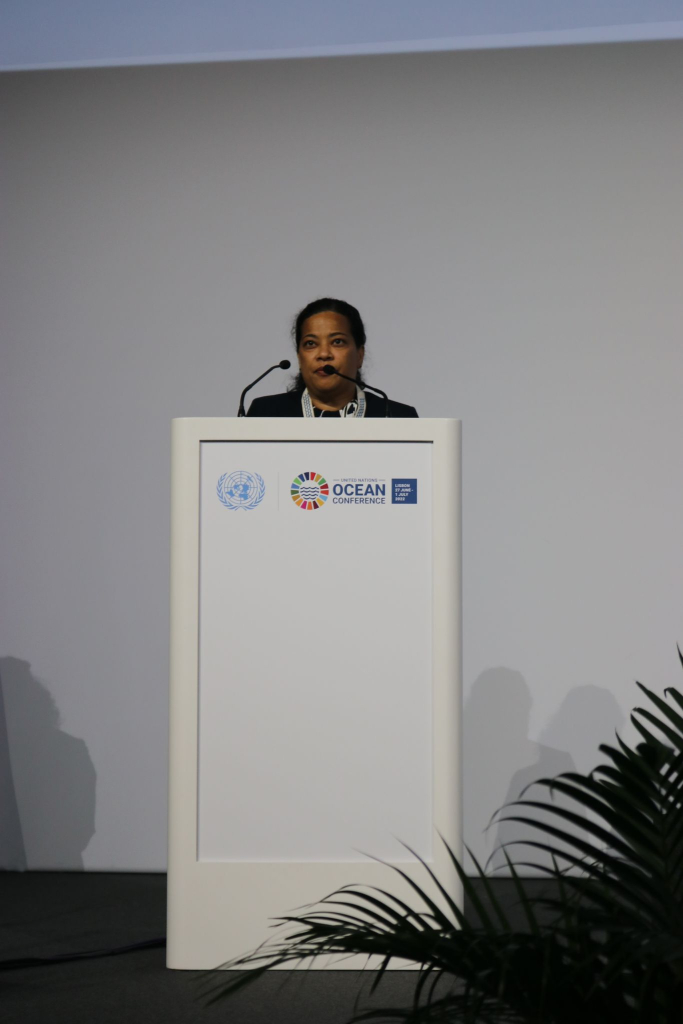 Nauru highlighted the need to address IUU fishing.  "No one country can combat it alone and I am pleased that we are working closely with our neighbors in Micronesia to jointly and collectively combat IUU fishing through a sub-regional strategy addressing the issue of transitional crime and maritime security. We welcome other partnerships, which can help us combat this scourge."
Her Excellency Deiye also referred to Ocean Acidification as one of the biggest problems of today. She said that the greatest challenge in addressing Ocean acidification is the accurate and timely measuring and monitoring of marine chemistry (including post-collection data analysis).
"We are pleased that the political declaration highlights the need for strengthened international, regional, sub-regional and national scientific and systematic observation and data collection efforts, and look forward to developing partnerships which are well targeted for our needs," she said.  "Given the current threats to marine biodiversity it is also important to conclude at the next intergovernmental conference, an ambitious international legally binding instrument under UNCLOS on the conservation and sustainable use of marine biological diversity of areas beyond national jurisdiction."
Her Excellency Deiye concluded that "Climate action equals ocean action. We protect our climate and we save our ocean."
The Second UN Ocean Conference is hosted in Lisbon, Portugal from 27 June to 1 July 2022.  The Pacific Islands are represented by a strong contingent, which includes the Leaders from Fiji, Palau and Tonga.  Also present are the Cook Islands, Federated States of Micronesia, Fiji, French Polynesia, Kiribati, Palau, Papua New Guinea, Republic of the Marshall Islands, Samoa, Solomon Islands, and Tonga, Tuvalu and Vanuatu.
 For more on the UN Ocean Conference 2022 hosted in Lisbon, Portugal from 27 June to 1 July please visit https://www.un.org/en/conferences/ocean2022