December 2, 2013 by
admin
• Chief Guest: Your Excellency President Ratu Epeli Nailatikau
• Honorable Aiyaz Sayed - Khaiyum, Attorney General, Minister for Justice, Anti – Corruption, Public  Enterprises, Communications, Civil Aviation, Tourism, Industry and Trade and Acting Minister for Local Government, Urban Development, Housing and Environment
• Honorable Ministers of the Fiji Cabinet
• Honorable Ministers from Pacific Island Countries
• Members of the Diplomatic Corp
• Excellencies and distinguished representatives of Pacific Island Countries and Territories
• Chair of the Pacific Islands Roundtable for Nature Conservation
• Heads of Organizations, private sector, community groups and networks
• Ladies and Gentlemen
Good morning
It is a great pleasure to provide some opening remarks on behalf of SPREP - the Secretariat of the Pacific Regional Environment Programme - to this critically important conference.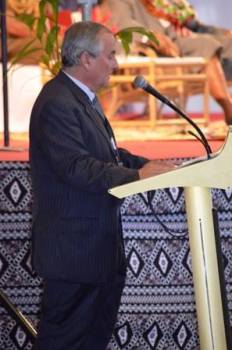 David Sheppard - Director General, SPREP
At the outset, I would like to thank and congratulate the Government of Fiji for graciously hosting this week's conference. I would like to pay tribute to the hard and excellent work of the Fiji Organising Committee . Meeting in Fiji also provides the opportunity to see first-hand some of Fiji's unique and rich biodiversity and their leadership on many innovative management approaches.
Congratulations also to the leadership shown by the win of Fiji at the Rugby Sevens in Dubai over the weekend !
I would also like to acknowledge and thank Papua New Guinea for their excellent convening and chairing of the eighth conference in 2007 in Alotau, PNG.
For SPREP, biodiversity and ecosystem management is part of our DNA. We have serving the countries of the Pacific for 40 years, with the last 20 years being as an independent inter governmental organisation. Our premise is that a healthy environment is the cornerstone of sustainable development and livelihoods for Pacific countries and peoples.
When SPREP started out in the early 1970s it was entirely focused on biodiversity. In the 1980s we had 2 staff, one focused on marine biodiversity, particularly coral reef management, and one focused on terrestrial management, particularly the establishment of protected areas.
We have grown significantly since then and now address a range of areas, including climate change, waste management, and environmental governance and monitoring.
SPREP is pleased that our change management process over the last 4 years has more than doubled the level of financial and technical support to Pacific island countries and territories over the last few years. We will continue and accelerate this support for our Pacific island members.
The 5 yearly Pacific Islands Nature Conservation Congress has been core business for SPREP from "day 1" dating back to the first such conference in New Zealand in 1975, with Bing Lucas, Pacific and New Zealand conservation icon, being the driving force.
It was my honour and pleasure to have some limited involvement with the second conference in Sydney, Australia in 1981 and then to be seconded to SPREP, along with Peter Thomas from New Zealand, to help organize the third conference in Apia, Samoa in 1985.
I recall Peter Thomas and I reviewing a paper for the 1985 conference which was well beyond the word limit but it was so good that we included it without change.
I'm pleased to that Randy Thaman is still writing long, and very high quality papers, and remains one of our most venerated Pacific conservation leaders.
Many of the participants involved in earlier Pacific conservation conferences are still making major contributions and are in the audience today, including Peter, Randy, Audrey Newman, Joe Reti and Robin Yarrow.
I mention this because conservation is about biodiversity, but it's also about people. I am very pleased that we will be honoring a number of Pacific conservation leaders and achievers this week, particularly through the Inaugural Pacific Islands Environment Leadership Awards tonight.
The size and scale of the conferences has grown since earlier days, with about 50 participants in Samoa in 1985 to more than 700 at this conference. This week is the biggest ever conservation conference held in our region.
The conferences have grown but so have the challenges facing our island biodiversity.
In the Pacific region our biodiversity is of global significance with high endemism and biodiversity. For example, 7% of the planet's biodiversity is located within Papua New Guinea, even though it represents 0.6% of the global land area.
However our biodiversity is highly at risk. Extinction rates in the region are among the highest in the world.
New information for Pacific Island freshwater fishes, land snails and reptiles is part of the latest update of the IUCN Red List of Threatened Species. These data indicate that many of these species are threatened with extinction.
I thus believe a key word for this conference is urgency. In our region we rightly hear a great deal about the major challenges of climate change and the crisis of NCDs or non communicable diseases, such as obesity and blood pressure.
The loss of biodiversity is also a crisis, with long lasting consequences for sustainable development and livelihoods in our region.
We have to act, and we have to act now.
We must make the clear case of the vulnerability of our small, isolated islands to impacts such as invasive species, loss of habitat and excessive resource exploitation to decision makers at all levels.
This importance is reflected in the convening, for the first time, of a High Level segment at this conference, which will consider key priority actions to support nature conservation in the next five years and beyond.
A second key word is linkages - we need to make better links between biodiversity and other key issues in our region.
Climate change has been articulated by Pacific leaders as the major challenge facing the region. As the President of Kiribati has eloquently stated: "climate change is a matter of national security"
I have come directly to this conference from the Climate Change Convention COP 19 in Warsaw,
Poland. Major speeches from our Pacific leaders underlined the urgency and vulnerability of Pacific island ecosystems to the impacts of a changing climate, including to sea level rise and increasing frequency of extreme weather events.
I heard very little in Warsaw about biodiversity and ecosystem management. However we know from our region that there is a clear and important link.
We saw in Samoa and Tonga that the protection of coastal mangroves and vegetation was one of the most effective ways to protect coastal communities from the impacts of the tragic Tsunami in October 2009.
The protection of the catchment area surrounding Pohnpei in FSM has proved to be one of the most effective ways to ensure water quality and supply in the face of climate change.
The partnership project in Choiseul Province in Solomon Islands, involving SPREP, SPC, all levels of Solomon Islands Government and many NGO and other partners, is showing that Ecosystem Based Adaptation can and should be a key front line response to a changing climate in our region.
We all must build on these examples and better make the case that an investment in biodiversity and improved ecosystem management offers one of the most cost effective and efficient ways to positively address climate change in our region.
This is underlined by this weeks conference theme: "Natural Solutions: Building Resilience for a Changing Pacific".
Our conference this week is a landmark opportunity to protect and better manage our precious Pacific biodiversity.
This week we will be looking back and, more importantly, looking to the future.
In looking back we will be assessing the State of Conservation of our region, through the SOCO report which provides a clear overview of the state of conservation in the Pacific region. We will also be reviewing the 2008 to 2012 Action Strategy for Nature Conservation and, in particular, reviewing what worked, what didn't, and areas that need to be strengthened. We will also celebrate the many success stories in this region.
More importantly, this week we will be developing a new Action Strategy for Nature Conservation for the next 5 years, which will identify and endorse practical actions and priorities for the next five years.
We need your help in further developing this Strategy as well as other conference outcomes this week. Ambassador Feturi from Samoa once stated that: "no-one has a mortgage on good ideas". I would thus urge you all to get involved and contribute your ideas and expertise to the Action Strategy and to other key outcomes from this weeks conference. Thank you for your active involvement.
The conference aims to adopt a declaration that highlights key messages from the conference and commitment to action in the next five years and beyond.
We need to look at this weeks conference as a stepping point along a longer journey towards more effective biodiversity conservation in the Pacific.
In particular we need to ensure our messages feed into and influence key events over coming years, including the 10 yearly Small Islands Developing States meeting in Apia, the CBD COP12 Meeting in Korea, the World Parks Congress in Sydney.
In closing I would like to say thank you to the partners who have made this important conference possible.
I would like to thanks all partners involved in organizing the conference in particular the Pacific Islands Round Table for Nature Conservation and IUCN.
I would particularly like to acknowledge the generous financial assistance from all key partners and donors who have made this conference possible.
I would like to again thank and congratulate the Government of Fiji for graciously hosting this weeks conference.
SPREP wishes you all the best for a successful conference
Thank you
TRIBUTE TO LUI BELL
SPREP DIRECTOR GENERAL - David Sheppard
Our friend Lui Bell, who passed away a year ago, was an outstanding person in every respect; one who was loved at SPREP and widely respected right around the Pacific region.
He was a deeply committed conservationist, with great integrity. He has left a legacy of numerous achievements delivered throughout a distinguished career, during which he worked tirelessly for the protection and conservation of the Pacific's most iconic species of threatened and migratory marine wildlife.
Lui's work on turtle conservation was truly inspiring. He was responsible for implementing flipper-tagging and satellite monitoring studies to reveal the migrations of green and hawksbill turtles in Oceania. He conducted training sessions in numerous countries, and over two decades was the guiding influence behind SPREP's Turtle Action Plans and the TREDS database.
It was Lui's leadership that resulted in the introduction of the Convention on Migratory Species to the region, as a consequence of which there are now 4 Pacific Islands members of CMS.
He also had a deep passion for the conservation of whales and dolphins. Behind the scenes, he was the architect of a succession of negotiations with Pacific Island countries and territories, ultimately resulting in the establishment of over 18 million square kilometres of whale sanctuaries, an area larger than the total landmass of Russia.
He was also the quiet force behind the negotiation of the CMS MoU on the Conservation of Cetaceans in the Pacific Islands, which now has 15 SPREP members as signatories.
Lui knew that the successful conservation of marine species must go hand in hand with bringing an economic benefit to local communities. He was an early and influential supporter of whale watching in Tonga, which now delivers over $US5 million to the local economy. At the same time, he led the development of guidelines to minimize the impact of this activity on the whales themselves.
He understood the value of research, and kept alive several important programmes that would have foundered without his and SPREP's support.
At the time of his passing, Lui had just started work on a regional project linking turtleconservation and ecotourism, delivering benefits to both threatened species and coastal communities.
Lui achieved all this in a modest and cheerful way. He was the ultimate quiet achiever. Although he was a world expert with enormous influence over a huge region, you would never have known that from his humble manner. His achievements will stand as a beacon for marine conservation in the Pacific region for decades and generations to come.
His message was simple – whoever you are, no matter your station in life, you can and you must play a role to conserve and protect those iconic marine species who were roaming these oceans millions of years before us.
To honour the life and work of Lui Bell and his commitment to the conservation of Oceania's marine species, SPREP is tonight announcing to the Pacific conservation community the Lui Bell Post-Graduate Scholarship for Marine Species Conservation.
This scholarship will provide financial support to Pacific island nationals undertaking studies in marine science, with a focus on conservation of threatened marine species, in particular turtles, cetaceans, dugongs and sharks. Our target is to achieve a permanent minimum annual funding pool of US$60,000 and to provide support for three post-graduate students. To initiate the Fund, SPREP has committed $20,000 per annum for the next three years as baseline funding. The first call for applications will be made in March next year, and will close in June, with a decision on the successful applicant(s) to be announced in July.
We invite donors, partner organisations and friends of Lui to support this Scholarship, and thus to keep alive the memory and the legacy of one of the Pacific's great conservation champions.
Thank you.