Biodiversity, marine pollution, environmental reporting and discerning fact from fiction on climate change were some of the subjects covered by Media and Journalism students from the National University of Samoa (NUS) in a story-writing competition to mark World Press Freedom Day.
Following on from media training for the students and crew from the Gaualofa at the Secretariat of the Pacific Regional Environment Programme (SPREP) two weeks ago, students were invited to submit articles based on presentations at the training, in order to better understand environmental issues and further develop their reporting and story-writing skills.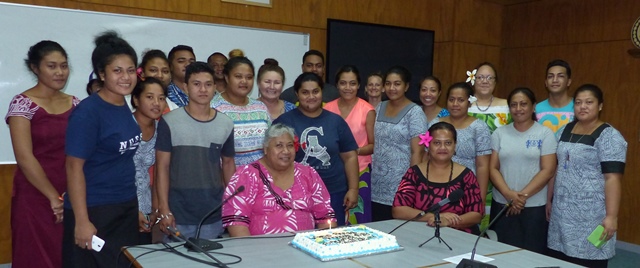 World Press Freedom day with SPREP, NUS and Gaualofa. Photo | SPREP

This is just one of many activities under the SPREP Media Outreach Programme which has been in place to strengthen and improve environment reporting and communications across the Pacific islands region.
"SPREP fully understands the role of the media in the Pacific islands and we are here to help where we can to ensure that there is regular information being shared about our environment in a factual manner," said Ms Nanette Woonton, Media and Public Relations Officer for SPREP.
"We in the Pacific islands depend upon our environment for our livelihoods, it is the backbone of our cultural traditions and we are pleased to work with our Pacific media so they can share information that will help bring about a sustainable Pacific."
All stories were checked for factualness by the presenters, and four judges, three from SPREP and one from NUS, awarded points for headlines, story structure, factualness, interest factor, spelling and grammar.
The winning entries in order from first to fifth were by Seia Soloi, Katalina Tovia, Samuele Seupule, Felauai Opetaia and Measinatamalii Tatupu. They wrote on climate change, marine pollution and conserving the biodiversity in Samoa.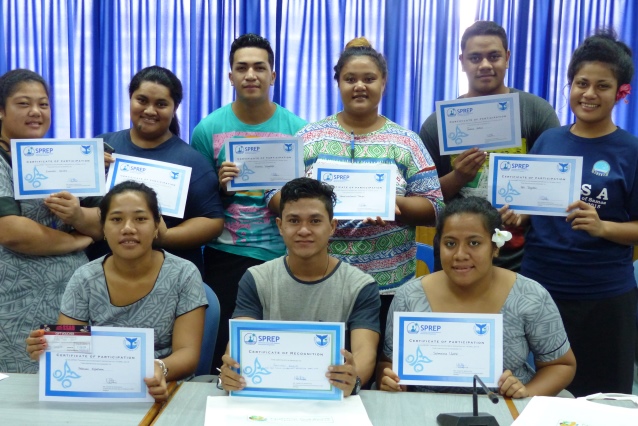 NUS students with their certificates. Photo | SPREP 
"The stories were of a high calibre - they were interesting and contained information learnt on the day. It's a plus for us as it shows that this is working. Now we need to continue this and enhance this understanding even further," Ms Woonton said.
The awards ceremony was held at NUS Aoa Conference Room and was attended by the Dean of the Faculty of Arts, Lafaitele Fualuga Taupi, Gaualofa Crew, SPREP staff and the NUS Media and Journalism students and staff. Prizes for the best five stories received stationary vouchers along with the cake to celebrate World Press Freedom Day were supplied by SPREP's Communications and Outreach Unit.
"We couldn't be happier celebrating World Press Freedom Day by awarding the work of our up and coming Samoan journalists," added Ms Woonton.
The winning stories will be featured on the SPREP Facebook page:
www.facebook.com/SPREP.PEIN