May 14, 2019 by
angelicas
Environmental Monitoring and Governance
30 April, Brisbane, Australia - Evolution or Revolution: Where Next For Impact Assessment?
This was the theme of the 39th International Association for Impact Assessment 2019 (IAIA19) Annual Conference held on the 29 April to 2 May in Brisbane, Australia. The IAIA19 Conference brought together more than 800 practitioners, experts, academics, government officials, private sector and other key stakeholders from around the world to share experiences, ideas, information, challenges and solutions in moving the impact assessment agenda forward.
There was a notable Pacific presence at the conference with representative government officials from environment ministries and departments, private sector representatives, as well as a delegation from the Secretariat of the Pacific Regional Environment Programme (SPREP) led by Director General, Mr Kosi Latu.
For the first time, a Pacific Day was convened as part of the IAIA19 Conference Programme with a specific focus on the current state of environmental and social safeguard policies and standards to meet the needs of people and the environment in the Pacific islands. 
The Pacific region is the most diverse oceanic island region in the world. With more than 30,000 islands, a diverse range of cultures and over 1,000 spoken languages. With the exception of Papua New Guinea, almost all of the Pacific island countries have small areas and enormous areas of ocean within their Economic Exclusive Zones (EEZ).
The Pacific islands marine ecosystem hosts the world's largest stocks of tuna, providing approximately a third of the world's catches of tuna and related species. It is also home to some of the world's most threatened species including endangered marine animals, many of which are now heavily over-exploited by commercial hunting by countries from outside the region such as sharks and whales. 
There are also multiple human impacts resulting from a range of human activities including waste, marine pollution (plastics), logging and mining, illegal and over-fishing – all of which are being exacerbated by the impacts of climate change and natural hazards. The Pacific environment is also under pressure from increasing infrastructural development as well as emerging issues such as the exploration of the seabed for deep sea mining.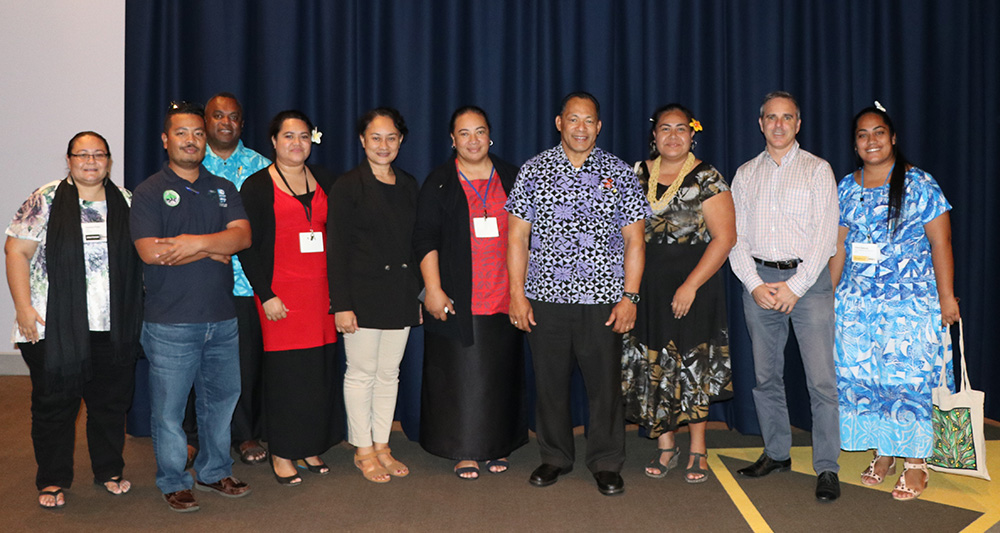 Addressing participants at the IAIA19 Pacific Day Forum, SPREP's Director General emphasised the need for the region to strengthen environmental impact assessment (EIA) and planning systems, improving technical capacities and knowledge base, and ensuring robust and effective environmental and social safeguard systems are in place to support a sustainable environment.
"SPREP, through its Members, has strengthened its commitment for Pacific people and their environment by adhering to best practice of environmental governance," said Mr Latu. "SPREP has developed regional EIA guidelines which have been effectively used by Members and partners as a tool to support sustainable development and environmental sustainability. The SPREP Regional EIA Guidelines, including the EIA Guidelines for Coastal Tourism Development and the Pacific Network for Environmental Assessment, are useful references for the implementation of national EIA legal requirements and to promote best practice in EIA across the full range of projects and development sectors in the Pacific."
Since the early 1990s, SPREP has promoted the use of environmental planning and assessment processes amongst its Member countries and territories, assisting in developing capacity on environmental governance, policy development, planning, monitoring and reporting for sustainable environmental outcomes, and to keep pace with socio-economic development. Promotion of environmental assessment remains an important priority for SPREP as articulated in the SPREP Strategic Plan 2017 -2026.
SPREP's role in addressing environmental challenges facing the Pacific is in line with the theme of the 49th Pacific Leaders meeting in 2018: Building a Strong Pacific: Our People, Our Island, Our Will, and recognising the opportunity that the theme presents to strengthen the region's collective will to drive ambition to overcome the persistent development challenges faced by Pacific people.
In the Pacific region, SPREP Members and partners have made some positive steps in improving and strengthening environmental assessment capacity and in promoting the use of EIA as a tool for achieving sustainable development and contributing to the United Nation's Sustainable Development Goals (SDGs) through increased public engagement in the EIA process, level of political support for developments to comply with national laws, active involvement of development partners and the media which collectively have created a positive change. However, there are still a number of critical challenges and issues that need to be addressed in order for EIA to be effectively used as an assessment, planning and decision making tool.
"There is a need for clearer understanding of the objectives and benefits of an EIA process which is a planning and decision-making tool supporting sustainable development," said Mr Latu. "Often an EIA process is seen as an anti-development tool. There is a need for strong political support for EIA. Effective public participation is a significant strength of the EIA the process. Communities need to own the process and realise the benefits which are derived from such a process."
"Enforcement is still lacking primarily due to insufficient resources. National governments must train and empower other government agencies other than just the environment ministries on the EIA process. To address these challenges, we recognise the need to strengthen partnerships within and between countries, the private sector, the wider community and global financial entities."
These challenges were echoed by Pacific island government representatives including development partners who presented and shared their experiences in implementing EIA within their respective countries and programmes. The challenges also highlighted and reinforced the need to strengthen awareness and capacity on EIA as an effective tool for achieving resilience and sustainability in the Pacific island region.
The need to deliver EIA technical assistance and capacity building in a coordinated and coherent manner with the active engagement of all key stakeholders including the private sector and local communities was duly noted.
Information on the IAIA19 Conference can be accessed on https://conferences.iaia.org/2019/index.php
For more information on SPREP's engagement at the IAIA19 Conference, please contact Mr Jope Davetanivalu [email protected]