May 21, 2019 by
angelicas
Waste Management and Pollution Control
The first of three "Clean-up Days" in preparation for the Samoa 2019 Pacific Games is scheduled for this Saturday, 25 May 2019.
The clean-up is part of the "Beautiful Samoa, keep it clean and plastic free" campaign. It aims to reduce the plastics that are polluting our water ways, oceans, and villages and is done in partnership with MNRE, Ministry of Women, Community and Social Development Pacific Games Office, Samoa Tourism Authority and the Secretariat of the Pacific Regional Environment Programme (SPREP).
You are invited to be part of this national effort.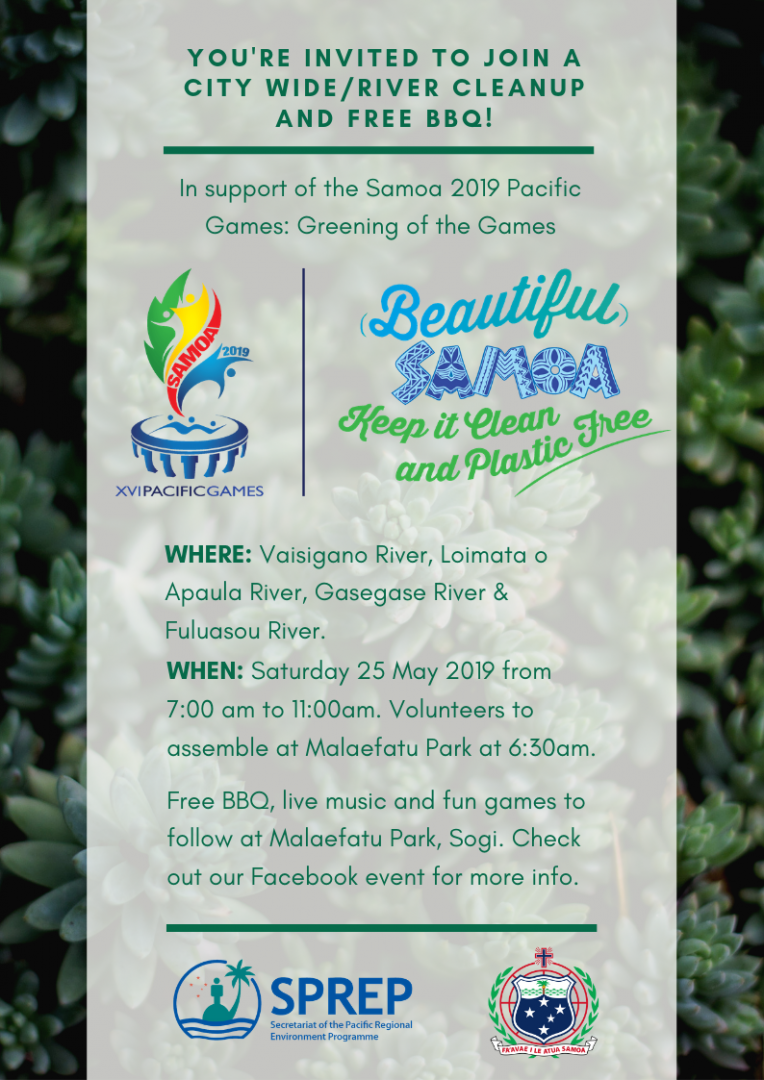 "The clean-up activity and the Plastic Ban Campaign leading up to the Pacific Games is part of a national program towards environment integrity and sustainable development" said Ulu Bismarck Crawley, Chief Executive Officer of the Ministry of Natural Resources and Environment (MNRE) of Samoa.
This Saturday volunteers will assemble at Malaefatu Park at 6.30 a.m. Team leaders will give safety instructions and divide the volunteers into groups for the selected sites.
After the clean-up Saturday, volunteers will join for a free barbecue and Green event with music, games, basket weaving and visits from the athletes.
"The clean-up is a good way to remove rubbish from our rivers," said Mr Kosi Latu, Director General of SPREP.
"It's a great way for Samoa to demonstrate Pacific leadership through a commitment to green the games by reducing amount of plastic and Styrofoam choking our waterways."
The sites for the clean-up this Saturday, are;
Fuluasou River, from Talimatu Bridge to Lepea Bridge, with collection at Tulaele Ford and Lepea Bridge.

Gasegase River, from Sinamoga Bridge to 100 meters past Vaimoso Bridge, with collection at Vaimoso Ford and Vaimoso Bridge.

Loimata o Apaula River (Mulivai), from a few hundred meters above Lalovaea Ford to Mulivai Bridge, with collection at Lalovaea Ford, Main Road, SSAB Road, and Mulivai Bridge.

Vaisigano River, from Lelata Bridge to Leone Bridge, with collection at Leone Bridge.
Volunteers are asked to bring water in a reusable bottle, sunscreen and a hat. It is also asked that you bring safety boots and work gloves if you have them. Otherwise, rubber gloves can be provided at registration.
Since 2010 a number of Pacific island countries have put into place bans on single-use plastics, with Samoa commencing its ban on single-use plastic bags and straws starting in January 2019.
For more information and to register your Ministry, Organisation, Company, Volunteers, please contact either:
Tuiolo Schuster at [email protected];
Deborah Buckley at [email protected] or call 67200
Anthony Talouli at [email protected]