December 18, 2014 by
admin
17 December. - The Government of China has today reiterated its support for the work of the Secretariat of the Pacific Regional Environment Programme (SPREP) during a special ceremony held at the SPREP headquarters in Vailima, Apia.
The Charge d'affaires of the Chinese Embassy in Samoa, Mr. Yang Liu, confirmed funding support to the Secretariat of USD150,000 for the coming year and acknowledged with appreciation,the important role SPREP has played in addressing environmental issues in the Pacific. He also highlighted the ongoing relationship that China has had with the regional environment organisation.
"The Chinese Government and our Embassy have maintained a long term relationship with SPREP for at least a decade," he said. "We have been making donations every year to SPREP and have conducted a series of exchanges and cooperation for the betterment of the regional environment".
"Looking to the future, we stand ready to work closely with SPREP and related parties to conserve the ecosystem and promote the sustainable development of the region," said Mr Liu. "We have full confidence that through joint efforts we can make greater contribution to the critical issue of environmental protection in the region."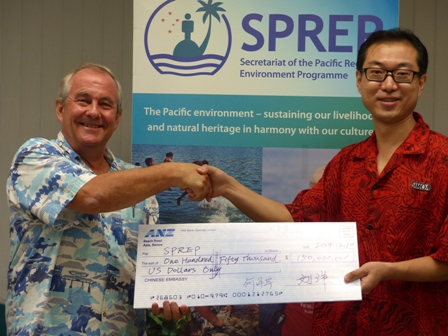 Mr Yang Liu with Mr David Sheppard
Director General of SPREP, Mr David Sheppard, said,
"SPREP is very appreciative of this on-going support from the Government of China, which will strengthen the ability of SPREP to support our Pacific island members to better manage and protect their environment. We also look forward to welcoming two secondments from the Tsinghua University in Beijing to work with SPREP on our waste management programmes. These will be the first ever nationals of China to work at SPREP."
The Government of China has been an active supporter of SPREP's work since 2003.
SPREP's membership currently comprises 21 Pacific island countries and territories and Australia,

France, New Zealand, United Kingdom and United States of America.