April 15, 2016
Director-General of SPREP
Development Partners
Distinguished Guests and
Ladies and Gentlemen
Thank you for inviting me to attend the launch of SPREP's Year of the Whale and asking me to formally open the campaign to Protect Pacific Whales - Ocean Voyagers.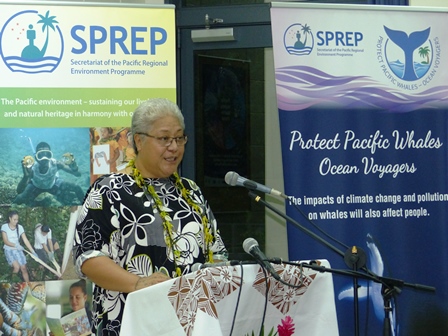 Hon Fiame Mata'afa, Deputy Prime Minister and Minister of Natural Resources and Environment of Samoa
I am grateful for the opportunity to take part in this important regional event for the protection of our region's fauna and flora. Like many other Pacific island countries, whales feature in Samoan culture and legends.
The international and regional community recognised the importance of regional initiatives and programs to be taken proactively to prevent the extinction of these species mammals in our region.
Samoa was one of the first Pacific island countries to declare its waters a whale sanctuary in 2003. While this was largely symbolic, it placed Samoa firmly in the ranks of those countries which favoured conservation over exploitation and this has been our strongly-held position for many years. I am very proud that Samoa's waters provide a sanctuary for whales, and I look forward to an ongoing collaboration between my Ministry and SPREP to protect not only whales, but also other threatened species such as turtles, sharks and rays.
However, because whales are highly migratory species, in order to achieve their effective conservation, we need both an international and a regional approach to support national actions. We welcome the involvement and assistance of SPREP to provide guidance and take the leading role to develop practical regional approaches in the protection of these special creatures. We also acknowledge the support from the members of the International Whaling Committee, especially our friends from the Metropolitan for their leadership at the international level.
I am pleased to note that in the provisional work programme for the Year of the Whale, SPREP has outlined some important priorities for both scientific research and data management for whale conservation. I understand that SPREP is hoping to arrange effective training programs as part of our 2 Samoa's pogramme, and I welcome this opportunity for the management of national marine sanctuaries.
If we wish to see the populations of whales continue to recover, we must all take action to protect the ocean in which they live – their future is in our hands. And by securing the future for whales by protecting their environment, we also secure a better future for our children.
Whales are indicators of ocean health and as Pacific Islanders and guardians of whales, we are equally dependent on a healthy ocean. I therefore urge all of you to get behind SPREP's campaign over the next two years.
I congratulate the SPREP for championing the conservation of our whales and I now declare the Protect Pacific Whales – Ocean Voyagers Campaign formally launched.