October 16, 2018
Environmental Monitoring and Governance
The UNEP-GEF Inform regional project executed by the Secretariat of the Pacific Regional Environment Programme (SPREP) aims to help Pacific island countries enhance their reporting capacity to key multilateral environmental agreements (MEAs) including national, regional and international commitments. This is done through addressing a challenge for Pacific islands - compiling high-quality, and up to date data on the environment including a storehouse for the data. 

To address this on-going challenge, the Inform project is helping set up national environmental data portals in14 Pacific island countries and part of the assistance package include laptops and software programmes to get the data management portals set up and sustained. The first set of laptops were handed out during the joint ACPMEA2 -Inform Project review meeting held at SPREP from the 17th to the 21st September, 2018. The remaining laptops will be distributed to the rest of the project countries during up-coming country visits.
"The equipment we are providing will support and enhance efforts to consolidate data and information through the environmental data portal and making it accessible to support planning, monitoring, reporting and decision making", said Ms. Easter Galuvao, Director of Environmental Monitoring and Governance Programme of the Secretariat of the Pacific Regional Environment Programme.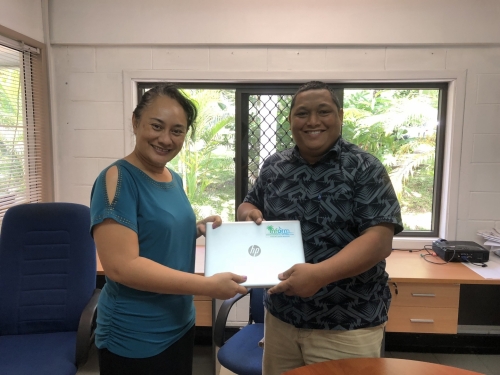 The environmental data portals will help enhance the monitoring and evaluation of environment work undertaken in the region by providing reliable access for national datasets and indicators for environment information.
The Inform project, executed by SPREP through the Environmental Monitoring and Governance Programme will complement and strengthen the development of key national environment documents, mainly the State of Environment (So) Report and the National Environmental Management Strategy (NEMS). Development of these documents rely on easy access to a store house of information on the environment, and the IT support provided to the countries will enhance and facilitate this process. 
Inform project countries are the Cook Islands, Federated States of Micronesia, Fiji, Kiribati, Republic of the Marshall Islands, Nauru, Niue, Palau, Papua New Guinea, Samoa, Solomon Islands, Tonga, Tuvalu, and Vanuatu.
For more information on the Inform Project, contact Mr. Paul Anderson, Inform Project Manager on email: [email protected]. 

To learn more about the Inform project, please visit http://www.sprep.org/inform/home