November 16, 2016 by
admin
Climate Change Resilience
16 November 2016, UNFCCC COP22, Marrakech, Morocco  -
The Government of Tonga's approach in combining climate change and disaster risk considerations into overall development planning is a proactive step in not only accessing financial mechanisms with the overall aim of building the resilience of communities.
Referred to as the Joint National Action Plan (JNAP) on climate change adaptation and disaster risk management the five-year action plan outlines not only the aspirations but also concrete steps to ensure Tonga's resilient development.
The National Action Plan (NAP) approach is a requirement of global financing institutions such as the Green Climate Fund (GCF), European Union, Asia Development Bank and the German Agency for International Cooperation.
These action plans outline national priorities gathered from an intensive consultation process with communities, development partners and other relevant ministries.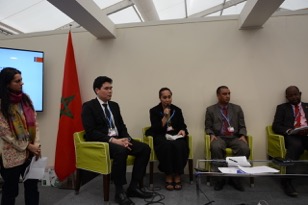 The Director for the Climate Change Department, Luisa Tuafitu Malolo, shared her experiences from the Tonga's perspective at a side event of the twenty-second session of the Conference of the Parties (COP22) of the United Nations Framework Convention on Climate Change (UNFCCC).
"The overall goal of the JNAP is to promote and ensure a safe, healthy, secure and resilient communities to climate change impacts and disaster risks".
"The five-year plan was endorsed by Cabinet in July 2010 and since its implementation, we have managed to establish a sustainable funding mechanism, secure funding to implement projects from a variety of donors as well as the establishment of the JNAP secretariat as permanent staff under the Climate Change Division."
"The creation of the JNAP secretariat is vital, as it drives the implementation of the plan", Ms. Malolo said.
"One of the biggest projects we have secured is a USD$20million project to establish the trust fund, build the capacity of national and local government staff and improve climate data and monitoring system."
"The JNAP has also allowed us to improve our governance processes by highlighting key institutional arrangements to strengthen coordination and partnership in order to avoid the duplication of efforts."
The Government of Tonga's approach comes years ahead of the Framework for Resilient Development in the Pacific, which was endorsed in September 2016 by Pacific Island leaders.
Tonga is part of the 13 Pacific Island country delegations attending COP22 in Marrakech, Morocco from 7 to 18 November, 2016. In all there are 14 Pacific islands that are Parties to the UNFCCC.
– By Jone Tuiipelehaki Raqauqau reporting from UNFCCC COP 22 #4PacIslands