Island and Ocean Ecosystems
By Makereta Komai, PACNEWS Editor in New York
6 June 2017, UN Ocean Conference, New York
- Pacific countries continue to raise their voices on their struggles to obtain suitable and equitable return from their tuna resources.
For a small island nations like Kiribati with a population of just over 110,000 revenue from tuna provides 80 percent of government's earning
From a relatively modest base of AUD$29.5 million in 2009, the figure climbed to AUD$141.6 million in 2014. For 2015, government expected the earning to be well above the AUD$200 million dollar.
A government report said the increase in tuna revenue from 2009 to 2014 was 300-percent.
Speaking at the UN Oceans conference in New York Monday, Fisheries Minister Tetabo Nakara said his island continues to struggle to get equitable return from this crucial single resource.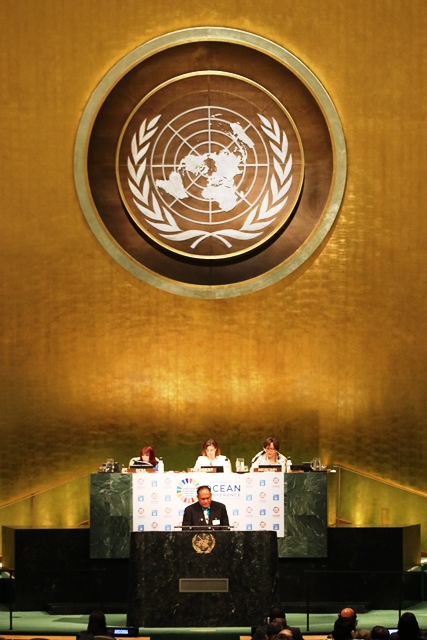 Kiribati Fisheries Minister Tetabo Nakara. Photo: SPREP
"We are concerned that distant water flag states that harvest our resources do not recognise
our rights as a coastal state threatening the sustainability of fish stocks. We are concerned about Illegal Unreported and Unregulated fishing in our waters. IUU takes advantage of our constraints in surveillance over our large EEZ."
Like other Pacific Island Countries, the Kiribati way of life has a binding inter-dependent relationship with the ocean.
"In our local language, ocean is known by many names to describe the significance of this relationship. "Taari" or "marawa" which translated means brotherhood or deep –associated with love and respect, describing our true connection with the ocean. A brotherhood bond with deep love and respect for each other."
"Sadly, we have angered the ocean, disrespecting the important role it plays in our lives, by using it as a dumpsite, overharvesting its richness, increasing its level of acidity. Our call of action is to immediately restore this bond and harmony by respecting and restoring the health of our ocean. We urge this conference to act now.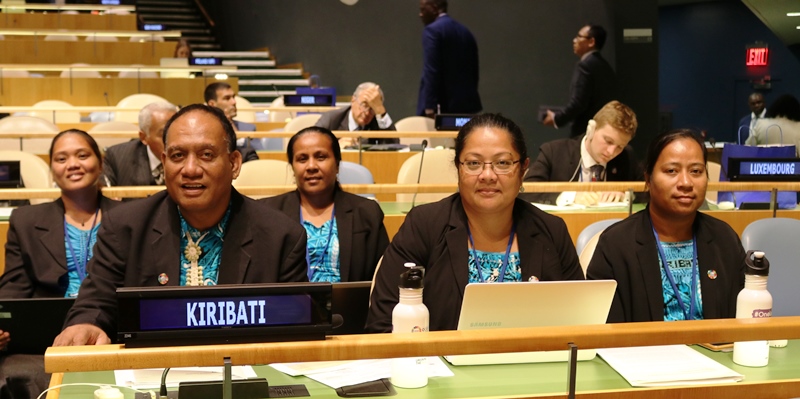 The Kiribati delegation at the UN Ocean Conference. Photo: SPREP
On its part, the Kiribati Government taken decisive actions to conserve and manage its marine resources.
"In 2016 we declared our whole ocean area, all 3.5 million square kilometres of our EEZ as a shark sanctuary banning all commercial fishing of sharks.
"We offered mankind a gift, the Phoenix Islands Protected Area (PIPA) a Marine Protected Area that is over 11 % of our total EEZ, an area equivalent to the size of California as a spawning ground for tuna. We are currently scaling up these efforts and now moving towards the creation of Community and village based Marine Protected Areas throughout the country. We are taking leadership in all this, said Minister Nakara. – M.Komai/SPREP