Island and Ocean Ecosystems
19 July 2022, Suva The Kiwa Initiative 5th Steering Committee meeting brought together key dignitaries and representatives from Kiwa donors - European Union, Agence française de dévelopment (AFD) (French Development Agency), Australia, New Zealand, and Canada - and from the three Pacific Islands sub-regions, in Suva, Fiji.
Regional partners Oceania Regional Office of the International Union for the conservation of Nature (IUCN-ORO), Pacific Community (SPC) and Secretariat of the Pacific Regional Environment Programme (SPREP) presented progress made on the implementation of their respective contribution within the Initiative.
SPREP's Director General, Mr Sefanaia Nawadra, presented SPREPs various roles in the Initiative, including regional partner under the Technical Assistance role it provides to Kiwa, and as a Kiwa regional project coordinator for the second phase of the Pacific Ecosystem-based Adaptation to Climate Change project (PEBACC +) signed in March 2022.
"All Kiwa activities should be inscribed in and contribute to existing larger frameworks, notably the 2050 Strategy adopted by Pacific Leaders at the Pacific Island Forum," Mr Nawadra said.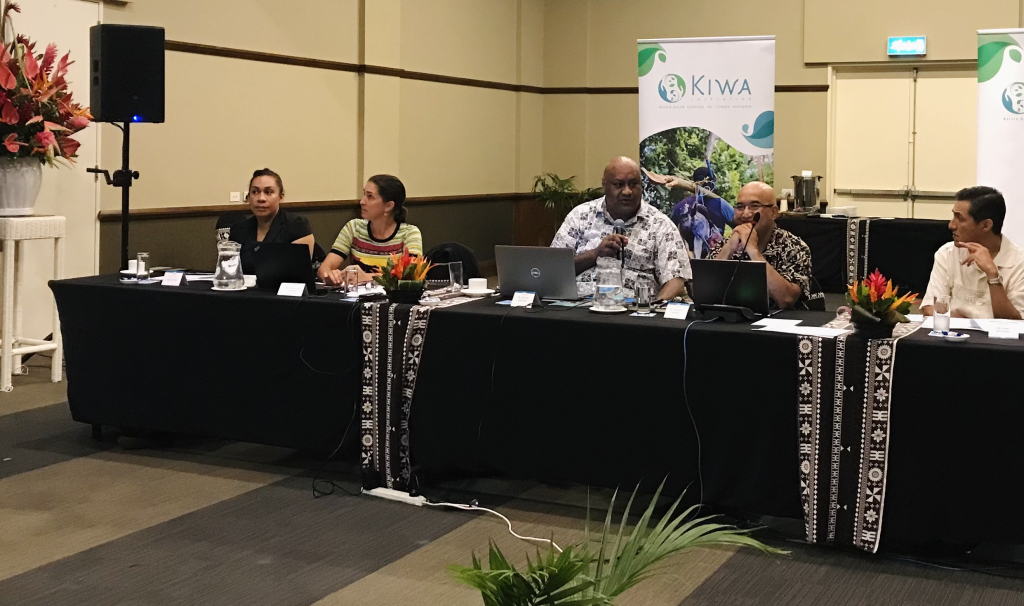 The meeting in Suva was the first time Kiwa donors, partner regional organisations and the current regional project leaders could meet in person since the Initiative kick-started amidst the COVID 19 pandemic. Participants highlighted the need to continue their coordination efforts to improve coherence of Nature-based Solutions (NbS) action in the region, promoting stronger partnerships.
The Kiwa Steering Committee announced the new granting of 10 local projects by partner IUCN ORO, the approval of a third Kiwa regional project (WISH+), along with a renewed financial support from donors, bringing Kiwa total budget from EUR 41 M to EUR 57 M. for NbS for climate change adaptation and biodiversity conservation in the Pacific.
Ensuring smaller NGOs and women groups in the Pacific can effectively access these NbS funds is a priority for Kiwa partners. IUCN-ORO will have dedicated capacity-building sessions for the local component grantees to build their log frame, monitoring and evaluation.
Under the technical assistance they provide to the Kiwa Initiative, SPREP and SPC will also be delivering a regional Kiwa capacity-building programme, with the objective to increase knowledge and capacity around Nature-based Solutions for mainstreaming NbS into policies and for project development and implementation. This programme will run from the end of 2022 until December 2024 and target the representatives from local and national public authorities and institutions, regional organisations, and international and non-governmental organisations in Pacific island countries and territories.
For more information: Kiwa Initiative Steering Committee is meeting in Suva - Kiwa Initiative
About the Kiwa Initiative – The Kiwa Initiative – Nature-based Solutions (NbS) for climate resilience aims to strengthen the climate resilience of ecosystems, communities, and economies in the Pacific Islands by using NbS to protect, restore, and sustainably manage biodiversity. It provides local or national authorities, civil society, and regional organizations in the Pacific Island Countries and Territories with simplified access to funding for climate change adaptation and biodiversity conservation. The Initiative is funded by the European Union, Agence Française de Développement (AFD), Global Affairs Canada (GAC), the Australian Government Department of Foreign Affairs and Trade (DFAT), and the New Zealand Ministry of Foreign Affairs and Trade (MFAT). It has established partnerships with the Pacific Community (SPC), the Secretariat of the Pacific Regional Environment Programme (SPREP), and the International Union for Conservation of Nature (IUCN) Oceania regional office. For more information: www.kiwainitiative.org
About SPREP – The Secretariat of the Pacific Regional Environment Programme is the leading intergovernmental organisation with a mandate to promote cooperation in the Pacific region, help protect and improve its environment, and ensure sustainable development for current and future generations. For more information: www.sprep.org
MAIN PHOTO CREDIT: ©Kiwa Initiative