Island and Ocean Ecosystems
"Mankind only has one earth, one atmosphere and one global ocean. One last chance to save it all for future generations." – Hon Henry Puna, Prime Minister of the Cook Islands
5 June 2017, UN Ocean Conference, New York
- While the Cook Islands may be a land area of only 237 square kilometres, the commitment from the island nation to conserve and protect its 1.9 million square kilometres of ocean, echoed through the halls of the United Nations General Assembly today.
Cook Islands Prime Minister, Hon Henry Puna took to the global stage, reaffirming the Cook Islands role as stewards of the Ocean, putting action to words with Te Marae Moana - the Cook Islands Marine Park closing 16% of its ocean space to commercial harvesting activities.
In doing so, the Cook Islands has exceeded Aichi Biodiversity Target 11 of 10% marine protection by the year 2020.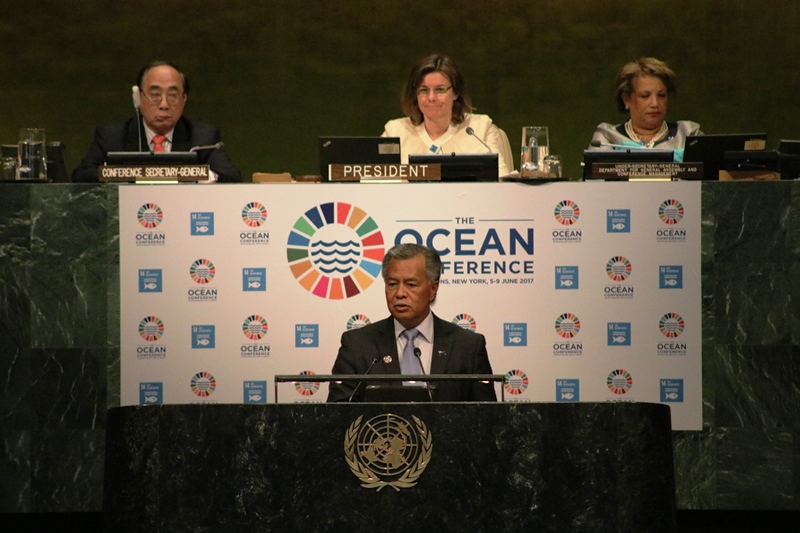 Prime Minister of the Cook Islands, Hon. Henry Puna. Photo: SPREP
"We do this as a gift to the world and future generations, and also because we acknowledge that our environment and our people are the basis of our economy," stated Prime Minister Puna.
The United Nations Ocean Conference opened today in New York. It's the world's largest gathering, ever, to forge a path ahead to help achieve Sustainable Development Goal 14: Life Below Water. The one week event is presided in partnership by the Governments of Fiji and Sweden, and will result in the "Call to Action" document as well as an Ocean Registry of Voluntary Commitments and Partnerships of tangible outcomes to help achieve SDG 14.
For Large Ocean Islands States like the Cook Islands, this is an opportunity to showcase actions such as Marae Moana, already underway as the Pacific island region leads the way globally, in terms of country commitments and as a regional force in terms of their Pacific Oceanscape Framework.
"Mankind only has one earth, one atmosphere, and one global ocean. One last chance to save it all for future generations," presented the Prime Minister of the Cook Islands.
"With the recent setback to the Paris Climate Change Accord announced only days ago, we appeal to ones sense of fairness. That one should care for others as one should want others to care for them."
The Cook Islands was amongst other Pacific islands who spoke on the first day of the UN Ocean Conference. The Ocean Challenges include overfishing, marine debris, ocean acidification and loss of marine species- #SaveOurOcean
To learn more about the UN Ocean Conference please visit:
https://oceanconference.un.org/