November 14, 2013 by
admin
11 November, 2013 - The Tonga Marine Oil Spill Response training started today in Nuku'alofa, Tonga at the National Emergency Disaster Office Training Room. The training is part of New Zealand Ministry of Foreign Affairs and Trade's Pacific Maritime Safety programme (PMSP) carried out by Maritime NZ and SPREP. The training is in collaboration with the Ministry of Infrastructure (MIF) Marine and Ports Division.
In opening the training, the Acting CEO of MIF, Mr 'Ofa Fa'anunu, said that although oil spills rarely occur in the Pacific Region, on the occasions that they do occur, response and clean ups have been a challenge to shipping and oil companies and countries involved mostly because response are very costly and proper training and capacity building is lacking.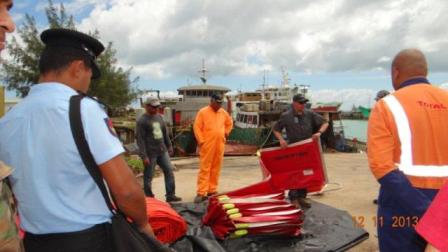 "Tonga has shown its commitment to fulfilling its obligations to the various International and Regional Conventions and Protocols pertaining to marine pollution by enacting its own Marine Pollution Prevention Act 2002," said Mr Fa'anunu.
"The Act authorises the formulation of the National Marine Pollution Committee to deal with the issue of marine oil spills and the formulation of the National Marine Spill Contingency Plan (NATPLAN)," he said.
"The training workshop will enable participants to learn about and familiarise themselves with the preparedness and response parts of the NATPLAN," added Mr Fa'anunu.
The five (5) day training workshop, which ends on Friday, will involve classroom lectures and exercises. Participants are from the private sector (Fishing Vessel Association and Pacific Energy) as well as public sector (Tonga Police Force, Ministry of Agriculture Fisheries and Forestry, Ports Authority Tonga, Environment Division, Fire Services, Friendly Island Shipping Agency, Ministry of Health and the Ministry of Infrastructure).
For more information, contact SPREP Pollution Adviser, Mr Anthony Talouli at
[email protected]