September 4, 2014 by
admin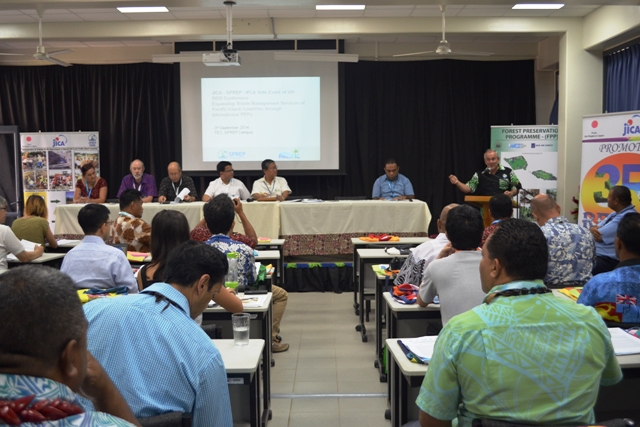 4 September, 2014, Apia, Samoa -
Reduce, reuse, recycle and return is the suggested plan of action for Pacific island countries and territories.  This was raised during a special parallel event during the Third International Conference on Small Islands Developing States in Apia Samoa.
Hosted at the Secretariat of the Pacific Regional Environment Programme headquarters, Director-General David Sheppard emphasised the need for Pacific island nations to not only embrace the
3R's of reduce, reuse and recycle
, but to also consider the option of returning waste to larger countries for recycling or in the case of organic waste, return it back to the soil through composting.
"This 'return' step is particularly important for management and ecologically sustainable recycling of island wastes such as E-waste, aluminum, used oil, scrap metal and plastics," said Mr. Sheppard.
The Ambassador of Japan, H.E Kazumasa Shibuta, noted that technical cooperation, continuity, and aid coordination, were the key drivers for their support to Pacific island countries and territories (PICT's) in assisting communities to better managing their waste.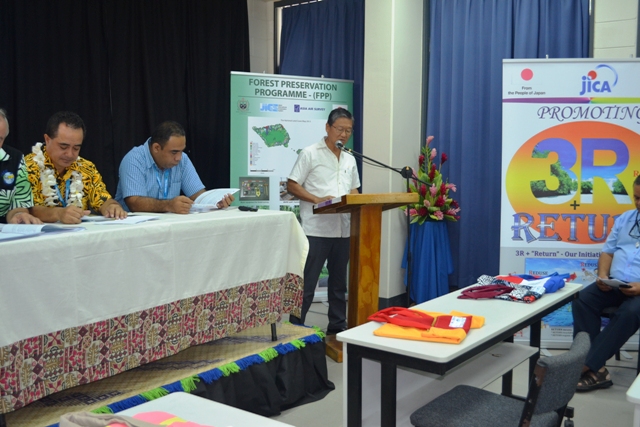 "The most important component of our cooperation is sustainability. 'Give a man a fish and you feed him for a day, teach a man to fish and you feed him for a lifetime'. This proverb exactly shows the principle of JICA's technical cooperation. Developing human capacity is a key for sustainability," said Ambassador Shibuta.
From the Division for Sustainable Development, Mr. Nikhil Seth, from the United Nations Department of Economic and Social Affairs noted the problem of waste was an important parallel event to discuss in improving the quality of life in Small Island Developing States (SIDS).
He commented that the UN SIDS conference has highlighted the diversity of SIDS, the need for developing resilience, cooperation and global actions. "SIDS must push for greater action at the global level," said Mr Seth. He commended Japan for always advocating the importance of waste management.
The 3R's of reduce, reuse, and recycle has long been advocated in the Pacific to help manage waste, but taking this forward, 'return' has been highlighted to promote returning recyclables, such as plastics, metals, lead batteries etc, to the country of origin.
Almost half the waste found in Pacific landfills is organic, and encouraging the return of organic waste matter back to the soil by individuals, communities and commercial operations is also vital.
To implement the "3R's plus Return", private and public partnerships are required to improve recycling options, improve initial treatment of waste, improve institutional arrangements, and improve ocean transport of waste. This requires accurate information, sustainable financing and changes in mindset, behaviour and practice.
The Expanding Waste Management Services of Pacific Island Countries through International PPP's SID's Side Event was hosted by J-PRISM (Japanese Technical Cooperation Project for Promotion of Regional Initiative on Solid Waste Management in Pacific Island Countries), SPREP and the International Partnership for Expanding Waste Management Services of Local Authorities (IPLA).
Panel discussions followed presentations including "Regional Approach to Integrated Waste Management in PICT's" by Dr David Haynes - Director of Waste Management and Pollution Control, SPREP/IPLA; "Emerging Waste Management Issues and Opportunities for International PPP's" by Suluimalo Amataga Penaia, Chief Executive Officer of the Ministry of Natural Resources and Environment of Samoa; "3R's + Return in PICT's - Challenges in Engaging the Private and Inter-regional Cooperation" by Shiro Amano, Chief Advisor, J-PRISM/JICA; "P3R+ Taking the 3R's forward in the Pacific Region" by Dr Melchior Mataki, Permanent Secretary, Ministry of Environment, Climate Change, Disaster Management & Meteorology, Solomon Islands; and Regional "Training and Capacity Building Towards Successful 3R Implementation in SIDS" by Ms Lusiana Ralogaivau, GEF Project Coordinator for SPREP.