October 2, 2018 by
angelicas
Island and Ocean Ecosystems
A national management committee was established this month to oversee the rehabilitation of the Honiara Botanical Gardens.

Established in 1965 by tropical botanist, the late Professor Tim Whitmore, the Botanical Gardens is Honiara's largest green space covering an estimated 19 hectares. Located approximately 2 kilometres from the city centre in Rove, the gardens showcase a range of local and exotic plant species, including the largest assortment of Solomon Island orchids. The area also provides a sanctuary for native fauna, including a vast array of reptiles, birds and insects.

However limited resources, insufficient management and competing land uses have seen the gardens deteriorate over the years. 

Speaking at the first committee meeting, Honiara City Council Clerk and co-chair of the committee, Mr Charles Kelly said 'this initiative is greatly welcomed by the council.'

"The Honiara Botanical Gardens was once a forest in the city where families and visitors could visit and enjoy picnics but it is going. We are pleased that this initiative will help revive it although we know it will require a lot of logistical work. Having a management committee in place to oversee this work is a great first step."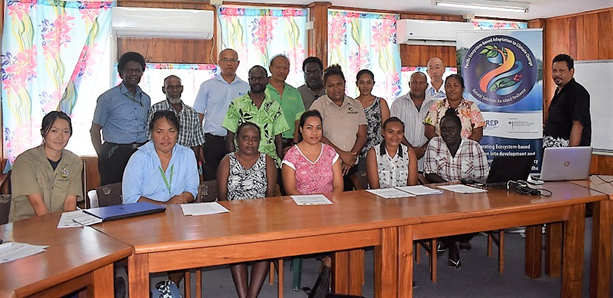 Entrance of Honiara Botanical Gardens, Honiara, Solomon Islands

A key role of the management committee is to coordinate all activities amongst national stakeholders for the restoration of the botanical gardens. This will include leading in the formulation of a management and business plan and overseeing subsequent implementation.

Facilitated by the Secretariat of the Pacific Regional Environment Programme (SPREP) through the Pacific Ecosystem based Adaptation to Climate Change project (PEBACC),  the initiative aims to build urban resilience by restoring and protecting the valuable ecosystem services that the gardens provide to Honiara residents.

PEBACC Country Manager, Fred Patison explained that the Honiara Botanical Gardens "provides a unique green space in that it is relatively large in area and is dominated by forest trees, including some trees that are not found elsewhere in Honiara."

"Protecting this green space means that we are protecting our water catchment, our native trees, our supply of fresh air, home for our native birds and other biodiversity that are unique to Solomon Islands and at the same time educating our people about protecting our environment."

"It is encouraging to see the new management committee of the Botanical Gardens being led by Honiara City Council and the Ministry of Forestry and Research." Mr Patison said.

An ecosystem study of Honiara commissioned by PEBACC in 2016 highlighted that the Botanical Gardens maintain a linear fauna corridor along Rove Creek, with continuous habitat connectivity to the upstream reaches of this small coastal watershed due to relatively intact riparian vegetation.

"The large area of forest also provides hazard reduction services through storm water regulation and flood control, while reducing the sediment load entering Rove Creek and regulating water quality", the study reported.

The full report on the Honiara Ecosystem and Socio-economic Resilience Analysis and Mapping (ESRAM) study can be downloaded from the SPREP website at: www.sprep.org/pebacc-eources

For further information please contact: Mr. Fred Patison, PEBACC Solomon Islands Country Manager [email protected]