November 16, 2016 by
admin
Climate Change Resilience
15 November 2016, UNFCCC COP22, Marrakech, Morocco -  The newly established Pacific Climate Change Centre (PCCC) will provide Pacific island countries with better access data, information and build regional capacity on climate change issues.

Funded by the Government of Japan and developed in partnership with the Government of Samoa and the Secretariat of the Pacific Regional Environment Programme (SPREP), the Centre will be able to host climate change experts, researchers and officials for applied research, training and policy initiatives.

The Centre will be the regional hub for enhanced and inclusive collaboration and coordination to support climate resilient development which would accelerate climate actions in the region.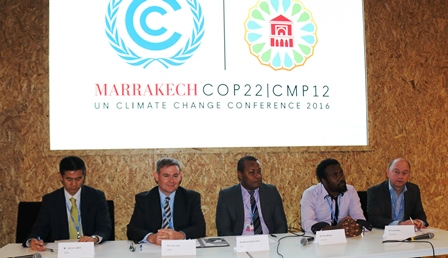 Second of two panels to present at the side event featuring the PCCC, Mr Katonivualiku in middle

"We see the PCCC as an opportunity for Fiji to be able to access a diverse range of climate experts which we can learn from," said Mr Manasa Katonivualiku, the Climate Change In-Country Coordinator at the Climate Change Unit under the Ministry of Economy in the Government of Fiji.

"Improved access to climate financing mechanisms, such as the Green Climate Fund (GCF) as well as strengthened expertise on sectoral climate change issues presents a lucrative opportunity for everyone."

"We're really excited about the opportunity that the PCCC will bring as this means more assistance in the development of climate change related proposals due to the complications in the proposal templates and the detailed demand of donor agencies," Mr. Katonivualiku said.

The Fiji perspective on the PCCC was shared at a side event at the Japan Pavilion at the UNFCCC COP22.
Fiji is part of the 13 Pacific Island country delegations attending COP22 in Marrakech, Morocco from 7 to 18 November, 2016. In all there are 14 Pacific islands that are Parties to the UNFCCC. – By Jone Tuiipelehaki Raqauqau reporting from UNFCCC COP 22 #4PacIslands