Island and Ocean Ecosystems
8 June 2017, UN Ocean Conference, New York
- "The Pacific Voyage - Our Ocean, Our People, Our Pacific" event hosted by the Secretariat of the Pacific Regional Environment Programme (SPREP) and partners at the UN Ocean Conference began with the gifting of framed photographs to the co-Presidents of the Conference.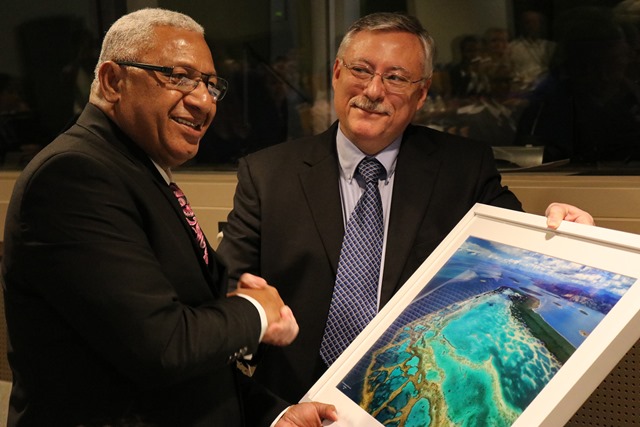 In recognition of their role as co-Presidents of the UN Ocean Conference, the Prime Minister of Fiji and the Deputy Prime Minister of Sweden were presented with framed images of the Pacific islands taken by photographer and SPREP Director - Biodiversity and Ecosystem Management, Mr Stuart Chape.
Our Oceans, Our Future: Partnering for the Implementation of Sustainable Development Goal 14 has been the theme of the one week UN Ocean Conference which is co-hosted by Fiji and Sweden.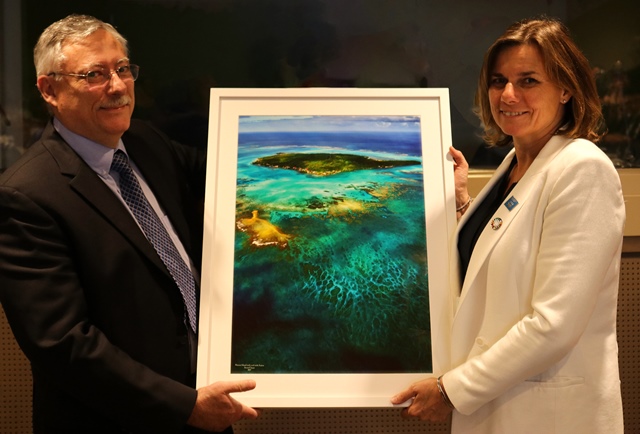 Prime Minister of Fiji Hon. Voreqe Bainimarama was gifted a framed photograph of the Coral reefs and mangrove islands of Northern Vanua Levu of Fiji and Deputy Prime Minister of Sweden Isabella Lövin was gifted an image of Manono Islands and coral reefs of Samoa.
Also to present at the special event alongside the two co-chairs was the Prime Minister of Samoa, Hon. Tuilaepa Aiono Sailele Malielegaoi also the Host of the UNSIDS Conference who spoke on the role of the UNSIDS and the importance of genuine and durable partnerships and the SAMOA Pathway.                                          
"We recognise that genuine and durable partnerships will play an important role in advancing sustainable development by harnessing the full potential between governments at all levels with all other partners from private sector, to civil society," said the Prime Minister of Samoa.
Other speakers included Hon John Silk, Minister of Foreign Affairs, Republic of Marshall Islands, Hon. F. Umiich Sengebau Minister of Environment of Palau and Mr Elliot Harris, UN Assistant Director General of the UN Environment Programme.
"Our common endeavour is to focus global attention on the ocean," said Mr Harris.
Harris celebrated a cooperative, integrated approach to ocean management, noting that the Framework for a Pacific Oceanscape and the Framework for Pacific Regionalism are leading examples globally. UN Environment recognises the central priority of this regional approach, which is the core of the UN Regional Seas programmes.                             
UN Environment is strengthening their Pacific regional presence, with a cross-cutting focus on the ocean across all five strategic priorities for the UN Environment's Pacific sub-regional office, established in 2014. In partnership with SPREP, UN Environment has made a voluntary commitment to Clean Seas for a Cleaner Pacific to allow us to address marine pollution and microplastics.                        
"UN Environment does this through its partnership with SPREP, including the efforts to assist national delegates with preparations for this and other high-level ocean conferences this year, and through the global Clean Seas Campaign. Twenty governments have already committed to join the Clean Seas Campaign, and we invite further commitments," said Harris.

The SPREP and partners event was held on 8 June, 2017 - World Ocean Day at the UN Ocean Conference. - #SaveOurOcean #WorldOceanDay2017 #4PacIslands