Climate Change Resilience
By Seia Ualesi of Savali Newspaper

16 August, 2017, Honiara, Solomon Islands, PMC-4 – A new Pacific Climate Change Centre that will provide meteorology training and research opportunities is scheduled to be opened in April 2019

Secretariat of the Pacific Regional Environment Programme (SPREP) Director General Leota Kosi Latu said that the centre would benefit the whole region in terms of training researchers in climate change-related areas including meteorology.

"The Pacific Climate Change Centre will play a role as a physical node of the World Meteorological Organization Regional Climate Centre (WMO RCC) in terms of training and research," Latu said.   "PMC Panels could use the PCCC facilities for physical meetings as well as coordinating teleconferences."   

The PCCC will act as a Centre of Excellence for Pacific climate action, providing focus for technical expertise, sharing of information and knowledge collaboration on project design, and it can be a space for cooperation on meteorology-related priorities

The PMC members voice their support for the centre. Cook Islands Met Director Arona Ngari said: "It is a milestone to the meteorology services in the region in terms of weather observation information that will be stored in this centre, and research trainings that will help educate people."

In the progress update by the Director General what is needed is, "SPREP convened a Steering Committee of members and organization to develop functions; governance structure and consider funding for the center, considering recommendations from the steering committee and the physical construction will have the ground breaking ceremony in early 2018 prior to Pacific Islands Leaders  Meeting (PALM)  8, building will commenced in March 2018 which will take up to 14 months and then the hand over on April 2019."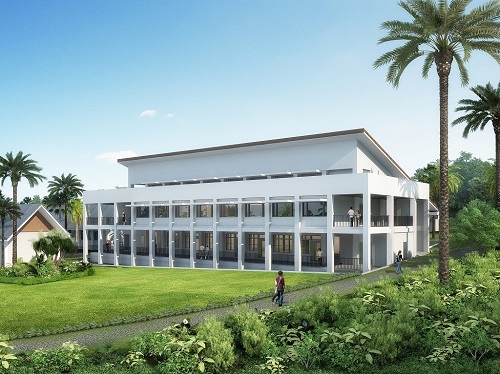 The latest design of the building will be 50% energy driven by solar panels with the high hopes to be 100% renewable energy in the future. The staffing will be sorted out after the functions, governance and structure will be finalized and also the short and long-term maintenance of the center.

This centre was a concept that was endorsed by the 2015 SPREP meeting and application was made through Samoa to Japan International Cooperation Agency for grant aid and was approved in 2015 by PALM in Japan. – #PMC4 #PacificMet

 

The Fourth Pacific Meteorological Council is being held in Honiara, Solomon Islands from the 14 – 17 August co-hosted by the government of Solomon Islands, the Secretariat of the Pacific Regional Environment Programme (SPREP) and World Meteorological Organization (WMO). This will followed by the Second Pacific Meteorological Ministers Meeting (PMMM) on the 18 of August.

The PMC and PMMM is supported by the Government of Solomon Islands, SPREP, WMO, Government of Australia through the Climate and Oceans Support Programme (COSPPac) and Pacific Australia Climate Change Science and Adaptation Planning Programme (PACCSAP), Government of Finland, National Ocean and Atmospheric Administration (NOAA), United Nations Development Programme through the Resilience in the Pacific (SIDS) project.

The PMC consists of members of the Pacific National Meteorological and Hydrological Services supported by its technical partners, regional organisations, non-government organisations and private sectors.

This article was developed by a Pacific Media Team of Reporters currently providing coverage on the Fourth Pacific Meteorological Council in Solomon Islands. This activity coordinated by SPREP is supported by a partnership between the Government of Solomon Islands, SPREP, Australia funded project (Climate and Oceans Support Program (COSPPac) and UNDP Disaster for Pacific SIDS (RESPAC) project.

The views and opinions expressed in this article are those of the writer and do not necessarily reflect the views of the Secretariat of the Pacific Regional Environment Programme (SPREP) or the United Nations Development Programme (UNDP)both of which provided funding for generating media articles.