September 7, 2017 by
admin
Delegates from 56 countries at the Asia-Pacific Ministerial Forum on the Environment saw Pacific colour and ingenuity on display in Bangkok this week.
Upcycled fabric and paper flowers, made using secondhand materials by students at Aoga Fiamalamalama, a school based in Samoa, were used as part of the UN Environment Pacific booth at the Forum showcasing Pacific solutions to pollution and environmental management.
"The people at Aoga Fiamalamalama made it possible for us to share Pacific style and colour without producing any plastic waste," said Mr Sefanaia Nawadra, head of the UN Environment Pacific office.
"The kind of hands-on recycling and upcycling that groups like Aoga Fiamalalama do is a big part of what is needed for a working low-waste society."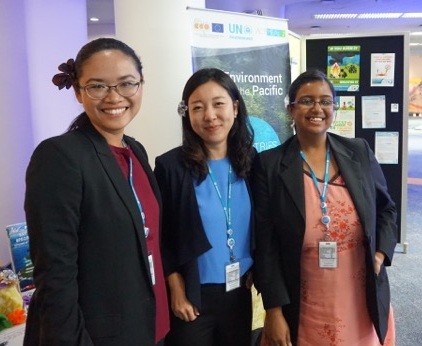 Delegates wearing the flowers created by the students of A'oga Fiamalamalama in Samoa. 
Aoga Fiamalamalama is a school for Samoan children with disabilities. Their Pathways for Employment Programme teaches basic skills and money management, preparing students for career opportunities.
"We really want our local businesses and communities to know that people with disabilities are capable in many ways," said Ms. Sharon Suhren, principal of Aoga Fiamalamalama.
"Our teachers and students are working together to pass on skills like crafts, cooking, and gardening."
Another part of environmental awareness that is incorporated into the learning at the school is waste management. The students have created a kitchen garden growing vegetables for their meals, fed by compost from the vegetable and garden scraps.
"We used to burn rubbish in this corner. Now, we make compost and grow vegetables!" said Ms. Suhren.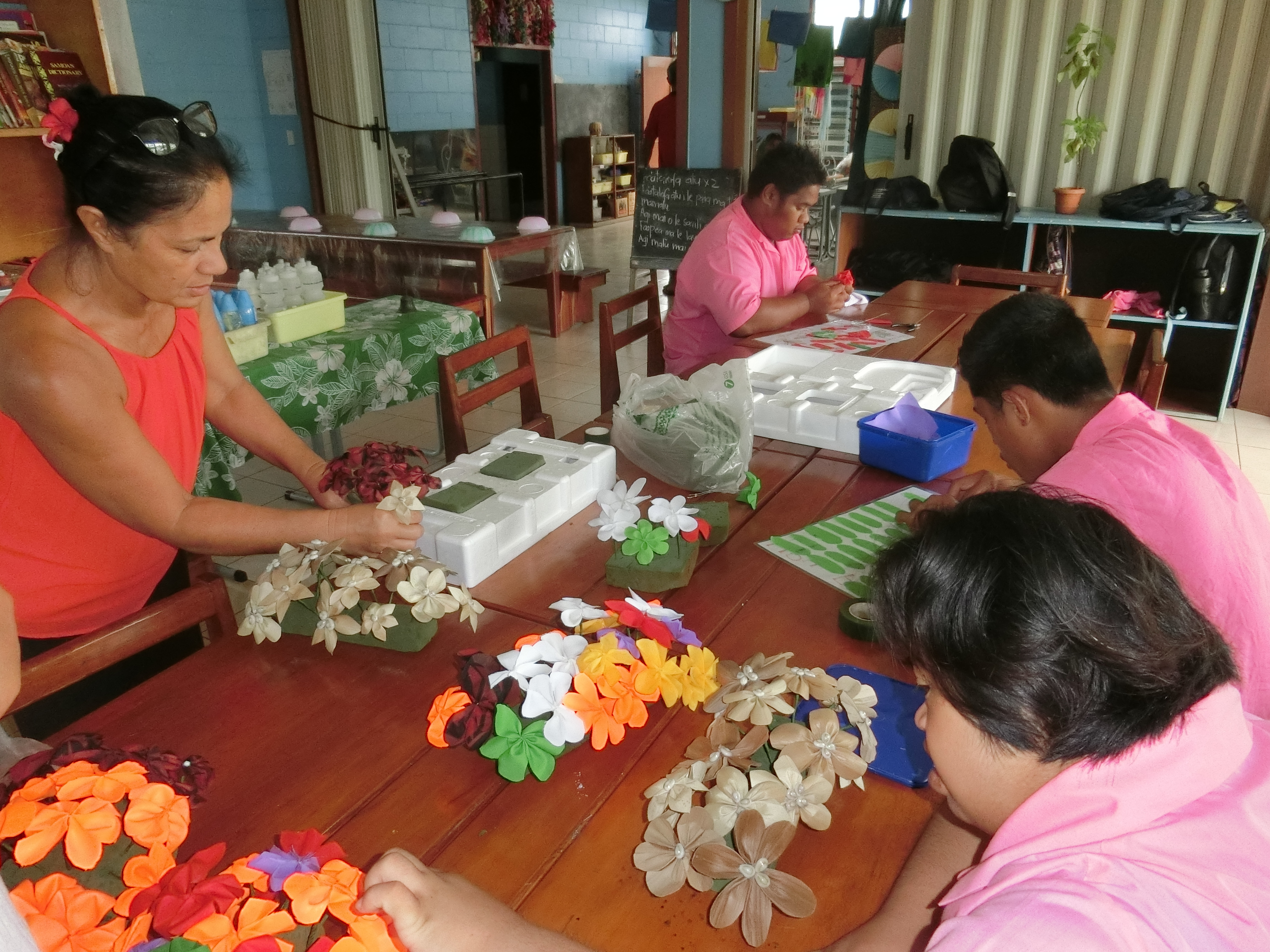 Principal Suhren and students at A'oga Fiamalamalama making paper flowers.
Healthy environments support healthy communities, and healthy economies. Sustainable consumption and production supports Pacific ecosystems and waste-management measures, by reducing the amount of waste generated and reducing the burden on Pacific communities.
"Every action counts, and there is so much we can do at all levels, from government policies all the way to individual actions, to keep our ocean clean and healthy," said Mr Anthony Talouli, Pollution Adviser for the Secretariat of the Pacific Regional Environment Programme (SPREP).
"It's both inspiring and empowering to see initiatives like those undertaken by the staff and students of Aoga Fiamalamalama, We congratulate them and are pleased to see their work showcased on the world stage."
SPREP and UN Environment Pacific have made a joint voluntary commitment to address marine debris. With reports of eight million tonnes of plastic dumped in the Ocean each year, the
"Cleaner Seas for a Cleaner Pacific"
Voluntary Commitment aims to reduce marine debris, achieving a clean Pacific Ocean. It enhances the partnership between UN Environment and SPREP to deliver the Global Partnership on Marine Litter and the implementation of the Cleaner Pacific 2025 Strategy for our Pacific region.
"Going plastic-free in our events is a way for us to walk the talk," said Nawadra.
The First Asia-Pacific Ministerial Summit on the Environment brings together two UN ministerial-level gatherings to grow a regional approach, share best practices, and create partnerships to support sound environmental management for healthier communities.
The Second UN Environment's Forum of Ministers and Environment Authorities of Asia Pacific and the Seventh Ministerial Conference on Environment and Development in Asia and the Pacific are meeting under the theme 'Towards a resource efficient and pollution free Asia-Pacific.
The First Asia-Pacific Ministerial Summit on the Environment is jointly organised by the UN Economic and Social Commission for Asia and the Pacific (ESCAP) and UN Environment. It brings together over 50 countries from 5 to 8 September 2017 in Bangkok, Thailand, the Pacific islands are represented by Cook Islands, Fiji, Kiribati, Republic of the Marshall Islands, Samoa, Solomon Islands and Vanuatu.