November 29, 2017 by
admin
On 28 November 2017, members of the senior leadership teams from the Pacific Community (SPC) and the Secretariat of the Pacific Regional Environment Programme (SPREP) agreed to develop a joint Resilient Pacific Programme during a day-long joint strategic planning discussion held in Suva, Fiji.
The high-level meeting between these leading Pacific regional inter-governmental agencies builds on the Memorandum of Understanding which was signed at SPC Headquarters in Noumea in July 2017 and is an example of the excellent partnership and cooperation that SPC and SPREP have committed to maintain and strengthen.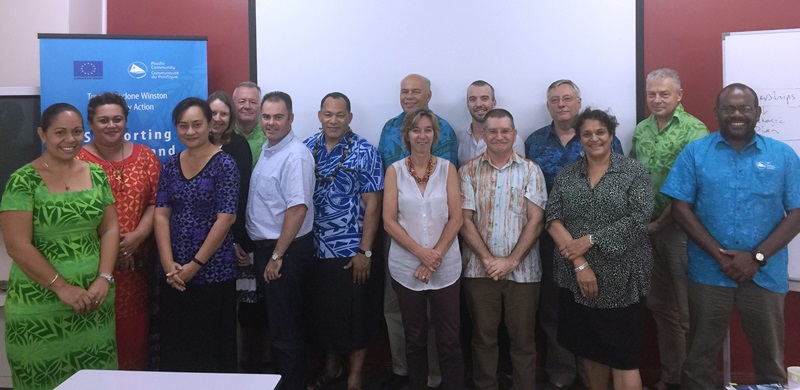 A wide range of topics was discussed during the meeting including a review of each organisation's comparative advantages and possible synergies between the strategic goals of SPC and SPREP. The leadership teams discussed how they could build on the strength of the existing partnership to improve coordination and increase the impact and service delivery for the benefit of Members.
A key outcome of the day's discussion was the decision to jointly develop a multi-year Resilient Pacific Programme. This multi-disciplinary programme will span across the breadth of SPC and SPREP activities, providing support for the development objectives of both organisations Members. The Resilient Pacific Programme will engage the expertise and resources within SPC and SPREP to compliment the work programmes, commitments and objectives of the Pacific islands. The program will also, where relevant, assist in mobilising additional resources for new and innovative resilience-focussed programmes. This landmark initiative is set to run through 2025 and will be a key regional platform for resilience planning, coordination and implementation.
The Leadership Teams also agreed to jointly map SPC and SPREP's activities in the climate change space, to better identify gaps in Member priorities and needs, and to ensure that support to Members was being done efficiently and effectively.
Other topics discussed during this meeting included: the German-funded Nationally Determined Contribution Hub, which SPC and SPREP will co-lead; the nexus between climate change, oceans and agriculture and; the outcomes of COP23. The Framework for Resilient Development in the Pacific, implementation of upcoming 11th European Development Fund regional programmes for African, Caribbean, Pactific countries and Overseas Countries and Territories, and Pacific regionalism where also on the agenda.
The High-Level SPC - SPREP Meeting will be an annual event, allowing for a review of ongoing projects and providing further opportunities to discuss and develop ways to increase the impact of both organisations work.