April 29, 2019 by
leannem
Climate Change Resilience
Pacific island countries are at the front-line of climate change and its adverse impacts. So much so, that it has been emphasised time and again that climate change is the single biggest threat to the security and livelihoods of Pacific people.

The role of Pacific media in climate change and disaster risk reduction includes sharing stories and perspectives from the Pacific on the effects on our islands and livelihoods. Because climate change can tend to get technical, Pacific journalists and media need to have a thorough understanding of the subject in order to carry out this role effectively.  
That is the focus of a two-day masterclass being held in Suva, Fiji this week.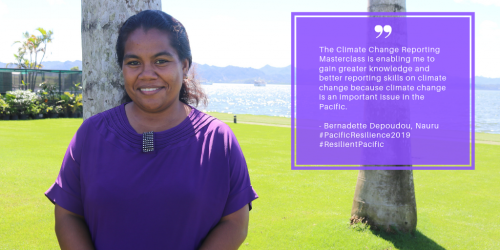 Journalists and media practitioners from around the Pacific have been given the opportunity to build greater understanding of climate change and disaster risk reduction issues and strengthen their capacity in reporting and sourcing stories on these issues in the region through a Climate Change Reporting Masterclass, jointly hosted by the Pacific Media Assistance Scheme (PACMAS) and the Secretariat of the Pacific Regional Environment Programme (SPREP).
The knowledge and skills acquired from the masterclass will then enable them to confidently generate stories on climate change that are factual, relevant, timely and interesting to Pacific audiences, as well as having strengthened partnerships with climate change and disaster risk reduction practitioners for future stories development.
Mr Iliesa Tora of the Nuku'alofa Times and Department of Environment in Tonga has been working in media since 1988 and is one of the participants of the masterclass. According to Mr Tora, "learning is a never-ending process, and I'm always looking to learn more and also to share my knowledge and 30 years of experience in media with my fellow colleagues."
Mr Ben Kedoga of the National Broadcasting Corporation in Papua New Guinea says, "I hope to learn more about how to effectively report on climate change issues as well as build partnerships with other media personnel from around the Pacific who are also in attendance."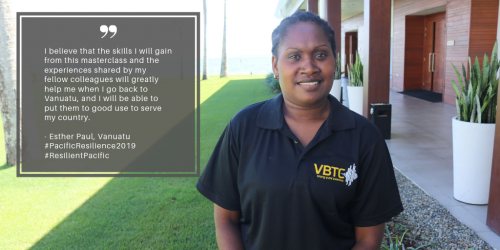 The masterclass is being conducted by Ms Caroline Winter Journalist/Trainer with the Australian Broadcasting Corporation, Ms Amelia Makutu, Fiji Country Coordinator for the Pacific Media Assistance Scheme (PACMAS) and Ms Nanette Woonton, Acting Communications and Outreach Adviser of the Secretariat of the Pacific Regional Environment Programme (SPREP). 
Ms Caroline Winters says, "I'm honoured to be involved in this program and not only share some of my experience, but learn from the members of the group who have already shown a solid understanding of climate change issues, their role in reporting those issues and also some of the challenges they face. These reporters have a vital role in informing and educating their communities and I hope they leave this week with a renewed sense of confidence in doing so, going forward."

Upon completion, the journalists will then form the Pacific Media Unit which will be tasked with providing coverage for the inaugural Pacific Resilience Meeting to be held at the University of the South Pacific's Laucala Campus from 1 – 3 May 2019. 
The participating journalists and media practitioners are from Fiji, Nauru, Papua New Guinea, Samoa, Solomon Islands, Tonga, Tuvalu and Vanuatu. 
For more information please contact Ms Nanette Woonton and [email protected] or Ms Amelia Matuku at [email protected].