Climate Change Resilience
By Jared Koli of Island Sun Newspaper, Solomon Islands
15 August, 2017, Honiara, Solomon Islands, PMC-4 –
 More sustained and targeted support for flood warning and drought management is needed to meet the growing demands of Pacific Island countries and communities.
This appeal was made by the Secretariat of the Pacific Regio
nal Environment Programme
 SPREP's
 Climate Change Division Acting Director, Mr 

Espen Ronneberg. 
Speaking to the 4th Pacific Meteorology Council (PMC-4) meeting in Honiara, Solomon Islands, yesterday, Mr Ronneberg said that 
while support for hydrological services continues to be provided to Pacific Island countries through a range of national, regional and international programmes, more sustained support was needed. 
The PMC-4 was asked to endorsethe inclusion of a Pacific Hydrological Services (PHS) Panel within the PMC structure. The panel would provide advice and guidance to the Council and progress the development and implementation of new initiatives to support the capacity needs of hydrological services.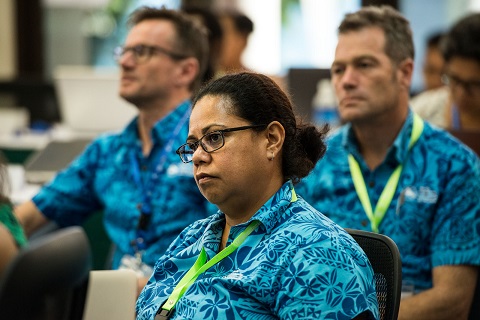 Rhonda Robinson and Pacific Community (SPC) team at the PMC-4 (Photo credit: Jenny Davson-Galle SIMS)

Mr Ronneberg also presented an interim terms of reference (ToR) for the proposed panel. 
"(I) request that SPREP and WMO (World Meteorology Organisation) liaise with SPC (Pacific Community) and others to finalise the ToR and facilitate the progression of key tasks in consultation with panel membership." 
Mr

 Ronneberg and

 

the Pacific Community's

 (SPC) 

Water Resources Adviser Peter Sinclair 

updated the council on the progress in strengthening the hydrological monitoring and services in the region as well as the support for flood early warning systems. 
Mr Sinclair told PMC-4 that despite advances in national hydrological capacities in recent years (largely supported by drought-related projects), there remains a need for additional capacity building support for the various national agencies dealing with hydrological services, particularly in relation to capacity for the warning and management of flood events.
"As PICTs (Pacific Island Countries and Territories) ramp up efforts to build resilience to the impacts of climate variability and climate change, the need for strengthened national capacity in hydrological services becomes even more pronounced."
It was noted that hydrological services continue to be an integral part of the WMO vision, as reflected in the existence of the Commission of Hydrology supported by hydrologists focusing on programmes including flood management, water resources and drought management. 
The Council agreed on the support required for hydrological services.
SPREP's Climate Prediction Services Coordinator, Sunny Seuseu, told The Island Sun there is a strong call from Pacific countries to establish a hydrology panel. 
Mr Seuseu made mention of the deadly flooding in Solomon Islands in 2014 that was responsible for killing 

16 people and leave more than 10000 homeless.
"Flooding in Solomon Islands three years ago claimed lives of many people, and as such, there is a need to enhance flood early warning system, but to do that you need to have a strong hydrology data collection as well as tools and software support to really provide real time and well-advanced information to the people so that they would evacuate on time," he said. - #PMC4 #PacificMet
The Fourth Pacific Meteorological Council is being held in Honiara, Solomon Islands from the 14 – 17 August co-hosted by the government of Solomon Islands, the Secretariat of the Pacific Regional Environment Programme (SPREP) and World Meteorological Organization (WMO). This will followed by the Second Pacific Meteorological Ministers Meeting (PMMM) on the 18 of August.
The PMC and PMMM is supported by the Government of Solomon Islands, SPREP, WMO, Government of Australia through the Climate and Oceans Support Programme (COSPPac) and Pacific Australia Climate Change Science and Adaptation Planning Programme (PACCSAP), Government of Finland, National Ocean and Atmospheric Administration (NOAA), United Nations Development Programme through the Resilience in the Pacific (SIDS) project.
The PMC consists of members of the Pacific National Meteorological and Hydrological Services supported by its technical partners, regional organisations, non-government organisations and private sectors.
This article was developed by a Pacific Media Team of Reporters currently providing coverage on the Fourth Pacific Meteorological Council in Solomon Islands. This activity coordinated by SPREP is supported by a partnership between the Government of Solomon Islands, SPREP, Australia funded project (Climate and Oceans Support Program (COSPPac) and UNDP Disaster for Pacific SIDS (RESPAC) project.



The views and opinions expressed in this article are those of the writer and do not necessarily reflect the views of the Secretariat of the Pacific Regional Environment Programme (SPREP) or the United Nations Development Programme (UNDP)both of which provided funding for generating media articles.