December 20, 2013 by
admin
The Secretariat of the Pacific Regional Environment Programme (SPREP), in close cooperation with the United Nations Environment Programme (UNEP), Food and Agriculture Organization (FAO), and the Agence Française de Développement (AFD), has commenced the Global Environment Facility Pacific Alliance for Sustainability (GEF-PAS) Pacific Project on Persistent Organic Pollutant (POPs) Release Reduction.
The five-year project aims to reduce emissions of the highly carcinogenic group of chemical compounds known collectively as POPs, through the improved management of solid and hazardous wastes in 14 Pacific island countries.
The project's inception workshop was held from 20 to 22 November, 2013 at the Tanoa Skylodge Hotel, Nadi, Fiji with 13 countries attending. The key objective of the inception workshop was to ensure that Pacific island countries understand the project concept and commitments required for effective implementation of the project.
The GEF-PAS project was designed over a period of several years and involved extensive consultation with all of the Pacific countries involved, in order to ensure that the regional project is well tailored to address national needs.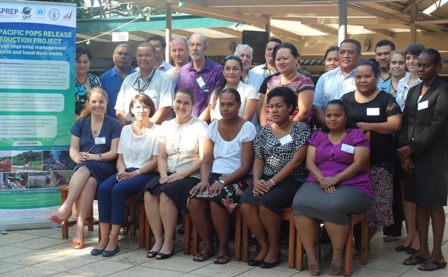 UNEP representative, Ms Melanie Ashton, said "We are delighted with the outcomes of the project inception workshop, the enthusiasm of countries and the preparatory work undertaken by SPREP. We look forward to ongoing collaboration with SPREP, Pacific partners and the FAO, over the next five years, to address chemicals and hazardous waste management issues, and to assisting countries in meeting their Stockholm Convention obligations."
There are six components to this five year project, addressing Policy Development, Training on Solid Waste Management, Chemical Management and Custom Procedures, Waste Oil Reuse System, with certain components are funded by UNEP, AFD and FAO respectively.
Ms Laisani Lewanavanua of Fiji stated, "The project will be good for Fiji as it entails inventory and laboratory training on chemical management and will certainly enhance the control of hazardous substances for Fiji."
She added that the project links in well with Fiji's Environment Management Act, which calls for the development of a chemical waste guideline, and this exercise should greatly assist in that.
"The capacity building components also fit in well with the current policies of 3R and the national solid waste management strategy," she said.
Ms Mele Masi of Tonga added that the project was good for Pacific island countries as it was developed based on the priority needs raised in 2011, and countries should welcome this initiative as it enhances hazardous waste management in-country in parallel with regional and international obligations.
The project will promote best practices to help minimise POPs emissions in the Pacific, through composting, reuse of waste oil and improved chemical management. A highlight of the project is the ratification improvements for Pacific island countries on Environmental Agreements on hazardous waste management such as the Basel, Waigani and Stockholm Conventions.
For more information on the project, contact the Project Coordinator, Ms Lusiana Ralgaivau on 685 21929 or by email
[email protected]