November 10, 2017 by
admin
Climate Change Resilience
JOINT CROP+ MEDIA RELEASE 
9th November, 2017 - History is in the making with Fiji presiding over the Twenty-Third Conference of the Parties to the United Nations Framework Convention on Climate Change (UNFCCC COP23). It's the first time a Pacific island nation has led the global climate conference that will bring together up to 25,000 people, "Uniting for Climate Action, Further, Faster – Together."
Pacific Leaders are united behind Fiji's COP23 presidency, recognising the unique opportunity that this meeting provides to the region, to build on the outcome of the United Nations Conference earlier this year, and ensure larger nations consider some of the critical issues facing small island developing states.
The regional agencies of the Pacific are also unified in their support for Pacific countries throughout the climate negotiations. Dubbed CROP+, the support team is coordinated by the Secretariat of the Pacific Regional Environment Programme (SPREP), in collaboration with the Pacific Islands Forum Secretariat, Pacific Community (SPC), The University of the South Pacific (USP), Pacific Islands Development Forum (PIDF), United Nations Development Programme (UNDP), and Gesellschaft für Internationale Zusammenarbeit (GIZ).
"The Pacific islands have demonstrated world leadership when it comes to climate change with high renewable energy targets that are on track to being met, being among the first to sign and ratify the Paris Agreement, empowering country parties to limit global warming to 1.5 degrees, and now Fiji's status as COP President which we congratulate and fully support," said Director General Mr. Kosi Latu of the Secretariat of the Pacific Regional Environment Programme (SPREP).
 "Supporting Fiji's Presidency of COP23 must be a priority for the region," said Pacific Island Forum Secretary General, Dame Meg Taylor. "Together, our Pacific nations must continue to tell the global community that urgent and ambitious action is needed to address climate change, including the provision of finance to implement Nationally Determined Contributions, finalisation of the Paris Agreement guidelines by 2018, and an inclusive process to elaborate the Facilitative "Talanoa" Dialogue."

"COP23 is an opportunity for our region to amplify its voice, and highlight the essential work we are doing to meet the challenge of climate change", said the Pacific Community's (SPC) Director-General,

Dr. Colin Tukuitonga. "The goals of the Paris Agreement are ambitious, but I am confident that the commitment and determination of our Pacific Leaders under Fiji's Presidency will serve as a model for global action, and result in measurable and positive outcomes." 
"Fiji's Prime Minister and COP23 President, Hon. Voreqe Bainimarama rightly said that when it comes to climate change, "we are all in the same canoe". We need to come together and act or else things are only going to get worse. Jointly, parties have the power to ensure smooth sailing ahead. This is the time to demonstrate leadership, "said The University of the South Pacific (USP) Vice-Chancellor and President, Professor Rajesh Chandra.
The recently released 2017 UN Environment Emissions Gap Report indicates the Nationally Determined Contributions now under the Paris Agreement cover approximately one third of the emissions reductions needed for staying well below 2 degrees above pre-industrial levels.
Under the Paris Agreement a Facilitative Dialogue is to take place among Parties in 2018 to assess collective efforts to keep the global warming temperature to well below 2 degrees, and pursuing efforts to limit the temperature increase to 1.5 degrees above pre-industrial levels.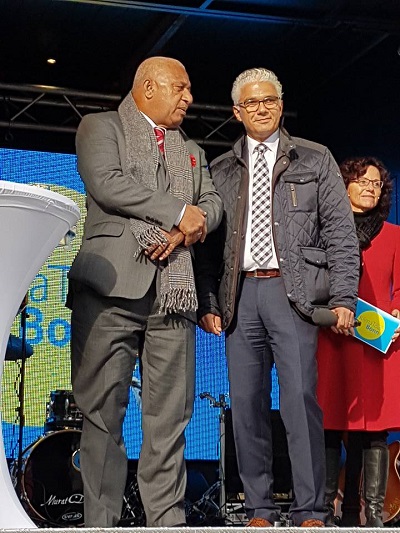 President of COP23, Prime Minister Frank Bainimarama with Mayor of Bonn, Mr. Ashok-Alexander Sridharan
In walking the talk at COP23, the event itself is designed to demonstrate climate action with clean energy with a target of 80 per cent renewable energy all over the conference being aimed for. Requests for travel to COP23 to be climate neutral through the Climate Neutral Now initiative, will allow for offsets. All delegates have been provided with a travel footprint calculator to determine how many tonnes of Carbon Dioxides they have used for air travel to Bonn with the option to offset these emissions. Special electric COP23 shuttles, running on 100% renewable energy will also be in use.
In order to bring the Pacific flavour to Bonn, our islands are being showcased through a traditional double-hulled Fijian Canoe on display at COP23 to serve as a powerful symbol of resilience and unity, flowers will be distributed by SPREP and the Pacific Climate Change Warriors for delegates to wear to raise Pacific visibility and indicate their support for the Pacific islands, and the Pacific way of life will be demonstrated by all during the Talanoa Dialogues. - #COP23 #4PacIslands
A strong Pacific news focus on COP23 will also be felt in the island region with 10 Pacific journalists attending the COP23, funded by the German Government's Ministry of Foreign Affairs. News will be forthcoming from: Ofani Eremae (Solomon Star, Solomon Islands), Iliesa Tora (The Nuku'alofa Times, Tonga), Lani Wendt Young (Samoa Planet, Samoa), Jared Koli (The Island Sun, Solomon Islands), Lice Movono (The Fiji Times, Fiji), Anita Roberts (Vanuatu Daily Post, Vanuatu), Mereoni Mili (Wansolwara – The University of the South Pacific, Fiji), Georgina Kekea (Solomon Islands Broadcasting Corporation, Solomon Islands), Elenoa Turagaiviu (FBC News, Fiji), and Florence Jonduo (EMTV, Papua New Guinea).
To learn more about the UNFCCC COP23, held from 6 – 17 November in Bonn, Germany, please visit
www.unfccc.int