September 16, 2016 by
admin
Guidance on the Pacific Climate Change Centre and the new Strategic Plan are two 'big ticket' items to be discussed during the 27th Meeting of the Secretariat of the Pacific Regional Environment Programme (SPREP) which starts in Niue next week.
This will be the last meeting hosted outside of Samoa as decided by the SPREP Meeting in 2015, next year Samoa will be the venue of the SPREP meeting and from that point on the gatherings will be held every two years hosted by SPREP.
"We are always progressing at SPREP, moving forward with the guidance of our member countries, ensuring that we provide the best possible service that suits their needs," said the Director General Mr. Kosi Latu.
"This will further be reflected in our new Strategic Plan and the work we do including the Pacific Climate Change Centre which will be the Pacific regional hub for cooperation and collaboration on climate change."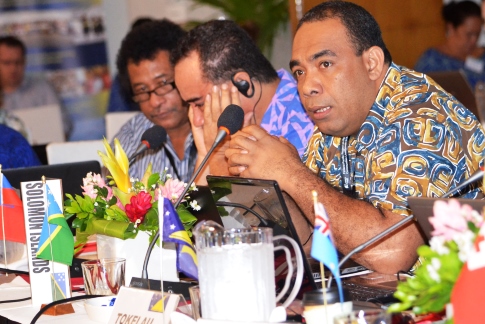 Solomon Islands takes the floor at the 26th SPREP Meeting in Samoa 2015. Photo: SPREP
The event will start with the Pacific Environment Forum focussing on both invasive species and the Protect Pacific Whales Campaign on Saturday 17 September. The PEF provides SPREP members and partners the opportunity to discuss and share lessons learnt on key environmental issues.
It will follow with the opening of the 27th SPREP Meeting of Officials and Ministers from 19 – 22 September, 2016 ending with a decision on the new proposed SPREP Strategic Plan, approval for the coming SPREP work plans and budgets as well as a charted course for the Pacific Climate Change Centre, with construction to be completed in 2018.
The SPREP Strategic Plan was developed through a lengthy consultative process with members, donors, development partners and other stakeholders. The result is a ten year strategy before members for approval.
The Pacific Climate Change Centre is funded by the Government of Japan under Grant Aid to the Government of Samoa and SPREP. It will be a shared regional hub for inclusive collaboration to meet the priority adaptation and mitigation needs of Pacific island countries and territories.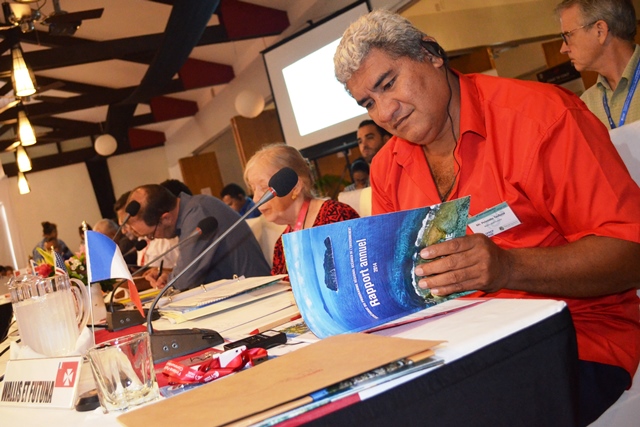 Delegate from Wallis and Futuna perusing the 2014 SPREP Annual Report presented at the 26th SPREP Meeting in 2015. The 2015 Annual Report will be presented at the 27th SPREP Meeting in Niue.
Photo: SPREP
"We do have a busy week ahead, the decisions of which will steer our journey over the coming years and we thank the Government of Niue for hosting us. I think SPREP is at an exciting point, on the verge of more great years to come and we look forward to navigating this journey forward with you all," said Mr Latu.
For more information on the 27th Meeting of SPREP and the Pacific Environment Forum, please visit:
http://www.sprep.org/sprep-meeting/27th-sprep-meeting-2016