January 31, 2017 by
admin
Island and Ocean Ecosystems
Pacific-UK marine science collaboration has been further strengthened with the signing of a Memorandum of Understanding (MoU) between the Secretariat of the Pacific Regional Environment Programme (SPREP) and the UK Government's Centre for Environment Fisheries and Aquaculture Science (Cefas). The agreement and work plan will explore a range of different partnership opportunities in the field of marine science.
The MoU was signed on Monday 30th January at the SPREP headquarters in Apia, Samoa in a ceremony attended by Cefas and senior management from SPREP.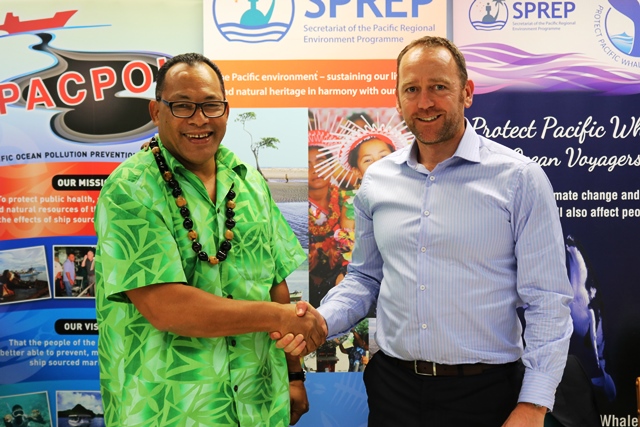 L - R: Mr Kosi Latu and Dr Brett Lyons
Ocean conservation under a future of climate change is an overarching theme of the work of SPREP for which key milestones will benefit from this MoU.
Construction of the Pacific Climate Change Centre begins this year, and this regional hub for inclusive collaboration on adaptation and mitigation priority needs for Pacific islands will be strengthened by the outcomes of the MoU.
Mr Kosi Latu, Director General of SPREP, said:  "Our range of work at SPREP is wide and varied across the environment issues in the Pacific for which this MoU will add value in helping to strengthen resilience."
"While this MoU will have a comprehensive reach across our existing work areas in building resilience of coastal ecosystems and communities, we also see further linkages with the work of the newly approved Green Climate Fund Project for Vanuatu - Climate Information Services for Resilient Development project, which will help address the information gaps and priority needs across the five sectors of tourism, agriculture, infrastructure, water and fisheries."
"We look forward to the outcomes which will ultimately benefit our Pacific island region."
Dr Brett Lyons, Scientific lead for the Cefas team working in the Pacific said:  "Cefas is building a collaborative network of research partners across the Pacific, in order to develop and deliver a series of programmes based around sustainable use of the marine environment."
"This MoU will formalise the excellent working relations between Cefas and SPREP that have been developed under the Commonwealth Marine Economies Programme. One of the key goals of this programme is to develop capacity within Small Island Developing States. By working closely with SPREP we can identify research needs and skill gaps. This will then allow us to develop joint work programmes that will help address some of the key regional priorities such as water quality, food security and climate change resilience."
The MoU builds on the work undertaken by Cefas on behalf of the UK Government funded Commonwealth Marine Economies Programme. A package of measures was announced in 2015 by the then British Prime Minister David Cameron to help Small Island Developing States (SIDs) alleviate poverty by preserving their marine environments and harnessing maritime resources.
The Programme is being delivered on behalf of the UK Foreign and Commonwealth Office (FCO) by a partnership of world leading UK government marine expertise: the United Kingdom Hydrographic Office (UKHO), Cefas and the National Oceanography Centre (NOC).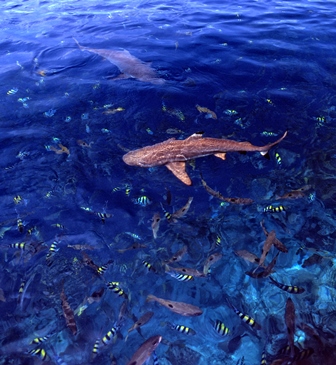 Sharks and Reef Fish, Solomon Islands.  Photo - Stuart Chape
Commenting on the Commonwealth Marine Economies Programme, Melanie Hopkins, British High Commissioner and Head of the South Pacific Network, Suva, Fiji, said:  "I am very pleased to see this key partnership between SPREP and our UK technical agencies taking shape. This collaboration will be an important platform for delivering the Commonwealth Marine Economies Programme in the Pacific - enabling the close collaboration between our respective experts and SPREP member governments to create high-quality data products that are integral to effective marine resource management and economic planning."
"This Programme is an opportunity to support the Pacific region's ongoing efforts to balance environmental resilience with sustainable development- a means for shaping a prosperous blue economy."
"Ahead of the UN Oceans Conference and COP23, this programme will provide the support and means to back regional commitments with distinct actions.
Recognising the important links between our changing climate and the health of our oceans will continue to shape UK support for Commonwealth small island states."
Small Island Developing States within the Pacific, Caribbean and Indian Ocean regions will benefit from the Programme. Cefas scientists have already been working in Vanuatu to provide an assessment of water quality and the impact of pollution that will enable the Vanuatu Government to preserve and develop its fisheries, aquaculture and tourism industries.
Director General Kosi Latu added, "The MoU between Cefas and SPREP will bring better science and thus enormous leverage and effectiveness to our work on the ground to implement ecosystem-based adaptation to climate change and to secure more resilient ecosystems, communities and economies in the Pacific."
Fiji, Kiribati, Nauru, Papua New Guinea, Samoa, Solomon Islands, Tonga, Tuvalu are also set to benefit. National experts from across the Pacific recently attended a workshop in Fiji that aimed to further promote collaboration and resource-sharing across the region.
– CefasRelease/SPREP
For more information please contact Mr Warren Lee Long, SPREP's Coastal and Marine Adviser at
[email protected]