January 31, 2014 by
admin
Nine journalism students from the University of the South Pacific and Fiji National University were mentored by a team of media professionals to develop daily news for the duration of the 9th Pacific Islands Conference on Nature Conservation and Protected Areas.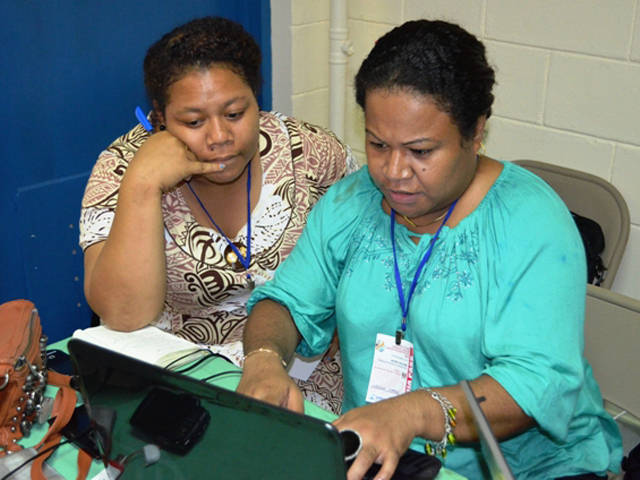 The gathering of over 800 registered delegates took place in Suva, Fiji from 2 to 6 December last year.
Since 1975, nature conservation programmes in the Pacific region have been guided by the Pacific Islands Conference on Nature Conservation and Protected Areas.
This regional conservation conference that takes place every 4-5 years has become the prin¬cipal gathering of government agencies, NGOs, community-based organisations, donor agencies and individual experts concerned with conservation science and practice in the Pacific region.
SPREP was proud to work in partnership with the Fiji National University (FNU), University of the South Pacific (USP) and Pacific Islands News Association (PINA) to undertake this activity, which was funded by the Pacific Assistance Media Scheme (PACMAS).
Throughout the conference, the students wrote and reported daily news items with the assistance of experienced media professionals - Ms Irene Manueli, Ms Mereseini Marau, Ms Merana Kitione, Mr Ricardo Morris and our own Media and Public Relations Officer, Ms Nanette Woonton.
"We published the news stories on www.sprep.org, our facebook page and our Bionesian website. We also got great support from the Pacific Island News Association who shared stories from the students as part of their daily bulletins," said Ms Woonton.
"Overall it was a successful activity, the students learnt a lot from their hands on experience both about nature conservation and news writing tips. The media coverage was colourful and varied and it appealed to a wide range of audiences."
As an added bonus, many of the participating students developed a keen interest in nature conservation as a result of the exercise, with at least five of the students having gone on to join the Pacific Youth Environment Network.