May 12, 2020 by
angelicas
Waste Management and Pollution Control
General News
With the coronavirus (COVID-19) pandemic continuing to spread and its impacts upon human health and the economy intensifying daily, governments are urged to treat waste management, including of medical, household and other hazardous waste, as an urgent and essential public service in order to minimise possible secondary impacts upon health and the environment.
Undoubtedly, waste management is an invaluable public health service, especially during the current COVID-19 pandemic. Those of us privileged enough to have formal or informal waste management services right now are benefiting tremendously from avoiding the health risks of waste piling up! During such an outbreak, many types of additional medical and hazardous waste are generated, including Personal Protective Equipment such as masks, gowns, and gloves. The safe handling, and final disposal of this waste is therefore a vital element in an effective emergency response.
The European Union Pacific Waste Management Programme, (PacWastePlus) have compiled a useful COVID-19 Medical Waste Alert to assist the effective management of Healthcare waste during the current pandemic. It is an easy to read, practical guide for the Pacific setting with additional links to more resources.
While some countries are advising citizens with recent travel history to self-quarantine at home or hotels it is important to note that any waste that has been in contact with a facility that is housing a COVID-19 patient or a person who has been exposed to the coronavirus, including decontamination materials, should be treated as medical waste. 
Waste disposal bags used by patients should be collected and placed in a clean general garbage bag and as such the closed patient waste bags can be put directly in the unsorted garbage as no special collection activity or other disposal method is necessary. Although medical waste management continues to be an important area for support, routine household waste collection is also essential to maintain a sanitary and safe environment. With the recent impact of Tropical Cyclone Harold, timely collection and disposal of debris is critical to maintain a healthy environment.
As a response to the devastation caused by TC Harold in the Solomon Islands, Vanuatu, Fiji and Tonga, the PacWastePlus programme technical team have provided remote technical assistance and developed a guide for the identification and safe handling of asbestos contaminated materials following natural disasters.  
The Asbestos Contaminated Materials Guide for Disaster Debris Removal is designed to provide guidance on response and management, and to supplement knowledge and skills – utilising this guide does not imply qualifications, and the programme strongly recommends undertaking appropriate training and engaging of necessary protective measures prior to handling asbestos contaminated materials.
The programme team remain actively engaged with participating Pacific islands country focal points during these challenging times and have been working resiliently on developing appropriate resources that can be provided to countries for additional guidance and useful information.  
Most recently, in conjunction with partner projects and a number of donors, including the United Nations Environment Programme/Global Environment Facility, Japan International Cooperation Agency/Japanese Technical Cooperation Project for Promotion of Regional Initiative on Solid Waste Management, Phase II, Australian Aid/Pacific Ocean Litter Project, released the first of the new programme resources, an informative factsheet on Waste Funding systems-Deposits/Levies. The PacWastePlus programme and other donor projects are keen to support Pacific islands to explore, develop and implement these options.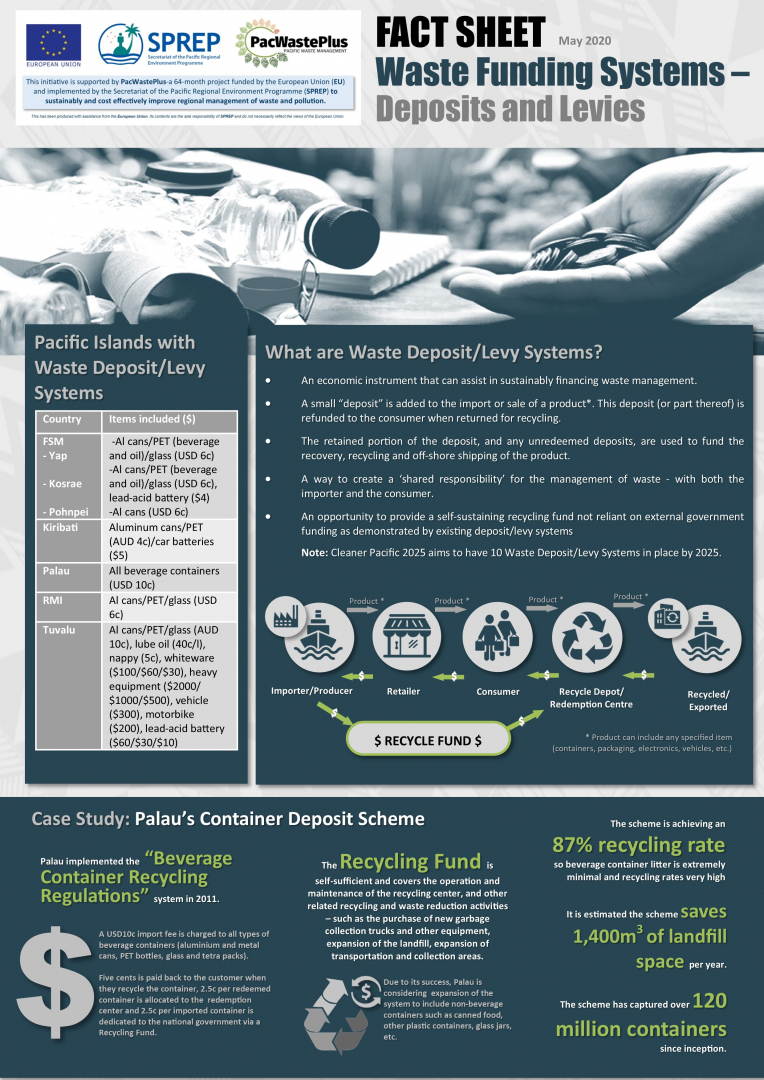 The programme management unit is continuously exploring innovative means of enhancing country engagements and assistance as they venture into development of in-country investment concepts. The team have also commenced production of a series of programme resources, with the first being on a Guide to Developing "SMART" Objectives, that are structured to provide meaningful thought-provoking guidance to country focal points as they continue to work on in-country projects.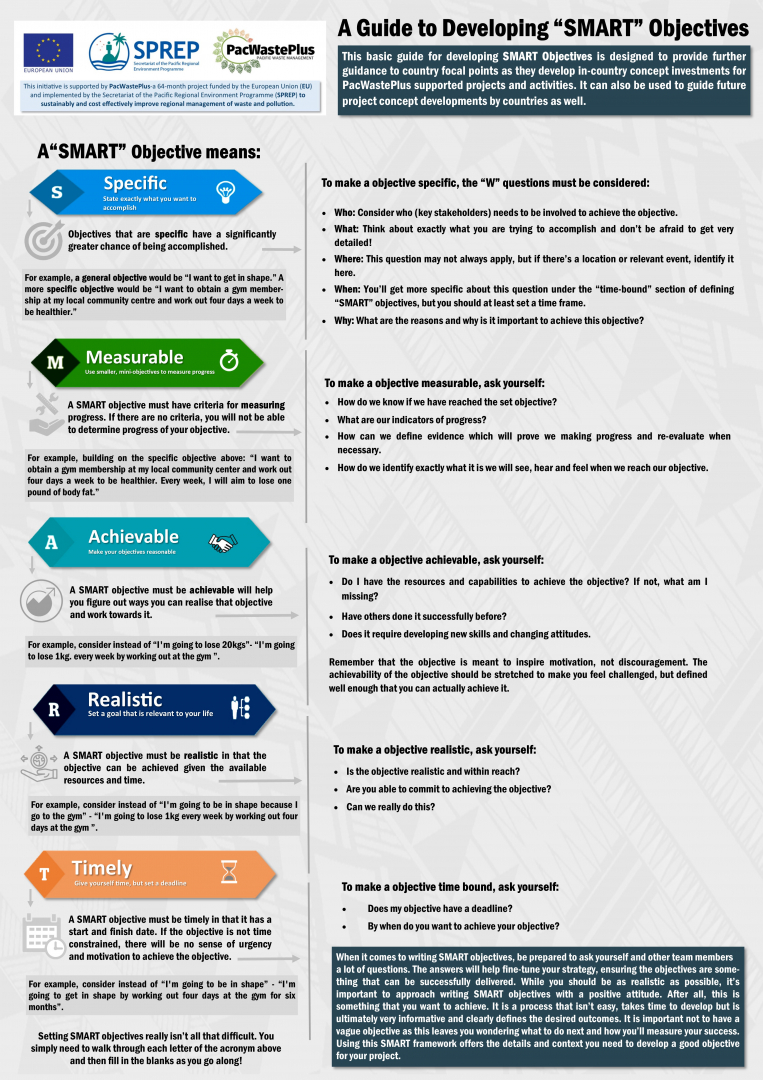 The Pacific-EU Waste Management Programme (PacWastePlus) is a EUR 16.5 million, 64-month project funded by the European Union and implemented by Secretariat of the Pacific Regional Environment Programme (SPREP) and will address both the cost effective and sustainable management of waste and pollution as well as broader impacts including human health and wellbeing, climate change, disaster management, biodiversity conservation and resource recovery.
Priority waste streams include hazardous wastes (specifically asbestos, E-waste and healthcare waste), solid wastes (specifically recyclables, organic waste, disaster waste and bulky waste) and related aspects of wastewater.