February 22, 2018 by
admin
Climate Change Resilience
Wellington, New Zealand, 23 February 2018 -
Some know of it as
Eunice Viridis
, Samoans know of it as palolo. Either way it was this Samoan delicacy and the possibility of its extinction that found its way to centre stage at the Pacific Ocean, Pacific Climate Conference.
The evaluation of
Eunice (palolo) viridis
as a proxy for the sustainability of coastal marine species in the Samoan Islands was shared with conference-goers by Mr Richard Crichton, currently studying in a graduate program in Japan,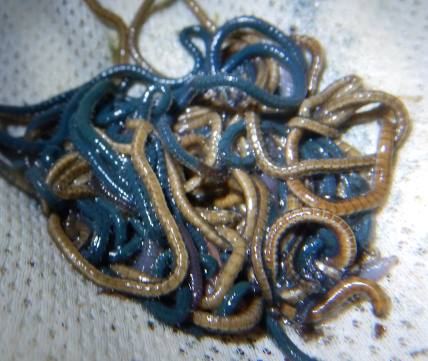 Eunice (palolo) viridis
"I was curious about indigenous knowledge and marine resources and so thought I'd focus on the palolo to see if that could be used as a proxy to explain why some of the fish population is declining around the coastal areas of Upolu," said Mr Crichton.
"After holding community surveys asking people about the social, economic, and environmental changes noticed in the villages of Salamumu, Falelatai, Lefaga, Siumu and Saanapu – we learnt that there is less coastal fish available. I was wanting to learn more about why this is."
The palolo is listed as a threatened species in the IUCN Red-List with a data deficiency meaning not enough information has been published about the ecology of this marine worm. Its annual mass spawning makes palolo an interesting case study to understand fish reproduction and potential impacts of a changing climate.
Mr Crichton explored how the difference in past palolo spawning patterns and the climate conditions compare and what this would mean in a changing climate. The findings of which may prove worrying to many Samoans, yet the uncertainty of many factors does mean the uncertainty of the future of palolo.
Mr Richard Crichton
"There is a strong linkage between El Nino and the quantity of palolo. Where there has been strong spawning, there has been neutral El Nino. The years of the strongest El Nino periods correlate with a very low palolo harvest."
"Yet even more concerning is the possibility that if the Nino events become more frequent in the future, this could lead to the possible extinction of palolo and perhaps other similar species of marine life. At this stage, due to inconsistent projections of future El Nino and El Nina from climate models, it is not possible to project the detailed impacts of ENSO on the future of palolo."
To reach this conclusion, the study saw a wide range of activities carried out.
A correlation analysis was undertaken of climate data and palolo spawning data and a community survey was held to learn of the palolo harvest over a certain period.
Coral habitat mapping was carried out as well as a range of interviews with key resource personnel to learn more about the palolo and the coastal conditions. The community surveys were also an opportunity to learn more about the traditional knowledge linkages between the palolo and our climate.
Conducted over a two year period, the study did experience some challenges including that of available data.
The yearly palolo spawning strength was mapped using historical publications on palolo including scientific journals, reports and news articles. This data was validated by triangulation with community surveys, however, many inconsistencies were observed from the community surveys. This is because survey depended upon human memory for measuring historical palolo catch, yet human memory can prove unreliable.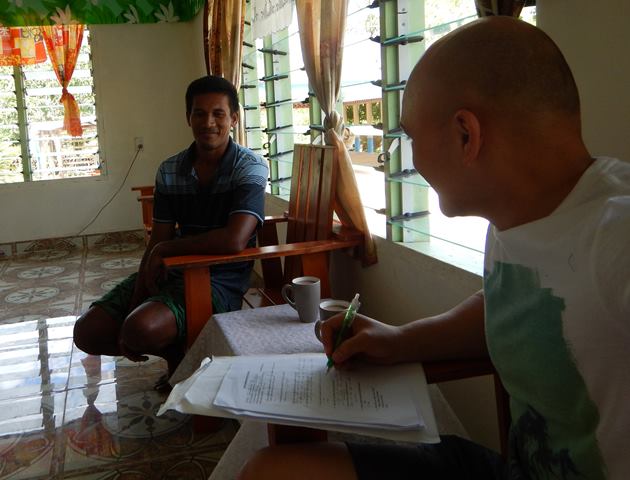 Mr Crichton conducting a survey interview in Samoa
Another finding from this survey which may not have been intentional is that of the changing nature of traditional knowledge.
"One key role of the research is to address the issue of sustainability of traditional knowledge and culture, and to validate the traditional knowledge that climate conditions has great influence on spawning quantity through scientific research methods." said Mr Crichton.
"We found that traditional knowledge is slowly changing or is starting to fragment, and there are many inconsistencies in the information passed down across generations."
For further information on this study, please contact Mr Richard Crichton at
[email protected]
Coordinated by the Victoria University of Wellington in partnership with the Secretariat of the Pacific Regional Environment Programme (SPREP) the Pacific Ocean, Pacific Conference is the second Pacific Climate Change Conference and is held at Te Papa Museum from 21 to 23 February, 2018. The parallel sessions consist of a range of presentations held under different themes from different speakers. Each day starts with two keynote addresses as well as another two keynote addresses after lunch.
For more information please visit
http://www.confer.co.nz/pcc2018/