August 3, 2020 by
leannem
Island and Ocean Ecosystems
The Mua Native Tree Nursery was officially handed over to the Government of Fiji by the Secretariat of the Pacific Regional Environment Programme (SPREP) Pacific Ecosystem-based Adaptation to Climate Change Project (PEBACC) at a ceremony held at the Mua Agricultural Research Station in Taveuni on Wednesday 29 July.
The Fijian Government was represented by the Ministry of Forestry and Ministry of Agriculture. 

With the current phase of PEBACC coming to a close at the end of July, the two Ministries are committing to an inter-Ministerial cooperative approach to the management, maintenance and further development of the nursery. This includes the appointment of a permanent Nursery Manager and delivery of seedlings to partners. The nursery is housed at the Ministry of Agriculture's Research and Development Centre at Mua on the island of Taveuni.

In his opening address, Ministry of Forestry Director North Mr. Moape Lotawa said, "Native trees are part of our culture, our identity and heritage. Through logging and other less sustainable means, our native tree stocks have become low and scarce to the point that it becomes difficult to show the younger generation the value of these trees when they don't grow as abundantly as they once did."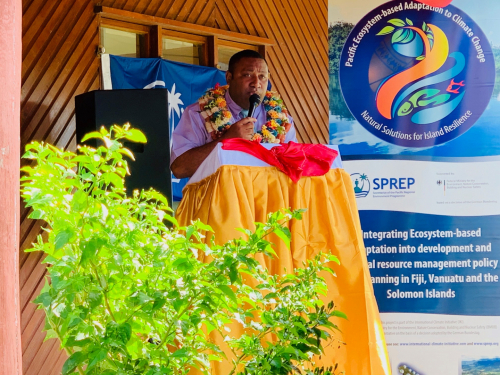 "This nursery will help restore the balance by restocking native trees in identified deforested areas in Taveuni."

"Native trees adapt well to the local Fijian climate so trees like Vesi and Bauvudi will once again stand tall in our forests," he said. 

The Ministry of Forestry has pledged to maintain and develop the nursery as part of its mandate for sustainable forest management and in pursuit of its 30 million trees in 15 years national programme. 
Echoing similar sentiments, Ministry of Agriculture Senior Research Officer Mr. Rohit Lal, said, "Replanting of agroforestry and native trees are part of sustainable farming systems which the Ministry advocates. And for this reason the Ministry of Agriculture supports this initiative, of setting up the Native tree nursery at Mua, Taveuni."
"The Nursery will not only supply native tree seedlings to our farmers but will ensure reforestation of our Garden Island. These in return will ensure sustainable land and farm management for our future generations".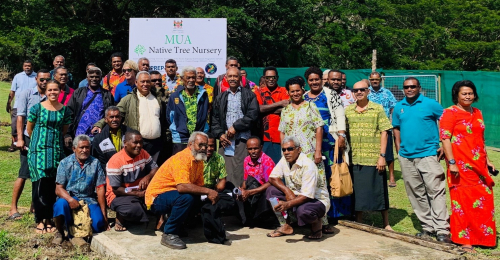 The Native Tree Nursery was constructed by SPREP through the PEBACC project in collaboration with the Ministry of Forestry in 2018. The nursery was constructed to supply seedlings to the Taveuni Reforestation and Agro-forestry Programme, an ecosystem-based adaptation (EbA) programme under PEBACC supported by Ministries of Forestry, Agriculture and iTaukei Affairs. 

The nursery can hold up to 50,000 seedlings. Currently, native trees being nurtured in the facility include Vesi, Yasi, Dilo, Tavola, Kaudamu, Dakua, Makadre, Sea, Dawa, Duvula, Male, Ivi, Moivi and Kaunicina. Seedlings of Soursop, Avocado and Vetiver grass are also grown in the nursery.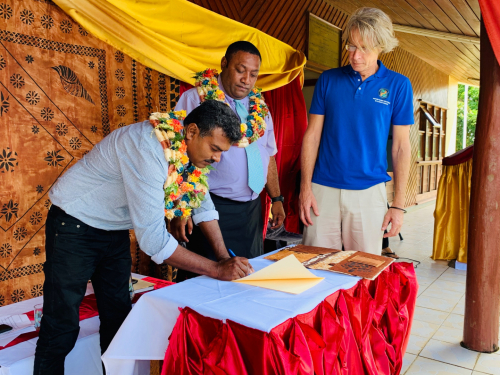 "The Nursery provides communities with access to viable healthy native tree seedlings to help efforts to rehabilitate their watersheds and agricultural lands," said Mr Herman Timmermans, PEBACC Project Manager. 
Through PEBACC support, to date over 4,000 native and fruit tree seedlings have been planted in the Taveuni districts of Wainikeli, Cakaudrove and Vuna. The Taveuni Reforestation and Agro-forestry Prgramme was further supported by Conservation International, SPC Land Resources Division and Scientific Forestry Services who were contracted by the project to assist the respective Communities in their planting efforts.
The Pacific Ecosystem-based Adaptation to Climate Change Project is a five year initiative implemented by the Secretariat of the Pacific Regional Environment Programme (SPREP) in partnership with the governments of Fiji, Solomon Islands and Vanuatu. The project is funded by the International Climate Initiative (IKI) of the German Federal Ministry for the Environment, Nature Conservation and Nuclear Safety (BMU), which supports this initiative on the basis of a decision adopted by the German Bundestag. The Project focuses on strengthening and protecting the role of natural ecosystem services to enhance resilience to climate change.