The Hon. Tony deBrum, Minister of Foreign Affairs in the Republic of the Marshall Islands, met this week with the Deputy Director General of the Secretariat of the Pacific Regional Environment Programme (SPREP), Mr. Kosi Latu, to commence preparations for the 25th SPREP Meeting, which will be hosted by the island nation in September this year. This year, the annual event will include a Ministerial Meeting in addition to several other key events that enable regional decision-making.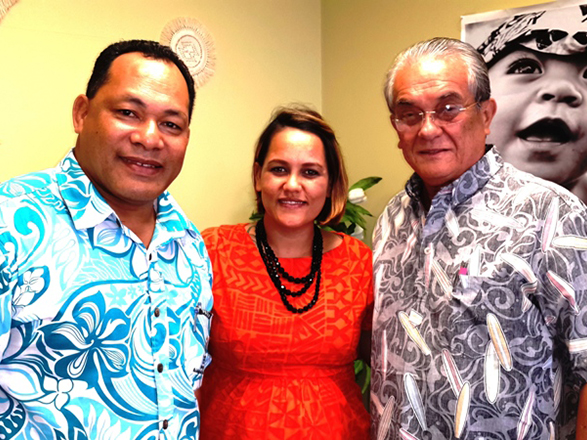 Pictured: Mr. Kosi Latu, Ms. Moriana Phillip, Hon. Tony deBrum
"We are grateful to the Marshall Islands for offering to host the SPREP meeting this year," said Mr. Latu. "Five of our member states are situated in the Northern Pacific and this is an opportunity to further strengthen our relations and work more closely together".
The Marshall Islands is the first base as part of the expansion of SPREP beyond its headquarters in Apia, Samoa. A SPREP Technical expert, Ms Moriana Phillip, is now based in the Marshall Islands, providing advice to the Northern Pacific on issues relating to the water sector.
"The Marshall Islands have had a strong Pacific voice sharing our island concerns at the international level and we are pleased to be able to meet here in September to make decisions that will impact upon our collective futures. It follows on from our commitment to provide stronger services to the Northern Pacific," said Mr. Latu.
The SPREP Meeting of Officials will be held from 30 September to 2 October, preceded by the Conference of the Parties to the Noumea Convention on 25 September; the Conference of the Parties to the Waigani Convention on September 26; and the Pacific Environment Forum on September 29. The sequence of meetings will conclude with the Pacific Environment Ministers' Session of the SPREP Meeting on 3 October.