November 11, 2015 by
admin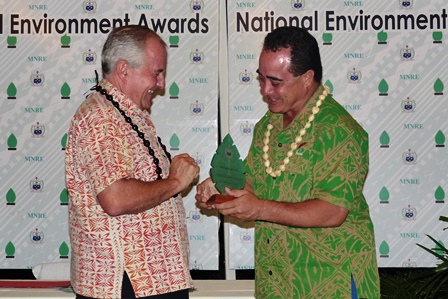 L - R David Sheppard of SPREP receiving his award from Suluimalo Amataga Penaia of MNRE
The Director General of the Secretariat of the Pacific Regional Environment Programme (SPREP) was awarded with one of two special awards by Samoa's Ministry of Natural Resources and Environment (MNRE) at the Environment Awards at the conclusion of National Environment Week.
The Chief Executive Officer of the MNRE, Suluimalo Amataga Penaia, presented Mr. David Sheppard with a special award for for "Exceptional Leadership and Environmental Stewardships in promoting Conservation Initiatives and Awareness in the region and for Samoa".
"I feel immensely humbled to be given this award and would like to accept it on behalf of all of the dedicated men and women who work so hard up at our SPREP campus in Vailima," said Mr Sheppard.
"You should all be proud of the environmental leadership demonstrated by Samoa, as highlighted during this Environment Week, and as recognised throughout the region and globally. As I approach the end of my term as SPREP Director-General, I would like to place on record my appreciation of the continued and strong support of the Prime Minister, the Minister for MNRE, and the Government of Samoa for SPREP."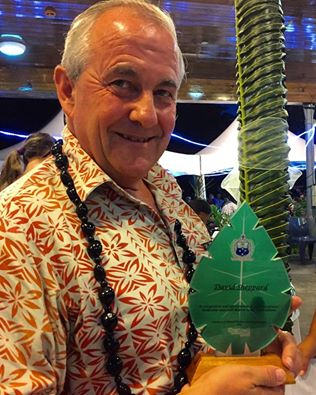 Mr. David Sheppard with his Award, photo courtesy of Milena Sheppard
"It has been an honour and a pleasure to serve Samoa and Pacific island countries and territories as we all strive – together - for a better environment and for sustainable development," he said.
To conclude Samoa's National Environment Week, the MNRE recognised individuals, businesses and organisations, and community groups that contributed to conserving, preserving and raising awareness of the issues facing the environment in Samoa.
SPREP Director-General, Mr. David Sheppard began his term with SPREP in October 2009 and finishes in December 2015. He will be succeeded by Mr. Kosi Latu, the Deputy Director-General of SPREP.