December 3, 2016 by
admin
Island and Ocean Ecosystems
2 December 2016, CBD COP13, Cancun, Mexico -
Samoa has called upon key donors and partners to support regional and national programs that strengthen biodiversity conservation in the pursuit of a sustainable environment.
Presenting at the High Level Roundtable talks on
"Mainstreaming biodiversity into the food and agriculture sector"
in Cancun, Mexico today, Samoa outlined the national, regional and international strategies and policies that help guide its work in achieving this.
"Our current
Strategy for the Development of Samoa 2012 – 2016
clearly identifies environmental sustainability as one of our four key national priority areas. The Agriculture Sector places more emphasis on strengthening economic resilience and building capacity for sustainable agricultural developments," presented Samoa's Deputy Prime Minister and Minister of Natural Resources and Environment Hon. Fiame Naomi Mata'afa.
"The N
ational Environment Sector Plan (NESP 2013 – 2016)
and the
National Agriculture Sector Plan (NASP 2016 – 2020)
have been recognised as multi-sectoral platforms for ecosystem-based actions to achieve sustainability in biodiversity and agriculture.
Samoa's National Biodiversity Strategy and Action Plan (NBSAP 2015 – 2020)
underlines the importance of a sector wide approach to build a shared sense of vision and ownership."
"This is a clear reflection of the importance placed by Samoa on its environment and agriculture, and that one can serve the other."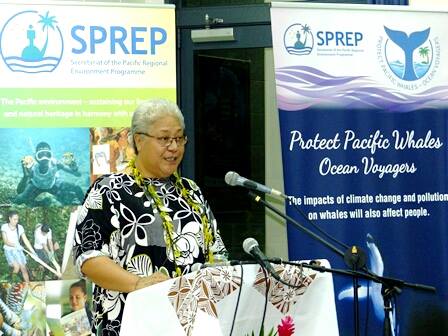 Deputy Prime Minister of Samoa Hon. Fiame Naomi Mata'afa launches
Pacific Year of the Whale at SPREP in April this year
The two day High Level Segment of the Thirteenth Conference of the Parties to the Convention on Biological Diversity (CBD COP13) opened in Cancun today with a morning of speeches from global organisations highlighting the important role of biodiversity and the need for stronger actions.
This is followed by two afternoons of parallel high level round table discussions that focus on the integration of biodiversity into the productive sectors of agriculture, forestry, fisheries and tourism to help achieve the Aichi Targets.
Today saw the roundtable discussions on agriculture and tourism take place.
The High Level Segment will end with the endorsement of the "Cancun Declaration on Mainstreaming the Conservation and Sustainable Use of Biodiversity for Well-being" which will be presented to the CBD COP13 which opens on Sunday, 4 December.
"This conference reaffirms the need for sustainable and durable partnerships to effectively implement the key outcome of the Small Islands Developing States Conference, the SAMOA Pathway, a critical issue given that our plant and animal species in the Pacific SIDs are being lost at alarming rates," presented Minister Mata'afa.
Also shared were several key initiatives recently undertaken in Samoa that highlight the commitment and work undertaken to mainstream biodiversity into the food and agriculture sector namely a national project titled "Strengthening Multi-sectoral management of Critical Landscapes", the Samoa Agriculture Competitiveness Enhancement Project as well as a national workshop held last month with support from FAO, CBD, SPC and SPREP in enhancing policy dialogue on mainstreaming biodiversity in agriculture.
Samoa is one of 14 Pacific islands that are a Party to the CBD COP, along with the Cook Islands, Federated States of Micronesia, Fiji, Kiribati, Marshall Islands, Nauru, Niue, Palau, Papua New Guinea, Solomon Islands, Tonga, Tuvalu and Vanuatu.
The High Level Segment of the CBD COP13 is held on 2 and 3 December, 2016 followed by the CBD COP13. For more information on this please visit:
http://cop13.mx/en/
Acronyms:
FAO – Food and Agriculture Organization, SPC – Pacific Community, SPREP – Secretariat of the Pacific Regional Environment Programme.