From 10-13 May, representatives from the Secretariat of the Pacific Regional Environment Programme (SPREP), including Director General Mr Kosi Latu, joined special guests from across the region to participate in Europe Day celebrations in Suva.
Speaking from the launch event at St Joseph's Secondary School, Mr Latu expressed his delight at being a part of the celebrations and associated public exhibition:
"This is a fantastic opportunity to celebrate the scope of support provided by the European Union and its member states towards sustainable development in the Pacific region. SPREP is proud to be working closely with the European Union on the EDF-10 funded PacWaste and BIOPAMA projects, and with the Governments of Germany and Finland on the Pacific Ecosystem-based Adaptation to Climate Change (PEBACC) and FINPAC projects respectively."
Mr Latu explained that these projects, spanning the thematic areas of waste management, climate change, and biodiversity and protected areas management all help to increase resilience of island communities in the long-term.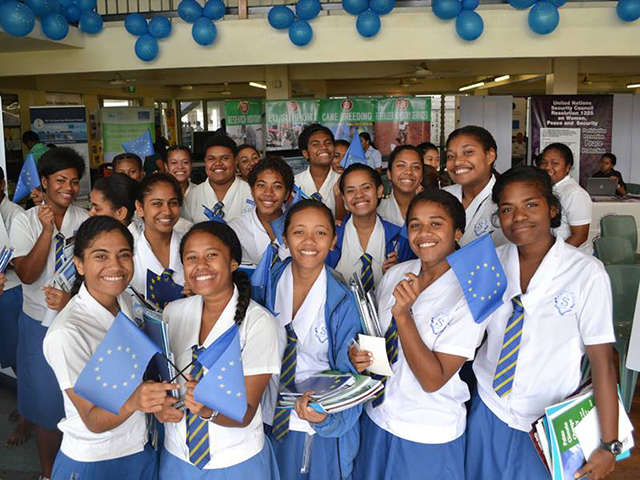 Pictured above: Students celebrating Europe Day in Suva, Fiji. Photo: European Union Delegation for the Pacific

Over the course of the four-day event, thirteen schools from across the Suva district visited the exhibition. At the SPREP stand, educational materials developed by the PacWaste project were well received by the students and teachers, with 200 free posters and stickers distributed.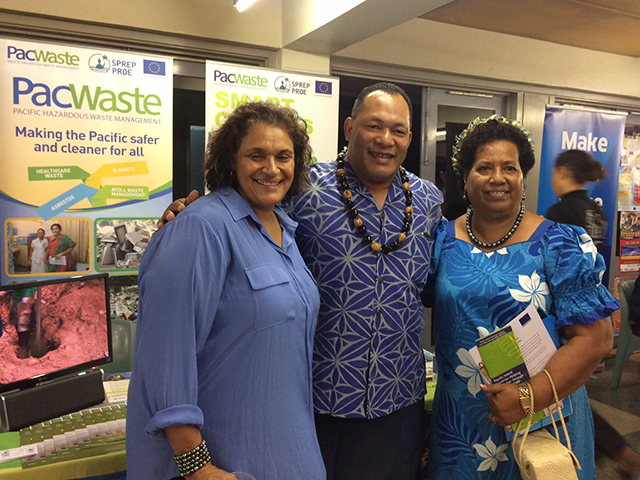 Pictured above: Mr Kosi Latu (centre) with special guests at the launch of the Europe Day event in Suva, Fiji. Photo: A.Carvan/SPREP
Ms Amber Carvan, SPREP's PacWaste Communications Officer was also on site to talk to young students about the European Union-funded Pacific Hazardous Waste Management Project:
"It has been such a pleasure to engage with young students and find out how much they know about environmental issues in the region. For me, working on the PacWaste project, it was particularly interesting to speak with the students about the important role that proper waste management plays in protecting environmental and human health."
Europe Day, celebrated on 9 May, commemorates the day in 1950 when French Foreign Minister Robert Schuman, one of the founding fathers of the European Union, made the famous 'Schuman Declaration', in which he called on the nations of Europe to unite and render war on the continent unthinkable.