February 12, 2019 by
angelicas
11 February 2019, Apia, Samoa – "We need more women and girls in science." This was the main message heard today during a special seminar commemorating 'International Day of Women and Girls in Science' held at the Secretariat of the Pacific Regional Environment Programme (SPREP).
In collaboration with the Young Women's Christian Association (YWCA) of Samoa, SPREP organised and facilitated a special seminar for school girls from Vaivase Primary School and Samoa Primary School, giving them the opportunity to hear the personal stories of a few Pacific women at SPREP who work in or have educational backgrounds in science.
With this year's theme being, "Investment in Women and Girls in Science for Inclusive Green Growth," YWCA and SPREP agreed to come together in an effort to inspire local girls to study science at school, and consider a career path in the field.
"As the regional environment organisation of the Pacific, it is important for SPREP to foster and nurture in our future generations an interest in science, both academically in school and professional in the career paths they choose," said Mr Kosi Latu, Director General of SPREP.
"We must play our part in supporting the narrative that gender equality and education go hand in hand, and so on days like today – the International Day of Women and Girls in Science – it is a great opportunity for us to open our doors to school students and share with them the work we do here, and hopefully light a fire in them to want to continue this important work when they grow up."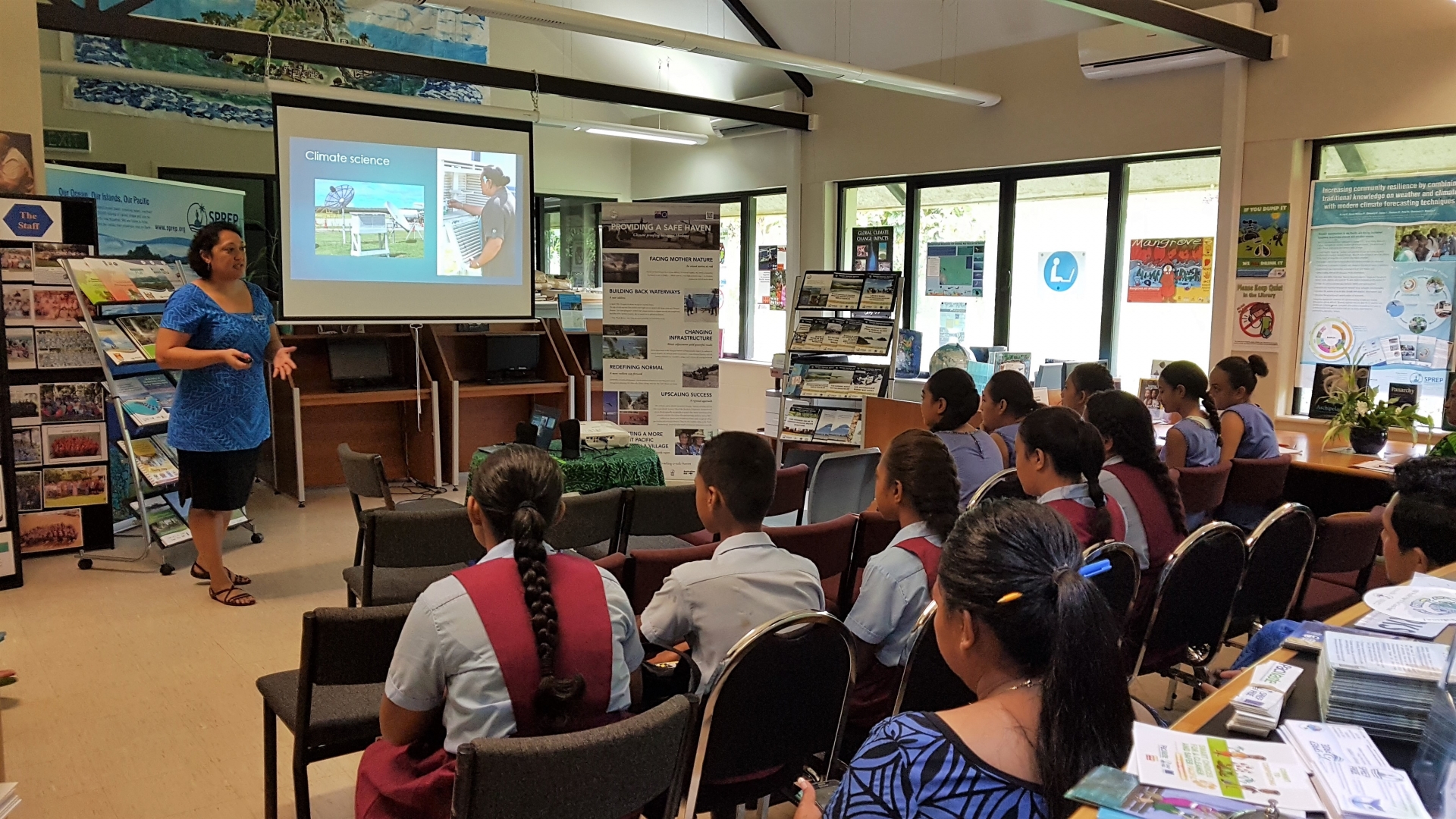 Ms Siosinamele Lui, COSPPac Project Climate Traditional Knowledge Officer during her presentation.
Speaking to the girls who attended the seminar were three Pacific island women currently employed at SPREP: Ms Juney Ward, Shark and Ray Conservation Officer; Ms Siosinamele Lui, Climate and Oceans Support Program in the Pacific (COSPPAC) Project Climate Traditional Knowledge Officer; and Ms Leinatioletuitoga Eteuati, Human Resources Assistant.
"Science is a male dominated field," said Ms. Eteuati, who spoke about some of the challenges she faced when studying to become an Oceanographer.
"The challenge is getting more girls interested in taking science subjects and pursuing careers in science, which is why International Day of Women and Girls in Science is one of my favourite days of the year!"
Ms Eteuati is a recently graduated Oceanographer currently working as a (temporary) Human Resource Assistant at SPREP. She holds a Bachelor of Science in Oceanography from the University of Otago in New Zealand.
Sharing her experience of being one of only two females, as well as the only Pacific Islander, in the Oceanography programme at her university, she highlighted the importance of breaking the status quo in the field of science.  Ms Etuati encouraged the school girls not be intimidated by the fact that science is a male dominated field.
"If you love science or mathematics, just do it! Because girls are just as smart and capable as boys."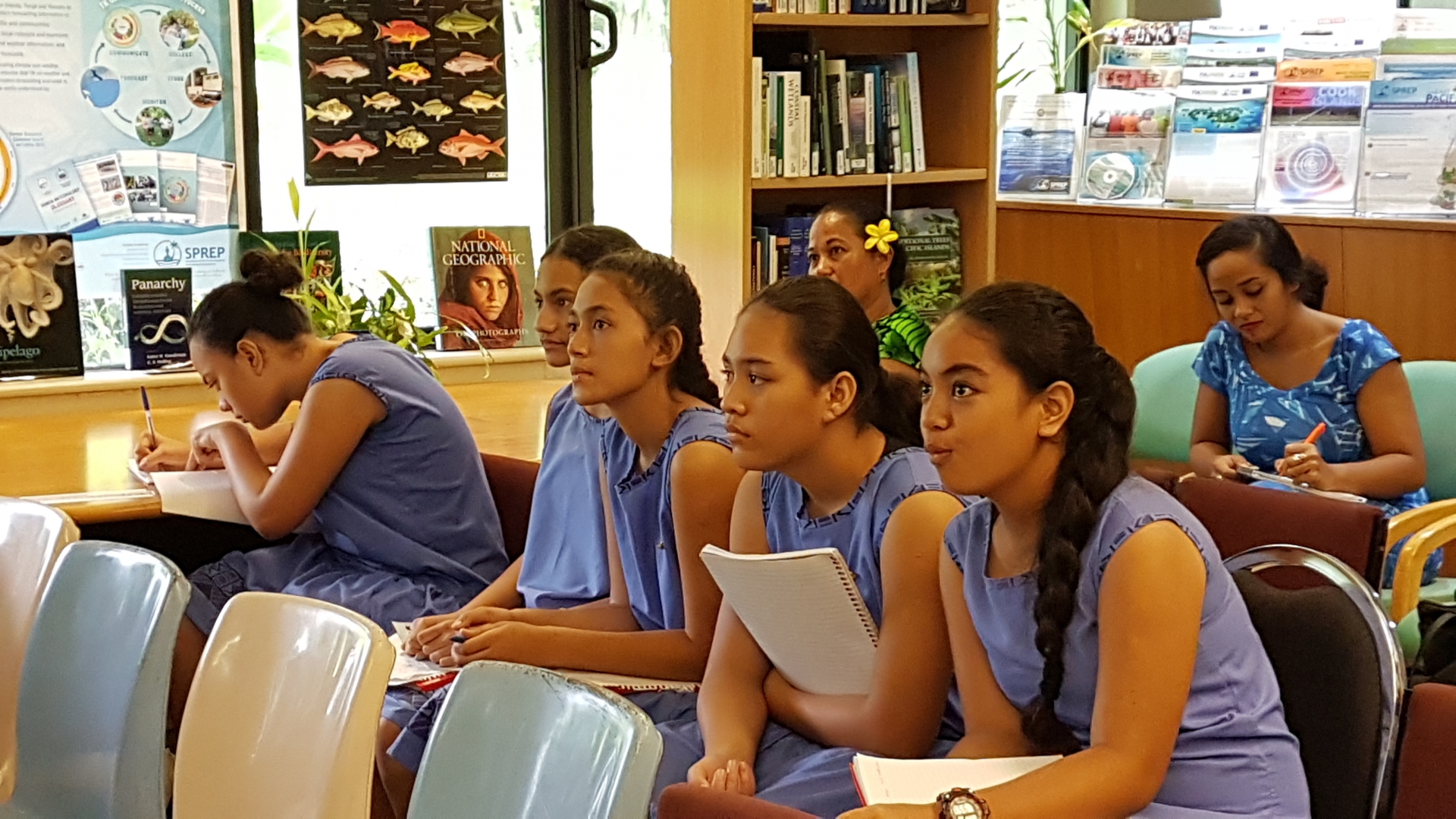 School girls from Samoa Primary School who attended the special seminar.
Ms Siosina Lui has a background that spans the areas of Geoscience, Disaster Risk Reduction, Environmental Conservation and Sustainable Development.  She previously worked at the Samoa Meteorological Services and the Conservation Department of the Ministry of Natural Resources and Environment (MNRE) of Samoa for over 10 years.
 "If you are interested in science but are nervous about choosing to study science at secondary or even tertiary levels – I want you to know that there are so many different professions in the field of science that you can choose from," said Ms Lui.
"And if you're unsure or choose to study commerce or arts, and then change your mind later – don't worry! You can choose a career in science at any age, just like I did."
Ms Lui shared her experience being an Arts student in college and pursuing geography in Foundation, later taking up an interest in climate and geo-science both professionally and academically when she returned to university to complete a Master Degree from the Australian National University (ANU).
Ms Juney Ward holds a Bachelor's degree in Marine Science, as well as a Postgraduate degree, from the University of the South Pacific.  She worked at MNRE in Samoa for over 10 years working to protect marine resources and conducting research on whales, dolphins, turtles, corals and mangroves before joining SPREP in 2015.
When asked by one of the students what influenced her decision to study Marine Science and become a marine mammals conservationist, Ms Ward shared that her love of the ocean is where it began, as she would often go to the beach as a child to swim and snorkel with her family. However, what really motivated her to take up marine science was a documentary she watched about whaling.
"I watched a documentary about whaling when I was young that made me really sad, and it motivated me and helped me realise that that's what I wanted to do – help whales and other marine animals like dolphins, sharks, turtles and rays," said Ms. Ward.
The special seminar was hosted at SPREP's headquarters and organised in collaboration with YWCA in Samoa to commemorate and observer International Day of Women and Girls in Science. YWCA and SPREP partner together on community and education outreach, and plan to host similar events over the year.
If you, your school or organisation would like to collaborate with SPREP on similar events, please feel free to contact our office by email at [email protected] with your inquiries.