October 26, 2018 by
leannem
Climate Change Resilience
SPREP and Griffith University through the Pacific iCLIM Project, were invited to present at the University of the South Pacific in Fiji to Postgraduate students studying EV420 Research Project in Environment. The course was funded by the SPC USAid Institutional Strengthening in Pacific Island Countries to Adapt to Climate Change (ISACC) Project.
Ms Emma Arasi (Knowledge Management Officer, SPREP) introduced the presentation on SPREP's Pacific Climate Change Portal, the go-to hub for Pacific climate change information. 
Ms. Kalara McGregor, Project Manager and Ms. Madeleine McGann, Program Coordinator presented on the Adaptation Project Tool (APT). The APT provides Pacific focused guidance on scoping, developing and planning climate change adaptation projects, including assisting users to access resources and develop project concept notes and preliminary project proposals.
The Adaptation Project Tool allows users to download a customized Project Concept Note and Proposal Development Note with a list of key resources to assist with scoping and planning adaptation projects.
In providing feedback on the Adaptation Project Tool, students noted that it was a 'helpful, useful and easy to follow'. Notably, students also noted that the APT provided an effective foundation to structure discussions with donors and project partners.'
Mr. Patrick Pringle of the Climate Analytics IMPACT Project also assisted, and   facilitated sessions on the important of monitoring and evaluation, what is means in the context of climate change, and how it can be applied in practice.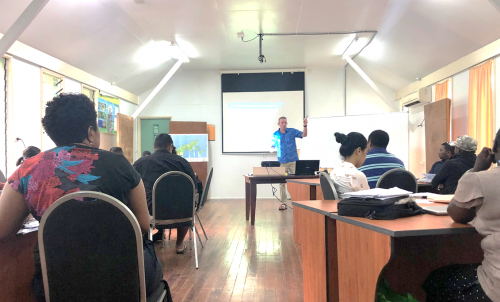 From 8-12 October the iCLIM Team conducted a mission to Tuvalu to assist with the development of a national climate change portal.  The Tuvalu Climate Change Policy & Disaster Coordination Unit (CCPDCU) has committed to improving national climate change IKM, including the development of a national portal
A team of four from SPREP and Robert Cosgrove (Senior Web Applications Development Specialist of Griffith University) carried out this workshop to a number of Tuvaluan environment officials. The team conducted capacity building training for content management and Drupal – the portal software platform
The outcomes of this training included trained climate change staff as well as the information technology officers in maintaining the Tuvalu national climate change portal. The portal is due to be launched in June 2019.
Director of Climate Change Department, Ms. Pepetua Latasi commented that Tuvalu is looking forward to working with SPREP and iCLIM as they continue to progress national climate change information management.
The Pacific iCLIM Project is working to increase the availability of climate change information to Pacific decision makers. The iCLIM Project is funded by the Australian Department of Foreign Affairs and is implemented by Griffith University in partnership with SPREP.
Please direct enquiries to:
Ms Makelesi Gonelevu
Knowledge Management Officer
SPREP
[email protected]
Mr Kalara McGregor
Pacific iCLIM Project Manager
Griffith University 
[email protected]