The Secretariat of the Pacific Regional Environment Programme (SPREP) is pleased to advise that the 2013 SPREP Annual Report is now available online. In 2013 SPREP celebrated the 20th anniversary of the signing of the SPREP Treaty, which established the Secretariat as an autonomous body.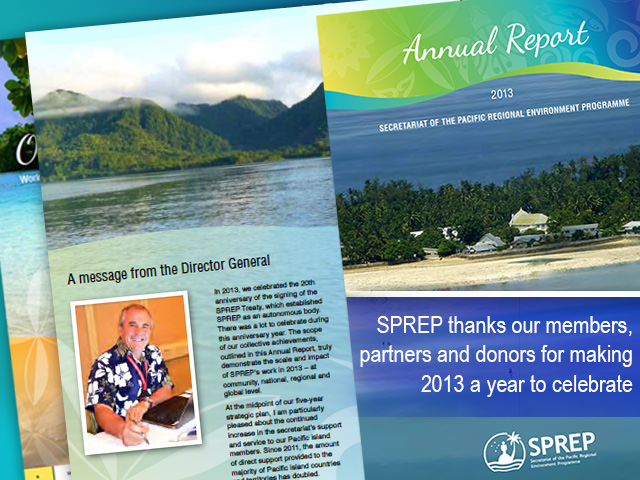 Mr David Sheppard, Director General of SPREP explains that there was a lot to celebrate during this anniversary year:
"The scope of our collective achievements, outlined in the Report, truly demonstrates the scale and impact of our work in 2013 - at community, national, regional and global level."
New to the latest Report is a section which highlights a key activity for each of SPREP's Pacific island members. At the midpoint of SPREP's five-year strategic plan, the Secretariat continues to increase support and service to Pacific island countries and territories. Since 2011 the amount of direct support provided to the majority of Pacific island members has doubled.
The Report will be presented to the 25th SPREP Meeting in Majuro, Republic of the Marshall Islands and advance copies will be made available at the third United Nations Small Island Developing States Conference in Samoa later this month.
Comments and feedback on the 2013 Annual Report are most welcome and can be directed to
[email protected]
.