February 17, 2016 by
admin
H.E President Anote Tong of Kiribati has been acknowledged as a Pacific Champion on Climate Change by the Secretariat of the Pacific Regional Environment Programme (SPREP) at a special dinner hosted by Victoria University of Wellington, as part of the university's "In the Eye of the Storm: Pacific Climate Change Conference 2016".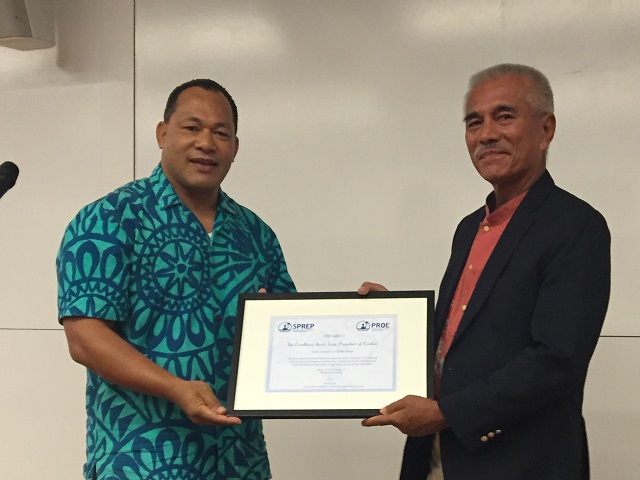 H.E President Tong delivered the opening keynote address at the special post-COP21 Pacific Climate Change Conference, which opened in Wellington on Monday.
The Director General of SPREP Mr. Kosi Latu is at the Pacific Climate Change Conference, where he will present on the next steps post-COP21 for the Pacific region.
"The opportunity for SPREP to acknowledge in person the outstanding contribution of the out-going President of Kiribati, HE Anote Tong, a global advocate on climate change for the Pacific region, is indeed a privilege" said Mr. Kosi Latu.
The Director General of SPREP, presented the award in recognition of the unwavering commitment and global leadership of H.E President Tong in defending the Pacific islands region and Small Island Developing States (SIDS) against climate change issues that threaten island nations.
In accepting his award, H.E President Tong noted that this was only the beginning and that we should not be complacent when it comes to issues pertaining to climate change.
"I am extremely appreciative of the award and humbled by the acknowledgement on behalf of all that have championed the issue of climate change," said H.E President Tong.
H.E President Tong has worked tirelessly on addressing climate change issues at every opportunity during his presidency including at the Third International Small Islands Developing States (SIDS) Conference held in Samoa in 2014 and at the recent UNFCCC Conference of the Parties 21 meeting held in Paris in December last year, where a legally binding agreement was reached after two long weeks of negotiations between more than 150 world leaders.
He also championed the Pacific Oceanscape Framework which was adopted by Pacific Forum Leaders in 2012. The Oceanscape is a regional mechanism which allows for sustainable multiple uses and management practices.
Kiribati is one of the most vulnerable low-lying countries of the world, where some islands would be completely inundated and inhabitable if the global temperatures of the world increased to more than 1.5 degrees Celsius to pre-industrial levels.
H.E. Tong will hand over the Presidency to his successor next month.