The theme of this year's World Water and Forests Day 2015 in Samoa was " Water and Forests for Sustainable Development and Climate Change Resilience" and was held at Vaisigano Bridge in Apia on Friday 24th April, and the Secretariat of the Pacific Regional Environment Programme were invited to set up a booth. 
The event included the launch of the three dimensional model of the Vaisigano Catchment Area, the launch of the Forests and Protected Areas Management Documentary and DVD, the launch of Watershed Management Plans, and the launch of the 2 Million Tree campaign.  

SPREP Staff at the SPREP booth
Tuilaepa Sailele Malielegaoi, Prime Minister of Samoa opened the event by thanking all the partners. "Genuine partnerships help our people become more resilient to the effects of disasters and climate change, especially in this area, the Vaisigano River, which was devastated by severe flooding during Cyclone Evan," said the Prime Minister. "Thanks to our partners, we will be able to build back better," he said.
Chief Executive Officer for the Ministry of Natural Resources and Environment, Suluimalo Amataga Penaia, explained that although World Water and World Forests Day are traditionally celebrated in March, they had to choose another date and decided to link them together. "Linking World Water Day and World Forests Day is a natural fit as they go hand in hand together.  Without the forests canopies capturing the water, that filters down into our soil and streams, minimising evaporation, helping to create mulch and holding the soil, we would not have the water resources we have today," said Suluimalo.

CEO Suluimalo Amataga Penaia with MNRE staff in front of SPREP booth
"We deliberately chose the Vaisigano to hold the event as this is a vulnerable area that was badly damaged during Cyclone Evan, and is the area where the government is leading the waterfront development by first building a retaining wall along the river to Leone Bridge, then eventually on to Lelata Bridge," he continued.  "We pulled in the local community to help create the 3D models on display here through activities with guidance from the MNRE a week ago.  This gave the MNRE staff, in particular our Water Division and Forestry Division, the opportunity to work together and with the local community to build the model of Vaisigano Catchment on display today."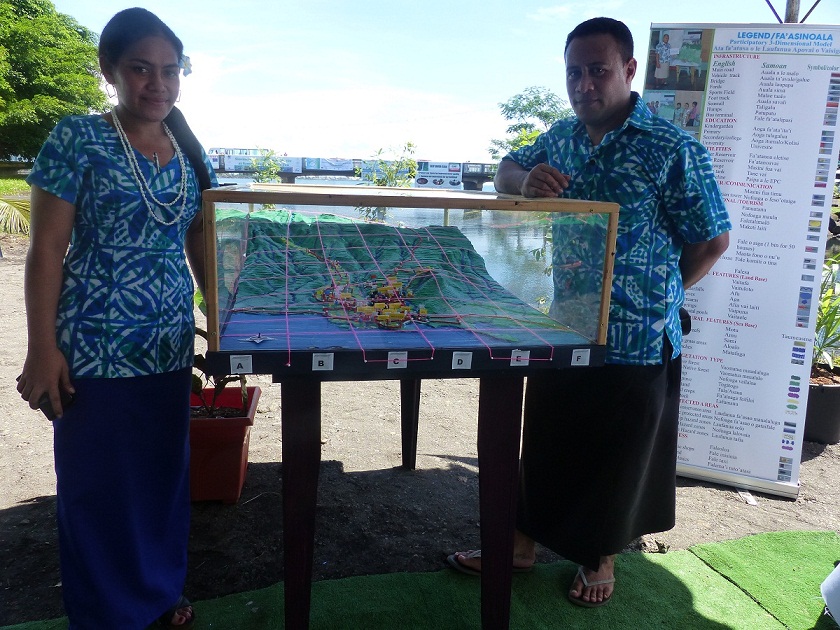 MNRE Staff flank the 3D Model of the Vaisigano Catchment Area

Another huge 3D display was floating in the Vaisigano River, alongside the SPREP booth and the displays by the MNRE Water Sector Division, Forestry Division and the Samoa Water Authority. Disaster and emergency simulations for flooding were also undertaken at selected villages, including Magiagi, further upstream of the Vaisigano River, which also suffered building and human losses during Cyclone Evan in 2012.
The day was concluded with the prize giving for the School's Water Quality Testing Competition, and the prize giving for the World Wetlands Day Youth Photo Contest.