Climate Change Resilience
By Yvette D'Unienville of Tuvalu Broadcasting Services
16 August, 2017, Honiara, Solomon Islands, PMC-4
– The United Nation Education Scientific and Cultural organisation (UNESCO) wants to increase its support for sustainable water services in the Pacific Island countries.
It plans to bring to the region its International Hydrological Programme (IHW), which is the only intergovernmental programme in the UN system devoted to water research, water resources management, and education and capacity building.
As part the programme, Dr Ian White, Professor of Water Resources from the Australian National University, is carrying out a study in Pacific Island countries to identify the best way UNESCO's expertise can help meet the water needs and priorities.
When he briefed the 4th Pacific Meteorology Council in Honiara, Solomon Islands, he said UNESCO is committed to national priorities, the SIDS (Small Island Developing State) Accelerated Modalities Of Action (SAMOA) Pathway, and the UNESCO SIDS Action Plan. It is also committed to Sustainable Development Goal 6, which aims to ensure availability and sustainable management of water and sanitation for all.
"We heard yesterday how important sustainable developments are. Pacific regional organisations say sustainable development is the prime objective," said Dr White.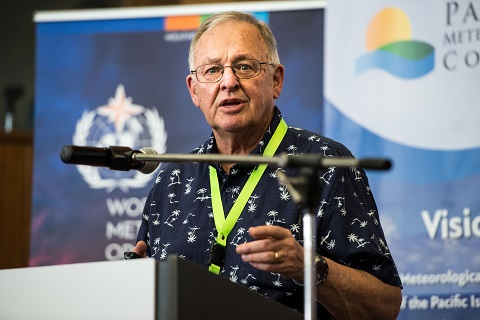 Dr. Ian White, Professor of Water Resources at ANU (Photo credit: Jenny Davson-Galle)
Sustainable development is also one of the three core areas of UNESCO.
Research is an integral part of hydrological services as was pointed out by Espen Ronneberg, the Acting Director for the Climate Change Division at the Secretariat for the Pacific Environment Programme (SPREP).
"Hydrology includes more resource assessment, water quality and more management, ground water, research and, for this region, rain water.
"Hydrology and hydrology services are important for drought warning. It cuts across health, infrastructure, design, agriculture, disaster risk reduction, industry and environment."
Dr White's study will be completed next month.
Then a scoping report will be presented at a regional consultation meeting in Nadi, Fiji in October. There, UNESCO will raise awareness of about its water programmes to regional organisations and stakeholders.
Following that meeting, UNESCO will carry out consultations with countries on water quality, water security and hydrology. 
The exercise will be completed in December 2017 and will include recommendations for pilot activities and priorities for resource mobilisation.  
UNESCO has an office in Samoa that oversees the programmes it runs in Pacific island countries. – #PMC4 #PacificMet
The Fourth Pacific Meteorological Council is being held in Honiara, Solomon Islands from the 14 – 17 August co-hosted by the government of Solomon Islands, the Secretariat of the Pacific Regional Environment Programme (SPREP) and World Meteorological Organization (WMO). This will followed by the Second Pacific Meteorological Ministers Meeting (PMMM) on the 18 of August.
The PMC and PMMM is supported by the Government of Solomon Islands, SPREP, WMO, Government of Australia through the Climate and Oceans Support Programme (COSPPac) and Pacific Australia Climate Change Science and Adaptation Planning Programme (PACCSAP), Government of Finland, National Ocean and Atmospheric Administration (NOAA), United Nations Development Programme through the Resilience in the Pacific (SIDS) project.
The PMC consists of members of the Pacific National Meteorological and Hydrological Services supported by its technical partners, regional organisations, non-government organisations and private sectors.
This article was developed by a Pacific Media Team of Reporters currently providing coverage on the Fourth Pacific Meteorological Council in Solomon Islands. This activity coordinated by SPREP is supported by a partnership between the Government of Solomon Islands, SPREP, Australia funded project (Climate and Oceans Support Program (COSPPac) and UNDP Disaster for Pacific SIDS (RESPAC) project.
The views and opinions expressed in this article are those of the writer and do not necessarily reflect the views of the Secretariat of the Pacific Regional Environment Programme (SPREP) or the United Nations Development Programme (UNDP)both of which provided funding for generating media articles.